It was stupidly, obnoxiously hot and humid in Atlanta this weekend, as I've heard that it was on much of the East Coast, and we all know what that sort of weather does to me: it makes me look for straw bags. Usually a straw tote of some sort implies use at the beach, but I think that the Ted Baker Print Basket Tote is a bit too dressed up and pretty to be abused that way.
In fact, I think it could be more aptly described as an after-beach tote. Seaside vacations rarely consist only of time spent in the sand, and having multiple bag options is probably a must for anyone that's currently taking time out of their day to read this blog (and we love you for it!) As such, having a tote that's obviously location-appropriate but also a tad fancy is the perfect nighttime option.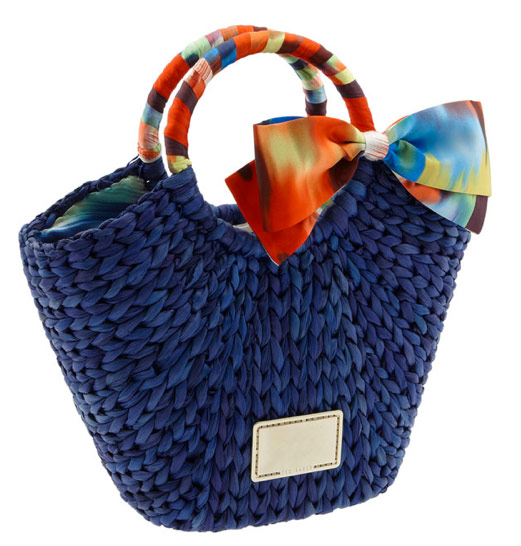 At first, I wanted to cut the bow-tie off and just leave the bag as a cute straw tote with a wrapped handle, but the more I look at it, the more it grows on me. Looking at the same old straw over and over again on the arms of every beach-goer can get kind of boring, and using a patterned silk to so boldly accent the expertly dyed straw is actually kind of awesome. It's modern without being inappropriate for the bag's central use, and I kind of want one. The only problem is that this bag comes in so many colors, I'm having a bit of a difficult time deciding which one I like best. Buy through Nordstrom for $110.