For some reason, my mental conception of Nanette Lepore is a bit…twee. Perhaps it's just that the designer's name has a particularly girly ring to it, but I always assume that Lepore's line is going to be unforgivably feminine in a way that I don't particularly enjoy.
This is one of the few time in life where I'm overjoyed to be wrong – the Nanette Lepore Twisted Fringe Hobo inspired me to take another look at the designer's work, and it's detailed, interesting and not at all too feminine. In fact, the vast majority of the brand's Fall/Winter 2010 collection is exactly the type of clothing that I'd happily buy for myself. This bag? I'm not entirely sure.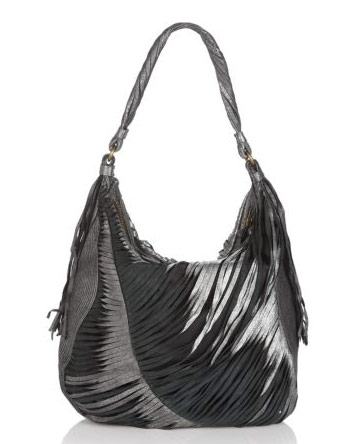 As a trend, fringe is kind of dead in the water. It's very 2009, and since we're almost done with 2010, that's not a great thing for any fringe bags that might be coming out late in the trend's lifecycle. When I look at this bag, though, my first reaction isn't to see fringe – I just see shredded leather, since the "fringe" is attached at both ends. The multicolored effect that the twisting creates is interesting, as is the movement the bag would surely have when worn. I think I'd want this in my closet, I'd just have to see it in person first. Buy through Bloomingdale's for $475.