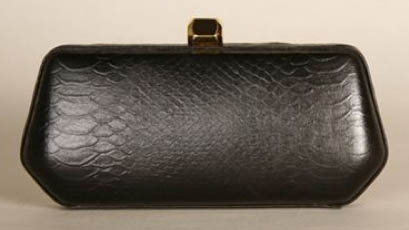 Sometimes buying the bags that we NEED rather than the bags that we want can be a little boring, but when a basic black evening bag is as well-done as the Rebecca Minkoff Snake Fling Clutch, buying what you need is anything but boring.
Rebecca Minkoff has made this clutch in a variety of finishes and colors over the past few seasons, but doesn't everyone need black in their night-out wardrobe? A dark clam-shell clutch should be something that every woman has in her wardrobe, just in case an evening opportunity presents itself.
I hate buying something like this in plain leather, though, which is why I'm glad that this one is snake-embossed. Basics don't have to be boring, and a little bit of subtle visual interest can elevate a clutch to from run-of-the-mill to fabulous, which is exactly what this particular bag is. Buy through Luna Boston for $265.