Confession: when I was at the mall last week, I went into a store and saw a turquoise and black leopard-print silk top and WANTED IT SO BAD. So much about it was not my style – the frills it had at the collar, the banded waist, the neckline that wouldn't allow me to wear a bra, which is not an optional garment in my neck of the woods.
It was shiny and 80s and more than a little tacky, and I loved it all the more as a result. Sadly, the store was sold out of my size and I didn't have the heart to send a salesgirl searching through the stacks in the back, having had to search through those stacks at a long-ago jobs once myself. However, I might have found a suitable substitute in handbag form: the Rebecca Minkoff Leopard-Print Canvas Tote.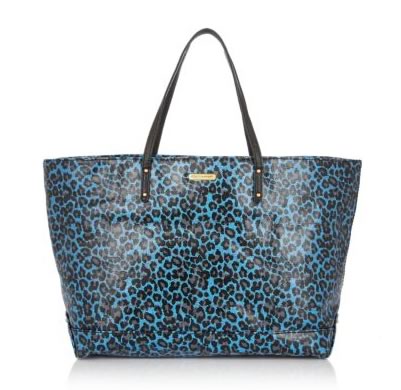 I haven't been to the beach in…well, since high school, come to think of it, but I still love looking at beach bags when that time of year comes around, and it's fast approaching. Bags meant for use in the sand are usually colorful, durable, and large, which makes them perfect for a variety of warm-weather activities that won't necessarily involve charring my very fair skin. The ultra-80s look of the blue and black leopard print is fun and trendy, plus the glazed canvas material won't be a total disaster if you take it to the pool or a picnic. You know, when it's not frigid outside anymore. It will warm up one day, won't it? Buy through Bloomingdale's for $155.