I have more canvas totes in my closet than I care to admit. I'm not a t-shirt wearer, so usually if I go to a concert or event where buying a commemorative item seems appropriate, the tried-and-true canvas logo tote is the way that I tend to go. The material is so ubiquitous and utilitarian that it's role as a fashionable fabric is usually marginalized or dismissed – who ever saw a truly interesting canvas bag?
Well, allow me to introduce you to the Oryany Two-Face Canvas Hobo. The canvas is draped, tied and twisted into a truly interesting silhouette, something that's almost always missing from canvas bags and hobos alike.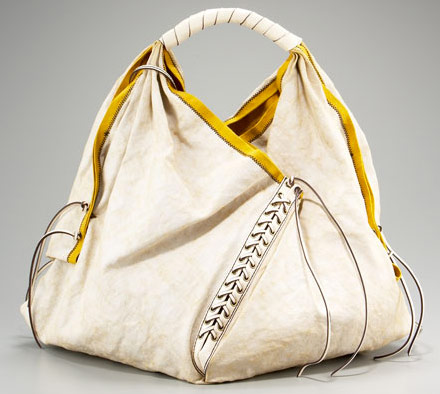 The Maison Martin Margiela influence on this bag's shape is clear (particularly in the handle), but Oryany took that minimalist shape to an entirely differently, decidedly non-minimal level by layering canvas in an asymmetrical, inventive way. I normally don't like laced-up looks, but this version is so modern and fresh that the laces don't seem to Wild West to be fashionable. I would absolutely love to have a leather version of this bag in exactly these colors – the yellow trim is a very important detail. Buy through Neiman Marcus for $395.