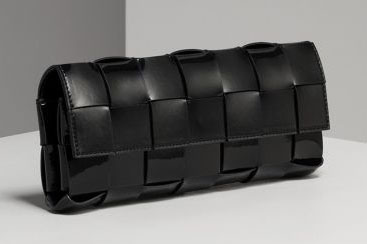 Minimalism usually isn't part of my aesthetic (my preferences usually involve finding something tacky enough to choke a horse, and then dialing it back ever-so-slightly), but I'll admit that it has its place. And this winter, when everything is covered with detail and embellishment, it's even kind of surprising. Doesn't the Michael Kors Patent Woven Clutch look like a breath of fresh air?
It's got no external hardware or obvious stitching. No studs, no zippers, no chains. And normally I like all of those things quite a bit, but when they're all I've seen for two months, it's nice to see a designer make something that feels totally current without resorting to any of those tricks.
The combination of the oversized strips of patent leather and that the edges were left raw makes this bag stand out. Since the leather is treated instead of natural, I bet it would stand up well in an environment where a lot of drinks were being consumed, and really, isn't that a vital attribute to any evening bag? Or is that just for any of my evening bags? Buy through Bloomingdale's for $346.