Sigh, here is a bag I can't decide if I like or not. Today is one of those days in which I could just make up my mind. While other days I don't mind being on the fence, I just want to have make a decisive decision. There are aspects about this bag that I love and others that have left me confused.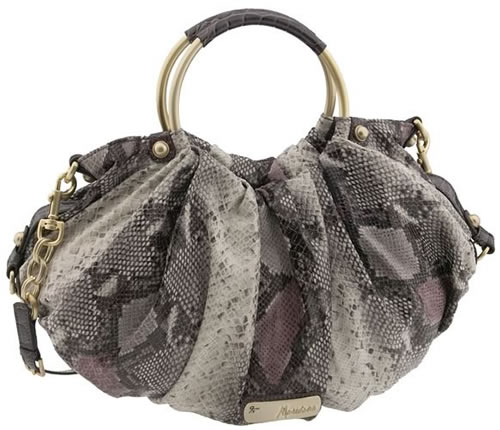 I do like the smooshy, loose structured look of the Marciano Faux Snakeskin Suede & Croc Trim Handheld Tote. I also am a fan of the snakeskin-printed faux suede and faux-croc trim. Hey, let's be honest, not all of us can afford to drop thousands of dollars on an exotic tote so I am all up for options. I like the way the gold-tone hardware jumps out a bit against the mauve color of the bag itself.
But here is my issue: the double handles. I don't know if the shape is good with the bag. Seeing as though this bag is so loosey goosey I would like to see something just a bit more structured when it comes to the handles. Do you agree? I can appreciate the removable shoulder strap since I think it gives a great second option. Plus, at this price point, I might be able to overlook the double handles. Tell me, is this a hit or a miss in your book? Buy through Nordstrom for $235.