Marc Jacobs The Single Metallic Leather Shoulder Bag. So it looks more shiny than metallic, and it comes in pink, which I usually dislike, but nevertheless the bag caught my attention. Why?
Being that I am stuck in a car for at least four more hours, I'm frantically trying to stay awake and resolved that the best solution would be to find and write about the sparkliest, flashiest bag possible. But the furthest I got was only slightly metallic because I woke right up once I saw the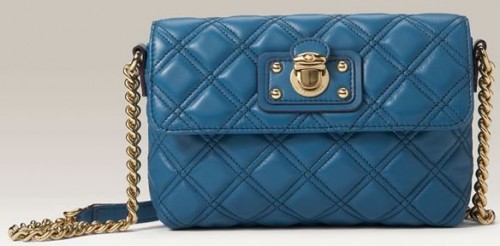 Of course, it's hard to top Chanel, the queen of chain-strapped bags, but this bag at least serves to create it's own niche. The price won't have you scrambling in your piggy bank, at the very least- it's less than most Marc Jacobs bags, and much less than the coveted Chanel. But this bag looks like it would work well as a day bag, whereas it's sister, the Marc Jacobs The Single Evening Bag, is clearly meant for cocktail dresses and dinner parties. And it may sound strange to you, but I think that the fact that the quilted sewing on the bag is doubled makes the bag what it is. Buy through Nordstrom for $525.