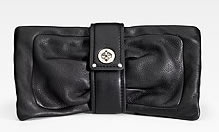 Yawn. C'mon Marc Jacobs, I know you have more to give than what I am seeing here. Sure, there isn't anything horrible about the Marc by Marc Jacobs Totally Turnlock Clutch but there also isn't anything that makes me want to go out and buy it right away. While I find it really important to have a few go-to bags in your closet, I am in the mood for a show stopper, not something that is just "blah".
You might not agree with me and that is ok, but I've seen Marc Jacobs put out so many other drop dead gorgeous clutches, I kind of was expecting that here too. In fact, there are several aspects of this bag that with just a bit of tweaking could make it that show stopper I was just writing about.
The leather is gorgeous, soft and supple. I can appreciate the bow-like shape and turnlock closure. Yet, the bag would have been a bigger hit if the bow-like shape was a bit more structured and noticeable. The detachable shoulder strap isn't even necessary. This cute little clutch is better in your hand than on your shoulder. Close, but just not close enough. Buy through Saks for $278.