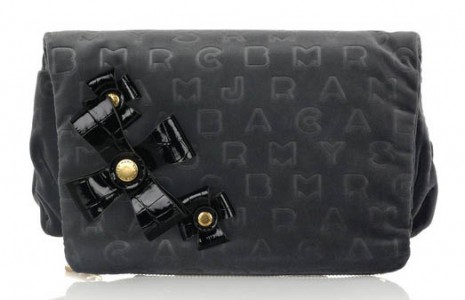 Texture is always key for fall. Chunky knits, silk dresses, wool jackets, soft cashmere. And this year, we have the added visual interest of tough studs and black leather being popular for fall. Why can't the weather be cool and crisp year-round? The clothes are so much more interesting – for example, the combination of velvet and patent leather that makes up the Marc by Marc Jacobs Stamped Velvet Magazine Clutch has more depth and style than anything I've worn in months.
This isn't the best cold-weather clutch I've ever seen, but it is decidedly different than what most of your friends will be carrying this fall and winter. The grey velvet is ladylike and refined, and I'm as torn as ever on the embossing with whichMarc by Marc Jacobs has been experimenting for the past season or two. It's fairly subtle here, so I'll let it go.
I think that the little patent leather flowers are a cute touch to provide a twee little bit of oomph; without them, the clutch would be boring. It's a nice effort overall, and priced reasonably, but I wonder if the velvet would wear more quickly than other materials. Buy through Net-a-Porter for $230.