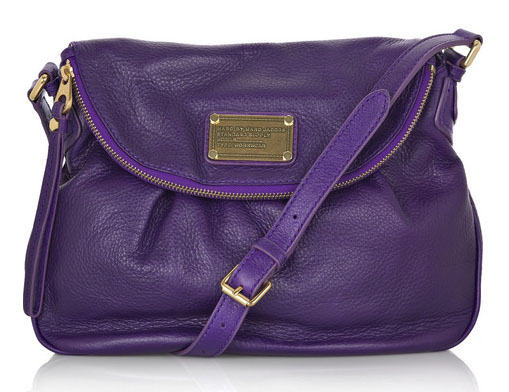 No kidding: I'm approximately a half second away from ordering the Marc by Marc Jacobs Natasha Classic Q Shoulder Bag on Net-a-Porter. I'm barely restraining myself. The color? Beautiful. The leather? Soft. The size? Functional. The price? Reasonable.
I wasn't entirely sold on this bag until I saw it in person, but it's actually really great. The leather is what we've come to expect from Marc by Marc Jacobs, even at sub-$350 price tags: thick, soft and pliable. And there's plenty of it, as it takes the center stage on this simple yet chic bag.
The color is also fantastic for winter – if you've never paired purple with charcoal grey, you've never really created a cold-weather outfit. It would also go with basically anything in my wardrobe, and the only color that I ever pause to pair it with is red. A purple bag can absolutely be used every day, and this one is in such a functional shape and size that I don't see why you wouldn't.
As I mentioned previously, though, my favorite part is the price. I defy you to find a bag with leather as nice as this one for less. Buy through Net-a-Porter for $330.