Marc by Marc Jacobs bags are gorgeous and affordable; talk about a little piece of heaven. And speaking of heaven, let's talk about this bag right here.
I. Love. This. Bag. As soon as I came across this bag I found myself wanting it… no scratch that… needing it! I will be the first to tell you that I am constantly checking out Marc by Marc Jacobs bags. MJ puts out some great bags but some are just a little too pricey for what you get. However, the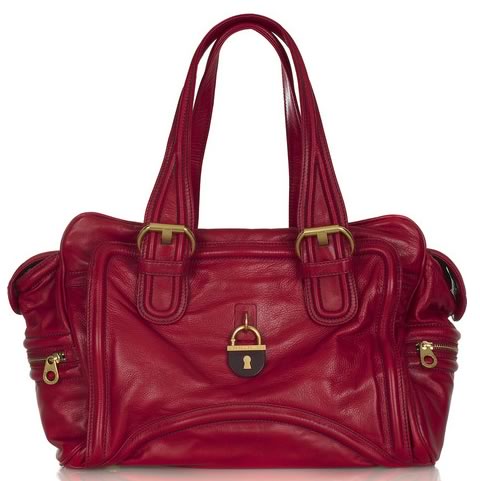 The Marc by Marc Jacobs Large Satchel Leather Bag captures just about everything I like in a handbag. So, let's break it down a bit. I'm going to start with my one concern – it looks like it could be just a bit heavy. While I am absolutely loving the leather, it appears as if simply dropping the bare essentials into it would be too much. However, since I'd die to have Kelly Ripa arms, maybe it would actually be a plus.
This red leather shoulder bag is adorned with gold-tone hardware. A nice little splash of blue stitching is a welcomed surprise. The two handles simply scream, "hold me" and the padlock detailing at the front adds yet another sense of individuality. Sure, plenty of designers can churn out decent looking go-to bags, but Marc Jacobs knows how to do this while setting himself above the rest. Buy through Net-a-Porter for $548.