On my way to dinner last night, I drove down the the street where a huge portion of my town's stylish female population lives: sorority row. At UGA, those are the girls with the expensive bags and cutest cocktail dresses, and some of them are surprisingly fashion forward for the sorority girl stereotype. And I noticed a gaggle of blond, tan sorority girls padding down the sidewalk in their gladiator sandals while I was in my car, and all of them were carrying tiny crossbody bags. This trend may have reached its saturation point among stylish young women.
But if you haven't jumped on the tiny bag/long strap bandwagon quite yet, the Marc by Marc Jacobs Dreamy Logo Pocket Pouchette is a perfect opportunity.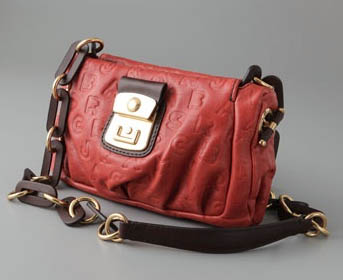 I've been critical of the logo-embossed leather in this line, but in a bag so small it serves as little more than some additional texture. The peachy-brown color will work perfectly with fall staples, and the leather links intermixed with the chain strap gives the bag a vintage charm that somehow still doesn't lose its modernity.
The overall effect of the leather color, texture and handle construction is full of personality but not outrageous or over-the-top. This bag would be easy to work into your routine, and I bet I'll be seeing it on sorority row very soon. Buy through ShopBop for $298.