Marc by Marc Jacobs Petal to the Metal line. We've already covered the Pouchette as well as the Shoulder Bag. Today I have the hobo version to share with you and I am fairly confident you won't be disappointed; I know that I am not.
I am completely adoring the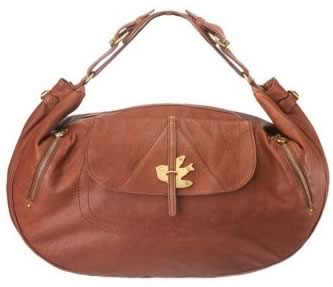 The Marc by Marc Jacobs Petal to the Metal Evie Hobo is a fabulous bag with the right amount of shine to it. The first thing I noticed was the gorgeous leather. It is so soft and buttery; it is bound to look good on your arm. As I looked even closer I kept finding other things that made me say, "oooohhhh, aaahhhh". I am a huge fan of the exposed zip pockets and the golden dove detail which is a staple of the Petal to the Metal line. Adding the uniquely designed shoulder strap and a bit more gold-tone hardware and you are probably seeing why this bag just continues to get better and better. I'm loving it all! Buy through Bloomingdale's for $548.