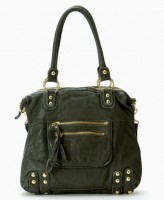 I was recently sold on the whole "studded bag" trend, but I'm still a bit apprehensive. Before I saw the Linea Pelle Dylan Medium Tote, I hadn't come across a single studded bag that I'd actually wear. This I would, for a bevy of reasons.
For me, many studded bags just seem way too over-the-top, and a little dangerous for my palm in the case of studded clutches. But this tote has minimal yet well-placed studding; it wraps around the base of the bag and staples on the top and base of the strap, connecting the straps to the bag. Even better, the hardware and zippers are the same light gold shade as the rounded studs, flowing the design throughout the tote.
The combination of zippers and studs isn't overly rocker as one might expect, but it serves as a welcome juxtaposition to the buttery, almost softly wrinkled Italian leather; the rough shininess of the studs and jaggedness of the zipper adds a casual touch to that leather. The final, favorite touch of mine comes by way of a removable shoulder strap that, if worn, allows the heavy straps to flop forward over the bag, creating a coolly effortless look. Buy through Linea Pelle for $425.