Kate Spade bag. As Megs began teaching me about fabulous handbags out there I realized there is more to choose from than I previously thought. Even though this is the case, I still kind of want a Kate Spade of my own!
I remember when I was in high school thinking that my friend Heather was so lucky when she got her first Kate Spade bag. I actually don't think I had any designer handbags at that point and I was certainly envious of her. I was so impressed by the bag and swore to myself that I would own a Kate Spade one day too. Fast forward many years and I still don't have a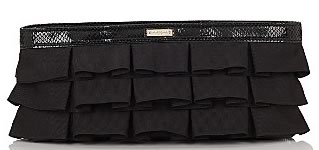 This clutch is simply darling. In fact, the Kate Spade Grosgrain Plissé Jeb Clutch is a perfect choice for a night out with the girls or your significant other. While the tiers of box-pleated grosgrain could go horribly awry if not precisely placed, it is obvious that much thought and consideration went into making this look work. It almost reminds me a bit of a flapper dress – see the resemblance? This is definitely the kind of clutch that is perfect when you are looking to have your accessories make the statement of the night. I love the drop-in wrist strap, gold-tone hardware and snake-embossed trim. Gorgeous! Buy through Bloomingdale's for $225.