I hate to be an optimist when it comes to the brand that we all know I love to hate, but Juicy Couture seems to have turned out fewer handbag crimes against humanity lately. Is it just me, or is the brand turning over a new leaf? By virtue of even writing this, am I somehow guaranteeing that the next handbag I see from the brand will be atrocious? Probably.
But for now, the Juicy Couture Brogue Duchess Bag is decidedly non-atrocious. For once, Juicy's designers picked textural elements that all manage to work together in piecemeal harmony.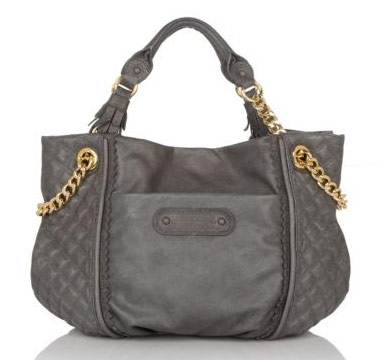 Mostly I attribute my affection for this bag to what's missing: pockets, zippers, patches, snaps, buckles and any number of other odd accouterments that Juicy usually feels the need to splash all over the exterior of its bags. This one has some tonal quilting and edging, plus a bit of gold chain hardware, but other than that…it's almost blissfully simple. Relative to other Juicy Couture bags, naturally. Let's hope they manage to keep it up. Buy through Bloomingdale's for $398.