Foley + Corinna Tie Dye Mid City Tote. I admit that the reason behind by skepticism is a bit picky, but I'll explain.
You see, my friends, this is the dilemma. I'm a fan of tie-dye: it's fun and colorful and represents peace, freedom, and all that 60's jazz. However, I'm not completely partial to this
There are a few different types of tie dye: there's the classic spiral pattern, the more dramatic V, and the ever-controversial dip dye or line dye. The last is where we find this tote. Now, it may be because I have a slight affinity to the spiral, but I find the great big straight lined of dye on this tote to be slightly oppressing. However, that said, would I wear it? Absolutely.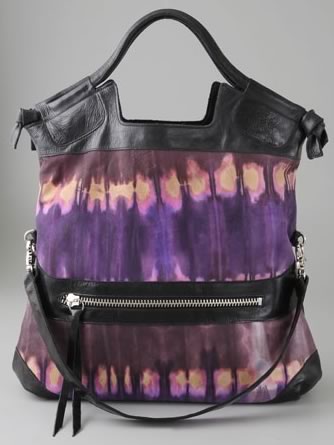 But wait! I'm contradicting myself, you say? Well, that's partially right. But because of my grand love of the tie dye pattern, I'm happy to finally see it make its mark on the world of handbags- and the classic Foley + Corinna City Tote is the perfect canvas. Not surprisingly, I'm now tempted to do some DIY on my own canvas City. Buy through Shopbop for $444.