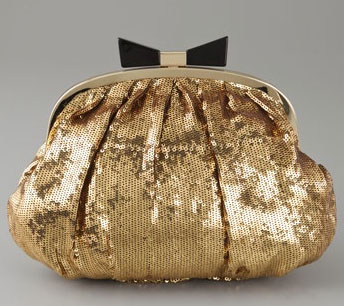 The word for the Felix Rey Grace Sequin Bow Clutch isn't "like." It's "love."
Love, love, love. Perhaps I'm unduly distracted by shiny purse-shaped objects, but I can't help but drool over this glitzy little thing. Sequins are huge (HUGE) for fall and winter, which means that you don't have to wait until New Year's Eve (or a trip to Las Vegas) to bust something like this out of your bag archive (because of course we all have bag archives, right?).
The shape and color give it a vintage vibe while the little plastic bow keeps things modern with its very sharp lines, and I couldn't possibly want one of these more. I have so many black evening outfits to pair it with, but for now, I'll have to stick to matching things up only in my head. Buy through ShopBop for $290.