Diane von Furstenberg items and I am totally envious of both my mom and sister because they have a few pieces. But this clutch might be in the running as the first DVF item in my closet.
Yep, I need to make this clutch mine. While I am not so sure I completely believe in love at first sight (when it comes to relationships) but I definitely fell in love with this clutch the instant that I laid eyes on it. Admittedly I don't own any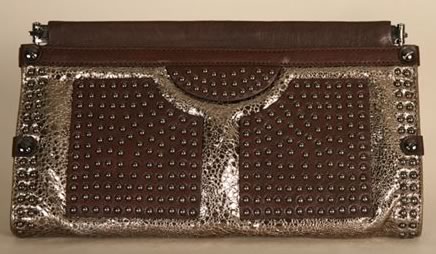 I've been increasingly pleased with the handbags Diane von Furstenberg has been putting out. From the large and oh-so coveted Stephanie Bag to the Belle Clutch with Studs, it seems as though no matter where your taste falls, there is a DVF bag out there for you.
Case in point, the Diane von Furstenberg Hayworth Clutch. Textured, glossy pewter leather has gorgeous polished, brown leather trim and a polished gunmetal frame with screw-head and small round stud detailing. At first glance, the clutch might seem too edgy for you, but give it a second chance and keep looking. The closure is made of a diamond frame which to me adds just the smallest hint of femininity to an otherwise edgy clutch. You know what else? You would be surprised how easily a clutch like this could be paired with even a rather girlie dress. I'm convinced, are you? Buy through Luna Boston for $395.