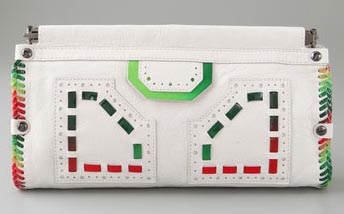 I don't think that I exactly like the Diane Von Furstenberg Hayworth Clutch, really, but I've got to say that I respect its enthusiasm. Is that sort of similar to liking it? Maybe.
In my wardrobe, accessories that contain several bold colors are usually prohibitively difficult to mix and match with what I normally wear. I like brights just as much as anyone, but they have to be used in a judicious and well-edited way for them to work for me.
This clutch is not exactly judicious in its use of color, but that may not be the point. The point seems to be nothing more than pure fun, and who am I to stand in the way of that? The multiple hues and whipstitching have nothing to do with my lifestyle, but they probably would be good for someone's, and I find it difficult to blame DVF for trying to do something whimsical and different. Buy through ShopBop for $425.