By now, the Coach Evie Tote has become the symbol for Coach's recessionista-friendly Poppy line, but why? It's a fact that I have often questioned. With its bright smear of red combined with scribbled silver, the bag is so bright as to seem garish rather than cheery. And though that sentiment remains, I'm much more partial to the other colors that the Evie is available in- baby pink, lilac, and black. While the red is just plain freakish, each of the other colors has it's own feel that is not at all like the red (thank goodness).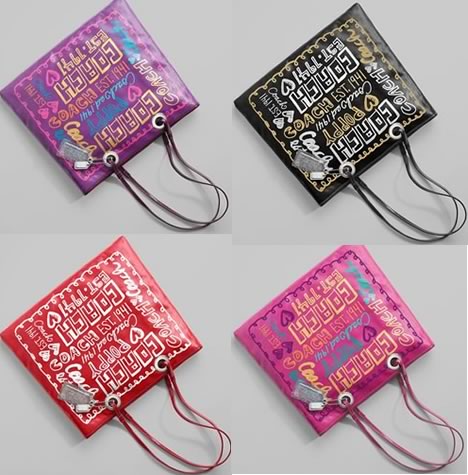 While I'm a purple fan, it's the pink that I think would have been the best choice for the "face" of the line- it's happy and light, with touches of summery colors like turquoise and mellow yellow. The purple, like the pink, would be best suited to a middle-schooled tween- I'm not sure a grown woman could pull this off. That's where the black comes in. Sure, it's fun and young, but the black combined with the metallic silver and gold writing lends a bit of sophistication. Case in point: my mom loved the red, but I refused to let her buy it. Now I'll kindly point her towards the black version. Buy through Nordstrom for $198.
Also, don't forget to enter our Coach Giveaway only for our Facebook Fans!