I'm sick of celebrity clothing lines. Absolutely, completely sick. Companies needs to stop giving them out. Gwen Stefani's is the only one that will ever be any good, and she's already got it, so we're done here, ok?
Seeing the Chloe Sevigny for Opening Ceremony Chloe Tote Bag on sale at ShopBop was my tipping point today. This whole thing has officially jumped the shark.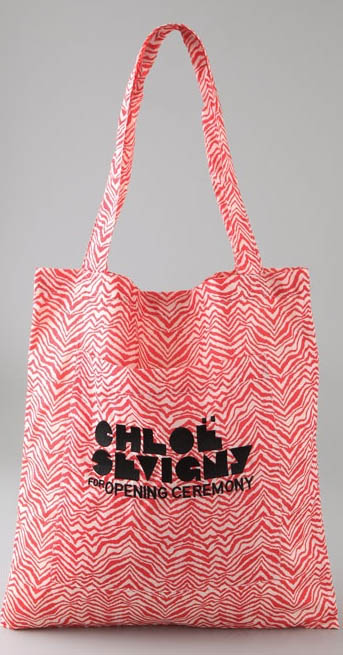 I know that Chloe Sevigny has a quirky style that hipsters lust after, but odd personal style does not a designer make. I also know the Opening Ceremony is a hipper-than-thou boutique that desires to, first and foremost, cater to people that think they're way cooler than average but really just have unflattering haircuts and lots of shiny leggings in their closets. All of that information makes this tote sort of predictable, even if it is ill-conceived.
And "ill-conceived" is probably putting it charitably. It's orange tiger print with Chloe Sevigny's name printed in big letters on it, and nothing says "fashion victim" more than stamping the name of "cool" celebrities on the thing you use to carry your books. Don't fall for this trick, girls. Although I'm sure most of you wouldn't. Buy through ShopBop for $45.