Botkier Sydney Hobo while innocently browsing online, it was clear that those blissful three days of good bags were over. I saw this bag, and I just thought, "What is up with that?" And I still don't know.
So far, this week has been good for bags, as in, I've found some pretty great bags to review. But when I came across this
I even checked out the scale photo of the bag against a silhouette, and that really, really made it worse. It just made me think that this bag was made for some person to carry two really big bottles of water on each side- and who does that? Hey Botkier, a plain sports bag would do just fine.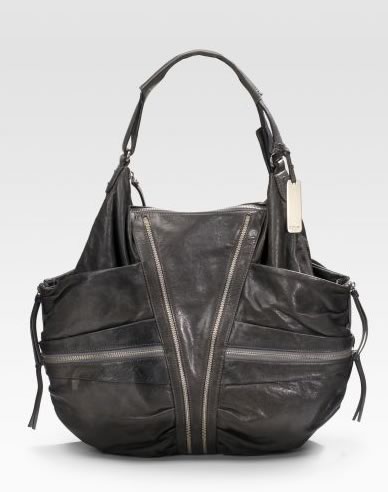 The shape itself just doesn't sit well with me, besides the fact that the bag is so large that any mistakes are instantly amplifies. Those zippers? Not tough little touches, but long and dividing. The "thin wisps" the bag is adorned with? They just kind of look strange, like they were put there for no reason whatsoever. And there are only two "wisps" so they look misplaced rather than a developed theme. And I'm a big Botkier fan. They usually have great, sumptuous leather that is perfectly accentuated by super little fourishes. I just don't know what happened here. Buy through Saks for $645.