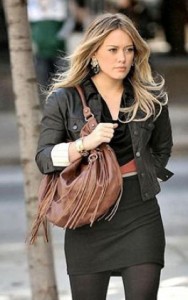 Every now and then, we like to feel like we provide a public service here at PurseBlog. You need handbag knowledge, we have the resources to provide it.
And there's an unending amount of handbag knowledge to be gained about the bags that the characters on Gossip Girl carry, so we thought we might drop a little on you today. It's our job, after all.
In this week's episode, we spotted Hilary Duff's Olivia character carrying a bag by one of our favorites: the Rebecca Minkoff Fringe Darling Hobo. This bag is the slightly more complicated version of the lovely Rebecca Minkoff Darling Hobo, another bag that we absolutely love.
Any bag that's carried on this show looks totally glam by association, and they do a great job of picking their wardrobe overall. But this bag is the real deal, we think. Buy through Luna Boston for $495.