Every now and then, I find a bag where I love the concept and hate the implementation. I find those bags kind of irritating to write about – it's hard to not come off either more or less enthusiastic than I really am about the whole thing when I'm actually stuck somewhere in the middle.
But apparently I'm a glutton for punishment, because that's exactly how I feel about the Alice + Olivia Chain Bag. So, if you'll forgive me a bit of folly, I'm going to try and explain why.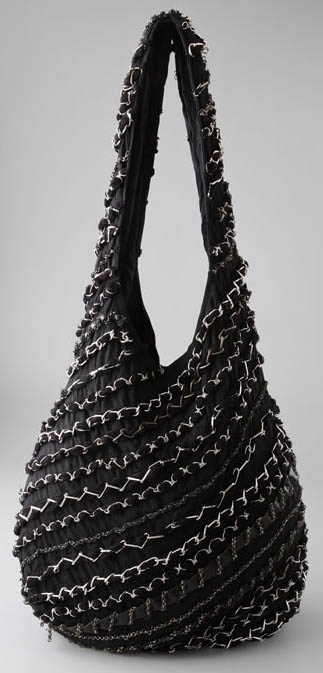 I think that the idea of a bag covered in chains works great. Lots of different types of chains, but all in similar tones of silver and gunmetal? Even better. Sounds awesome. Sign me up. I'd love to see it turned into a bag.
Just not THIS bag. The black nylon mesh looks too puffy and when combined with the chains, the effect is somewhat like a goth gym bag. And I don't think most goths exercise. Do they? Anyway, not a good look. And most of the chains are so thin that from a distance, I would think that they would either look like strings woven into the bag or unwound paper clips clinging to it (that's certainly what they look like in the photos). And forget about wearing this with a sweater – you'd be just asking for those links to snag and pull it apart. The whole thing works in theory, but not in practice. Buy through ShopBop for $396.