This is Amanda, your resident Alexander Wang fangirl, reporting from the front lines again. We're at that precarious time of year when spring bags could drop any day, and it looks like ShopBop just got an enormous shipment of new stuff from my one true bag love (you know, besides Balenciaga and Valentino).
Thusly, I would like to present to you ladies (and gentlemen), the Alexander Wang Rocco Baby Duffel Bag. Look kind of familiar? Yeah, well, it should.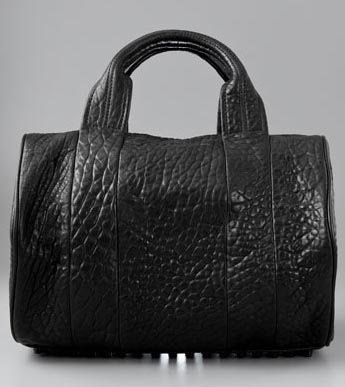 With few alterations from the Coco Duffel It Bag that got the attention of so many celebs and fashionistas (although most fashionistas were already well aware of Mr. Wang's to-cool-for-school line long before that), the Rocco is its second coming, this time with a few different sizes and some nifty black studs.
Yep, that's right, black! If the metallic studs of the Coco were kind of a lot of look for you, then the tonal adornment on the bottom of this version might just be what you're looking for. And really, is there anything cooler than black on black? Not that I can think of. I also can't think of any It Bag in recent memory that has been more reasonably priced. Buy through ShopBop for $695.