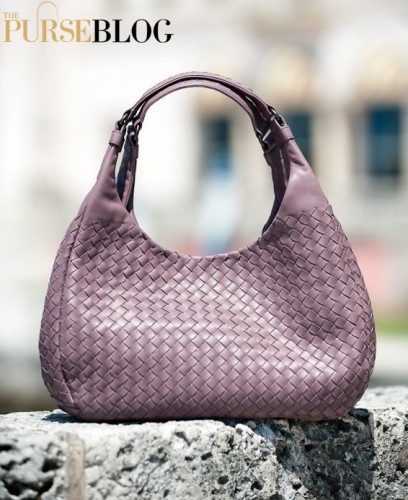 We have teamed up with many designers over the years to bring you exclusive information, giveaways, and bags. Working with Bottega Veneta in the past few weeks to bring you exclusive information on a product launch is not only exciting but something from our dreams. Known for its supple woven leather, Bottega Veneta has garnered a worldwide audience of fans. While their bags are stylish and on many must-have lists, one thing Bottega Veneta avoids is being known for seasonal trendy bags.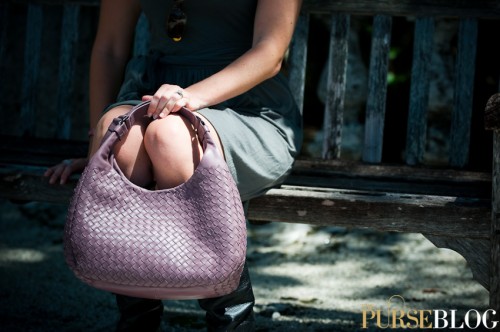 Today we are bringing you an exclusive product launch, a style from Bottega Veneta that you know well in a color that blends purple, taupe and pink perfectly. From the fall/winter 2009 line, the Bottega Veneta Lilac Campana symbolizes everything the brand is known for; beauty, timelessness, and impeccable craftsmanship. The shape of this bag seems light and feminine, just as the bag actually is. While the interior is roomy and has a cell phone holder and side zipped pocket, the size of the bag is not overwhelmingly large or underwhelmingly small. Touching this woven lambskin reels you in, as I have said time and time again Bottega Veneta picks the most amazing leathers and has the best implementation of weaving the leather together.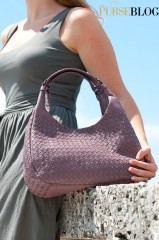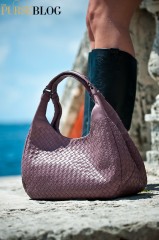 The next thing I must gush about is the color. The color is perfect. As I stated above it is a blend of purple, taupe, and pink. While they call it lilac I merely want to label it 'perfect'. It brings a feminine touch without it being too light pink, which would show color easily. This color is wearable. Wearable in the summer, wearable in the fall, wearable in the winter, and wearable in the spring. For light pink colors I typically retire the bag for the fall and some of winter, but this color is again, 'perfect'.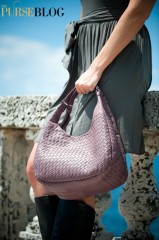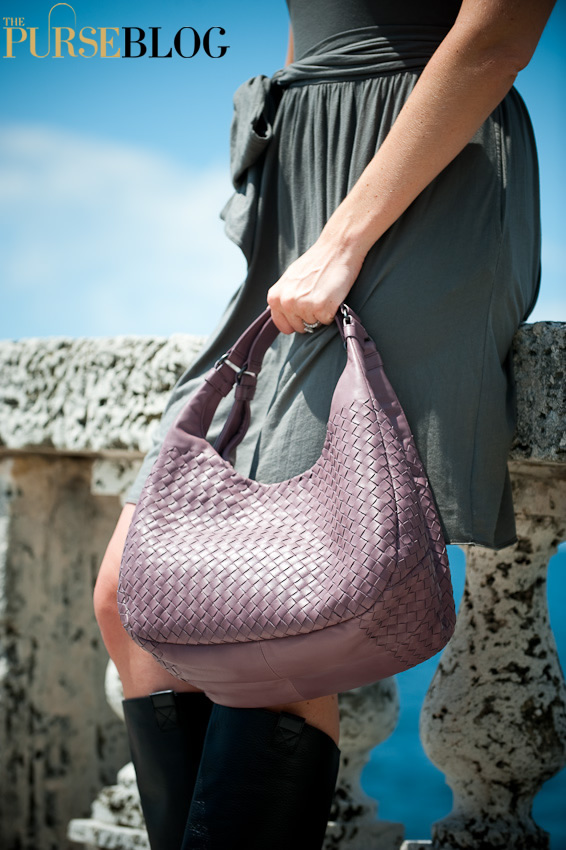 The Campana shape is a favorite of many Bottega Veneta lovers on the Purse Forum. The Veneta is a classic shape from BV, but the Campana adds a slight twist that I adore. There are double top handles and a magnetic enclosure on top which makes no hassle opening and closing of the bag. I always worry about shoulder bags being too snug on me, but this bag slid on my arm perfectly.
Most importantly, this bag is a staple piece to any collection. Shape and color is perfect, leather is divine, and overall product has me dreaming of the bag still. If you have been waiting for a piece from Bottega Veneta and want it to last you forever (literally), this can easily be the bag for you. Buy through Bottega Veneta for $1,980. This bag will be available at Bottega Veneta stores nationwide, or call 877.362.1715, or visit BottegaVeneta.com.