My recent trip to Paris showed me the harsh truth of what it is like to work and shop at one of the (formerly) most busy commerce centers in Western Europe: Avenue des Champs-Élysées.
The mile-long avenue and its surrounding streets are known for their variety of luxury boutiques and specialty shops offering all of the famous high-end goods that we know and love.
As you can probably guess, the foot traffic was significantly lower. This was my third trip to Paris and I would guess that it was cut down to about ¼ of what it would normally be. The drastic change between pre-COVID Paris and now was obvious as I watched how the city's citizens and patrons tried to adjust to the current reality. There were no longer tons of people hurrying along the path swinging their shopping bags but now only a mere few thousand masked pedestrians occasionally ducking in and out of shops or admiring storefront displays only in passing. To be a city with a population of more than 2 million and a usually booming tourism industry, the whole place felt no more busy than the tiny American city I had just left.
Masks and hand sanitizing stations abound, the dozens of shops and cafes that did still have a steady stream of clientele were also faced with the additional pressure of adhering to a city-wide curfew that demanded no one be outside after 9 p.m. This caused businesses that would normally close at 8:30 p.m. or later to sometimes shut their doors as early as 7:30 p.m. to allow employees time to get themselves home. One woman remarked that the whole situation was, "catastrophique" after we were both denied entrance into an establishment long before the sun had even begun to set.
Thankfully, I was in the Paris metro area for two weeks and had plenty of opportunities to browse my favorite luxury stores. This ample time gave me the chance to ogle the fancy merchandise displays and check in with some of the employees on duty. Here were some of the happenings:
Dior
I actually went to two separate store locations: 127 Ave des C.E. and Ave. Montaigne. I wandered around the shops (masked and sanitized) with my usual sense of wonder before being approached by friendly employees that seemed happy to converse with me. Their niceness was nothing out of the ordinary but I couldn't help but sense that this level of eagerness was founded on something other than the desire to simply make a sale.
One saleswoman at the smaller second boutique offered me the customary espresso and briefly chatted with me about non-Dior related topics (one of which being how I, an American, was able to get into France in the first place.)
"I think it has been a bit hard because nobody is traveling, especially the Americans, because they can't come into the European Union. Usually they like to spend money and buy gifts from Dior when they are on vacation. It helps them mark a special moment but now it cannot happen. French customers are still coming in to buy from us because they want to try to be optimistic. They want to feel normal and like everything is ok." – A.L.
Hermès
It was glaringly obvious that the COVID pandemic had not affected Hermès' patronage. Like, at all. As soon as I stepped inside its 42 Ave. George V store I was directed to sanitize my hands and then left to navigate the crowd of shoppers. Admittedly surprised by the lack of capacity limit, I decided to just proceed with my observations (of both the COVID measures and beautiful merchandise.) Everything looked as crisp and shiny as one would expect, with all of the products kept in their regular glass casings to be protected from any chance of contamination or theft. I moved casually through the two-story shop, constantly (yet politely!) refusing the need for any assistance at every turn.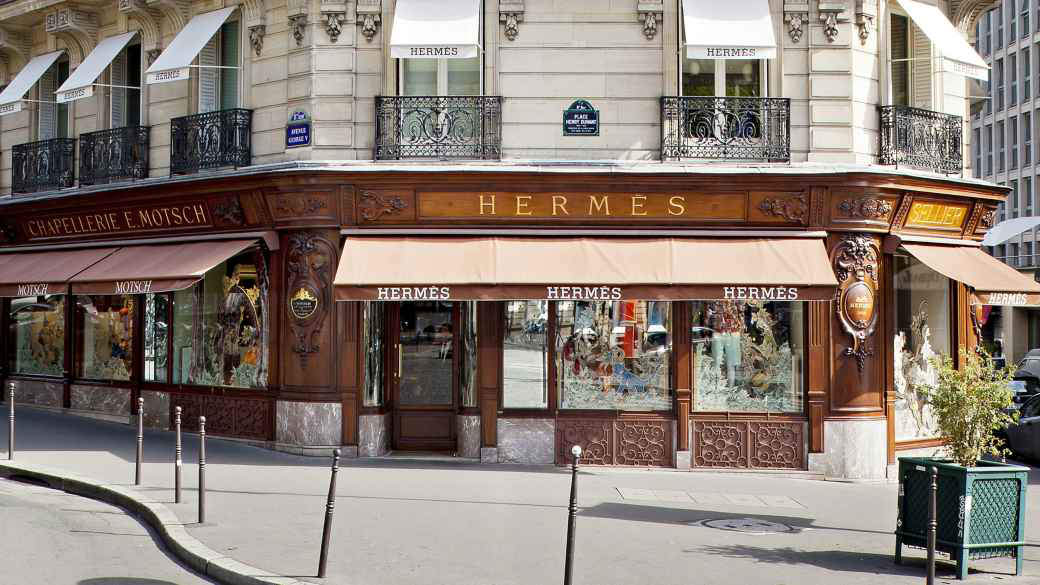 Sometime around when I was checking out the array of rainbow scarves I noticed the occasional presence of a well-dressed cleaning staff that would emerge from the shadows before disappearing as fast as they appeared. They wiped down displays and replaced baskets of skin cleaning wipes in the shoe and jewelry departments that were presumingly to be used by customers before being allowed to try anything on.
One of them drew my attention to a neat little sign next to the dummy display of new lipsticks that indicated that any customer wanting to try on makeup must follow a special hygiene procedure directed by a supervisor. One saleswoman mentioned to me that those who wished to test the product would need to make an appointment because this special makeup supervisor was only available on certain days.
Even in the face of a bustling crowd I eventually began to feel a sense of being watched in a not-so welcomed way. I chalked it up to Hermès employees being protective over their merchandise and that they weren't so open to people loitering in the crowded store, so I decided it was time to make my exit. I still managed to get a quick word from a nearby sales rep regarding how business has changed with the current COVID crisis:
"There hasn't really been any change. There is some difference with our current clientele as we are mainly serving local clientele since the amount of foreign customers has dropped off. For safety precautions, we only require that everyone wear a mask and keep their hands clean. Also, we are no longer offering any complimentary drinks. Not even water. Only unless it is absolutely necessary." – N.U.
Louis Vuitton
Much like Hermès, Louis Vuittion seemed to be unaffected by the current situation. There was a (socially-distanced) line of people waiting outside of its 101 Ave C.E. location that had only gotten longer when I returned a few hours later! I decided to just take my spot in the line and wait patiently since I had a weatherproof jacket and mesmerizing window displays to keep me comfy and entertained until it was my turn to enter. LV is quite large so unlike other boutiques that used separate entrances and exits, there was only one way in and one way out.
When I finally got in I was greeted and introduced to my assigned sales associate. She gave me a small tour of the store before asking me if there was anything I was interested in, guiding me to the accessories section after I gave her the expected answer.
I oohed and aahed over the buttery leather of Capucines between our exchanges of small talk.
"[Business] is slowing down a bit but not because of COVID. It is getting colder and people are getting ready for the holidays and are simply less likely to come in." – E.D
Chanel
My final stop of the day was to the Chanel store located at 51 Ave. Montaigne. It was late in the afternoon and therefore more calm than it may have been if I had arrived earlier in the day. Or so I had assumed.
When the doorman motioned for me to enter the building I approached with one goal in mind: to find my future Christmas gift. I stepped in and was instantly confronted with a sales rep standing ready with a bottle of spray sanitizer that she generously applied to my open hands. I proceeded to drift between the departments; once needing to slink by a group of associates casually chatting in French. Unlike the other boutiques I had entered, I was now the only customer in sight. The whole place felt a bit silent and somber without the usual hoard of fashion-obsessed onlookers wanting to analyze the shade range of this seasons' boy bags and classic flaps.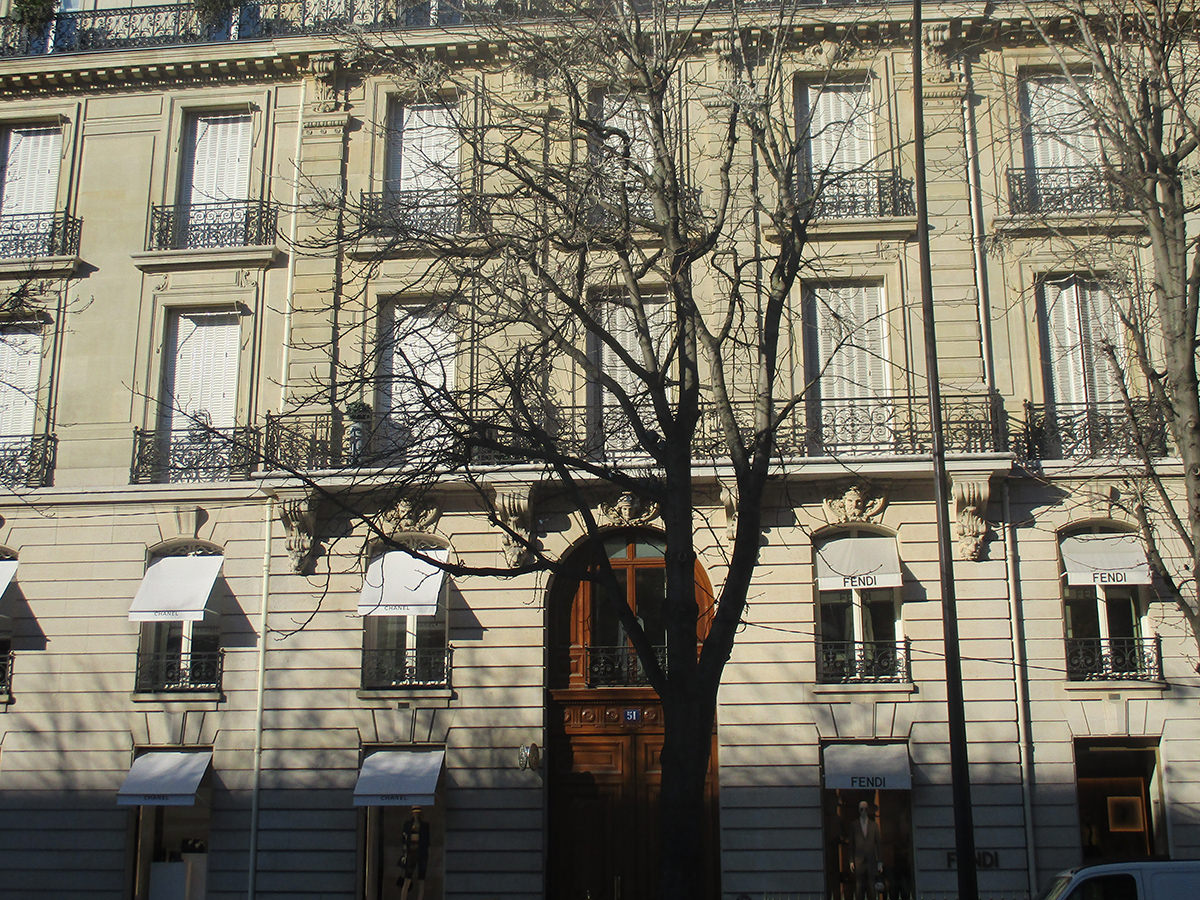 I made a lap around the store before stopping at a counter to try on some of the latest shiny things. A dark-haired associate instantly jolted over to assist me, already prepared to show me anything my heart desired. We ended up talking at length about a variety of subjects while she sorted through casings and cabinets in search of the perfect items to show me. Once we got on to the subject of COVID she began to speak more candidly and I, yet again, felt as if she was interested in talking to me for something more than the simple possibility of making extra commission.
"Ever since COVID started it has been very quiet. Now the days feel long without many people in the store. We still get people from Belgium and The Netherlands, and of course French people, but that's about it. We (as a people) are trying to do everything we can but we really hope for all of this to be over soon." – E.K
In all honesty, this whole experience started as an opportunity to examine how COVID-19 has affected day-to-day operations of the luxury fashion industry, but it quickly turned into a reminder that COVID is not just something that is still only affecting business and the way we work. And at the end of the day it really isn't about shopping, traveling, or the lost ability to eat in a restaurant. It is about how we are ten months into this pandemic and it still influences our moods, our expectations and our outlook for the future. Some of us may be slowly getting used to matching our masks to our outfits but hard as we might try, we are all still working to come to terms with the larger, more insidious implications of how the virus has altered the way we engage with the world at large.