Purchasing less, consigning more, and mindful spending are hot topics among the PurseBlog community right now. Over the last few months, I've written extensively about my love for consignment and sustainable handbag shopping, and I've disclosed my personal challenge to stay away from full-price Chanel bags.
That's why I'm very excited to report my latest find: A 2008 Chanel Medium Secret Label Flap Bag in excellent condition. I ordered it a couple of months ago, in December 2019, from The RealReal. It was a bit of a risk, compared to shopping on Fashionphile (which is where I find most of my consigned bags), because The RealReal hardly offers returns or refunds. Luckily, this bag turned out to be everything I hoped for and more. Here's everything you need to know.
Aesthetics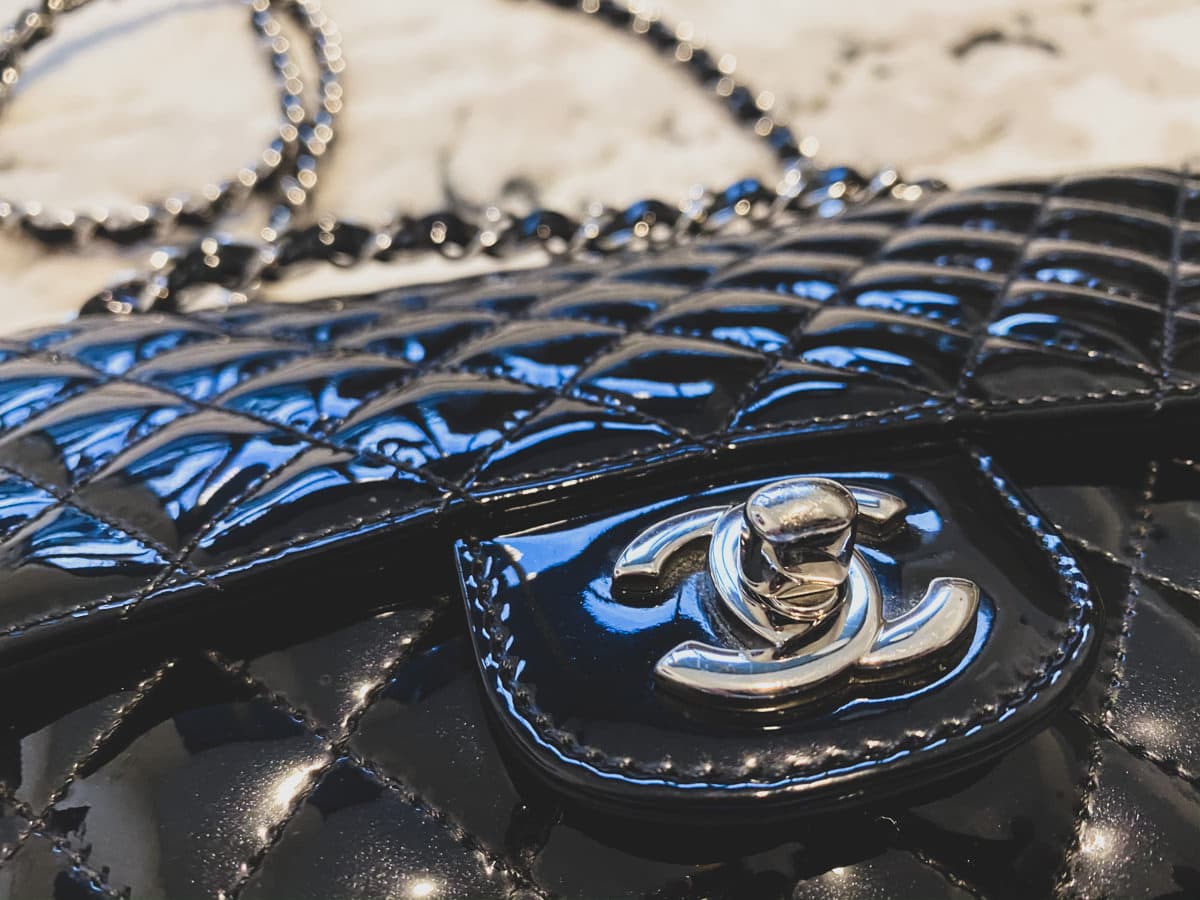 As with any classic flap, this bag has everything you could want out of a Chanel – the dual chain-link, the quilted stitching, and the CC turn-lock closure. Though the bag is well over 10 years old, one would never know just by looking at it. Chanel flaps haven't changed all too much since they were first released, which is why buying a vintage, pre-loved version is a more affordable and sustainable choice.
As for this specific bag, the patent leather and hardware are fully intact. There's light scuffing on the CC lock, but it's barely noticeable to the naked eye. The bag was listed in 'Very Good' condition, though I would argue it's 'Excellent.' There's not a single scratch or scuff on the patent leather, and there's hardly any wear along the inside front flap. The lining is clean, and every zipper and chain is functional.
I know patent leather is a bit controversial. Some have terrible experiences with the material, while others rave about it. I am grouped with the latter, as I find this material much easier to maintain. Rain? No problem. A quick wipe and it looks brand-new. Another great addition to this bag is the 'secret label' element on the bottom. It's hardly noticeable when wearing the bag via shoulder. I appreciate that it's not too flashy, but can still serve as a fun conversation starter.
All in all, I feel stylish when I wear the bag, even more so than my grained Chanel flap. The patent leather really pops, serving as a quick and easy way to elevate pretty much any outfit or outing – from the supermarket to a swanky dinner.
Usability + Functionality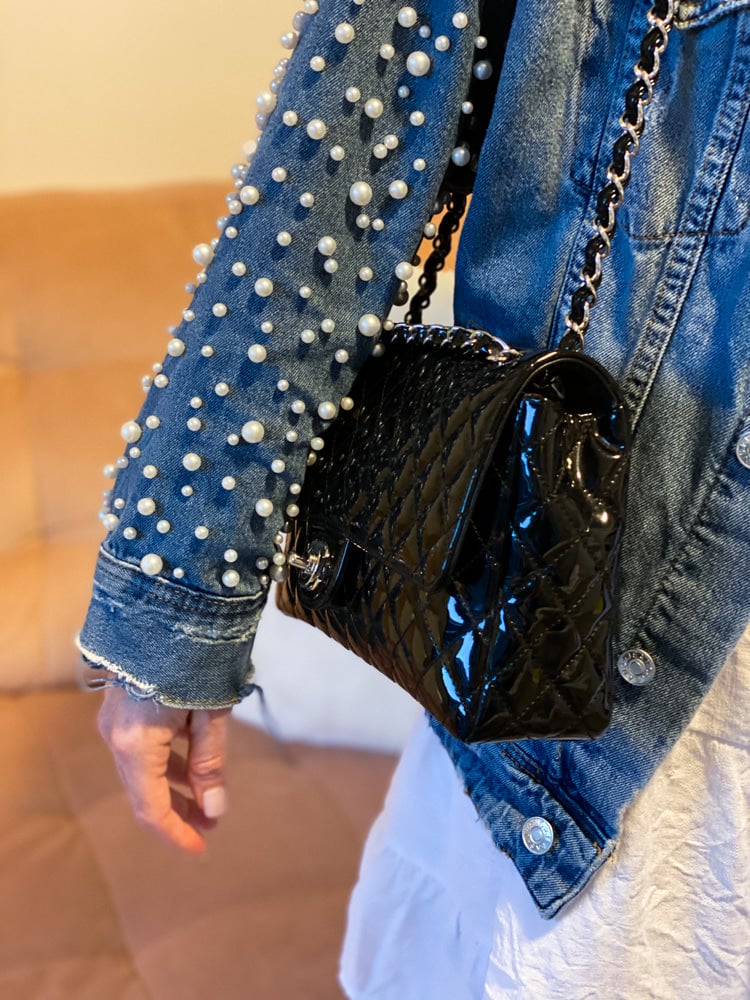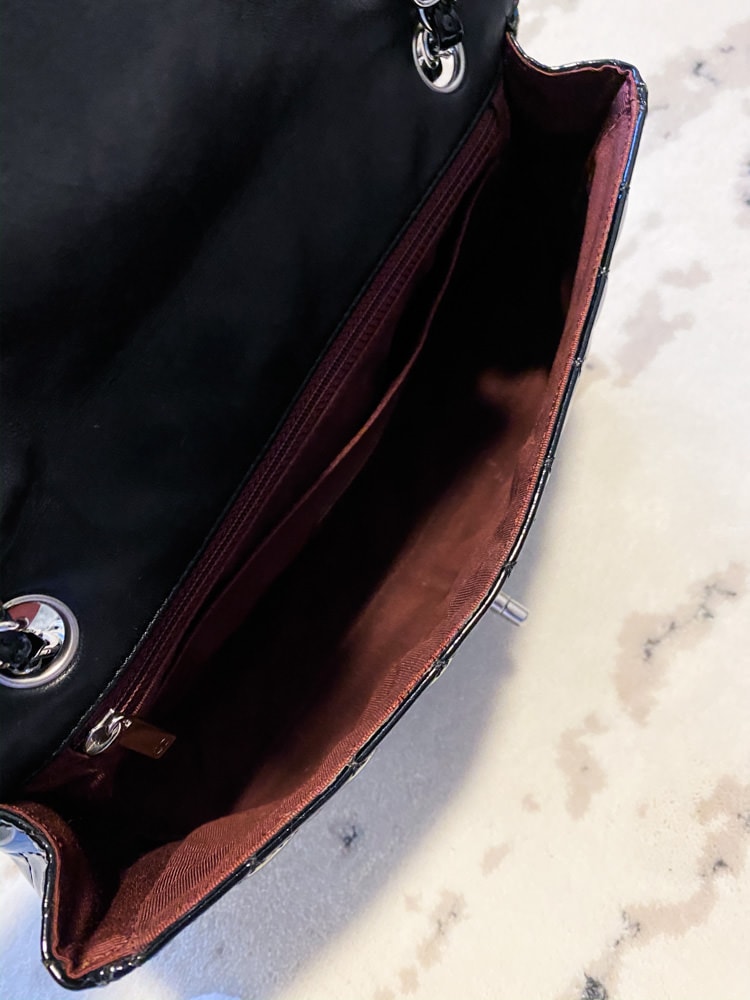 This is my second single flap Chanel bag, and after using it for over three months, I can confidently say I prefer this style way more than a double flap. It's a shame because single flaps have been widely discontinued. However, I find them infinitely more convenient than their double flap counterparts.
Given this bag is a much older model, it lacks the double-flap that you would find in boutiques today, which means the only way to take advantage of this kind of functionality is by searching for your own on the pre-loved market.
Plus, because the bag is patent leather, it makes the overall shape much more flexible. I can fit more into it than I can in my caviar medium double flap, even though they share the same shape and dimensions. Though some would look at this as a negative (the shape flattens a bit if the bag is not stuffed), I find it a pro. I keep my bags stuffed when they're not in use either way, and it's nice knowing I can fit more because the material is not as firm.
Otherwise, the functionality is on par with all other types of classic flaps on the market, both new and old. The only con is the back pocket, which is pretty small. It doesn't fit my phone, which is why I knocked the score down half a point.
Quality + Construction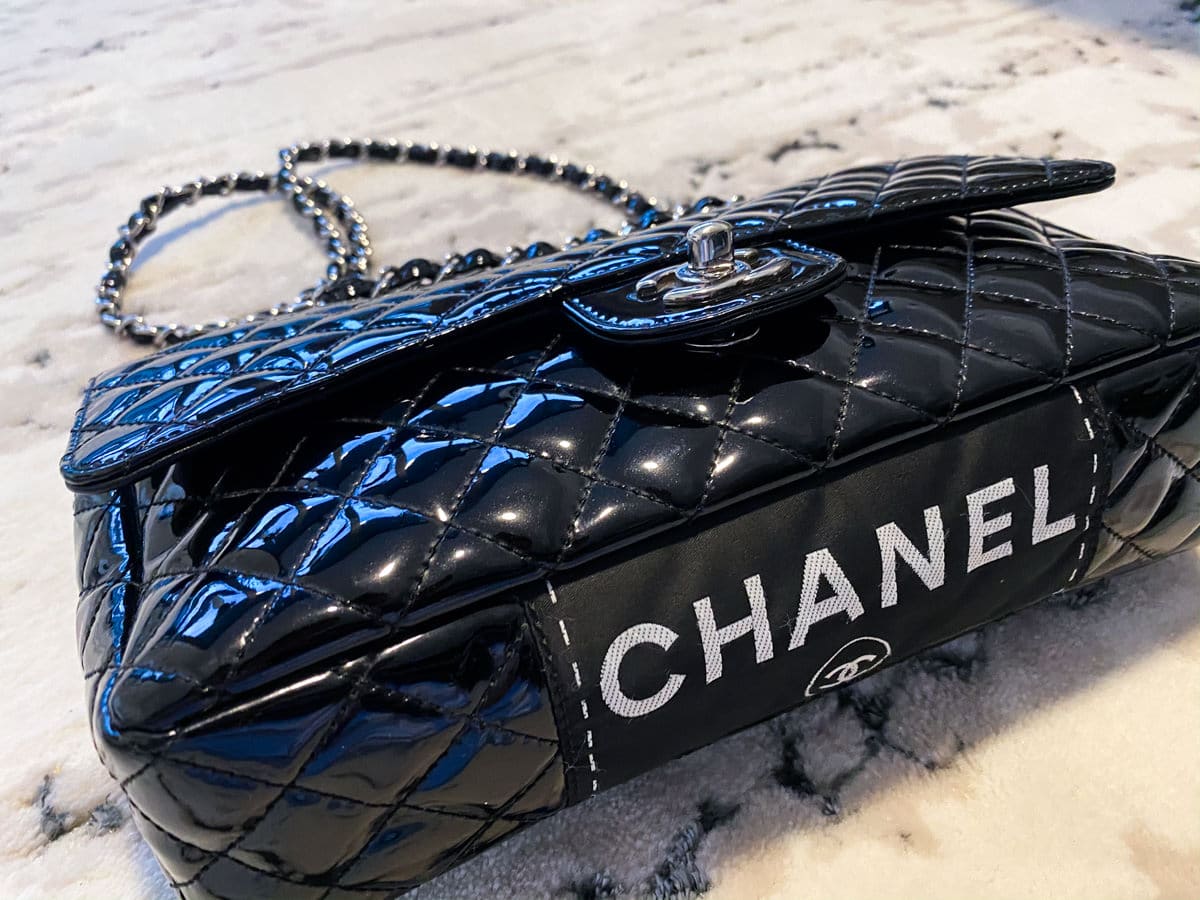 When the bag arrived (in its original box and dust bag!), it was in even better condition than I expected! As I mentioned earlier, it was listed in 'Very Good' condition, however I'd say it's practically in 'Excellent.'
Considering it is over a decade old, it's comforting to know the bag has remained in such incredible condition. Of course, the previous owner(s) clearly took care of it; however, I think it is also a testament to the incredible quality of the bag itself.
I've used this bag tirelessly in the last three months and it still appears the same as it did when it arrived in December. That's a clear win to me.
Price + Value
I purchased this 2008 bag for $1,596 plus tax. It retailed on theRealReal for $1,995, but at the time of purchase, it was knocked down during a 20 percent off sale. Most Wallet on Chains are more expensive than that! In stores, medium flaps retail for $5,600 and up. I think I got an incredible deal on this bag, especially considering its condition and inclusion of an authenticity card, box, and dust bag.
Staying Power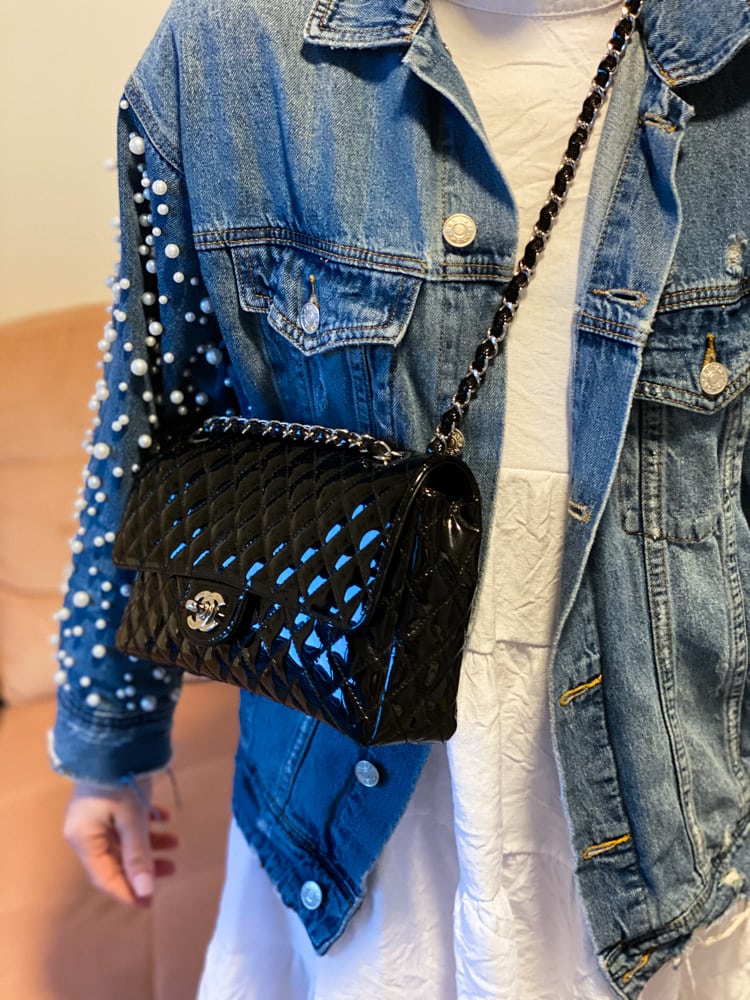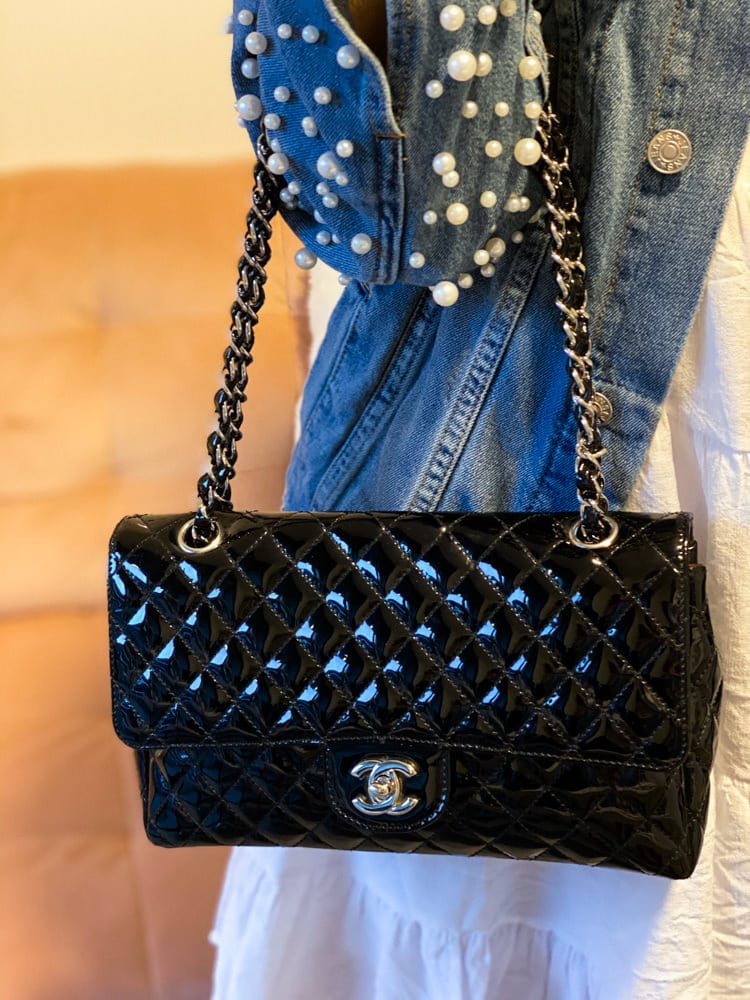 One could technically walk into a boutique and purchase the same style bag (minus the secret flap) for nearly $6,000. (Patent flap bags are currently available in most Chanel boutiques. I've checked out a few of them for comparison purposes.)
No matter the season, the medium flap bags are always available. And though most bags aren't investments, the classic look of it, coupled with its impeccable condition, leads me to believe it'll stay in style for a long time.
Overall Rating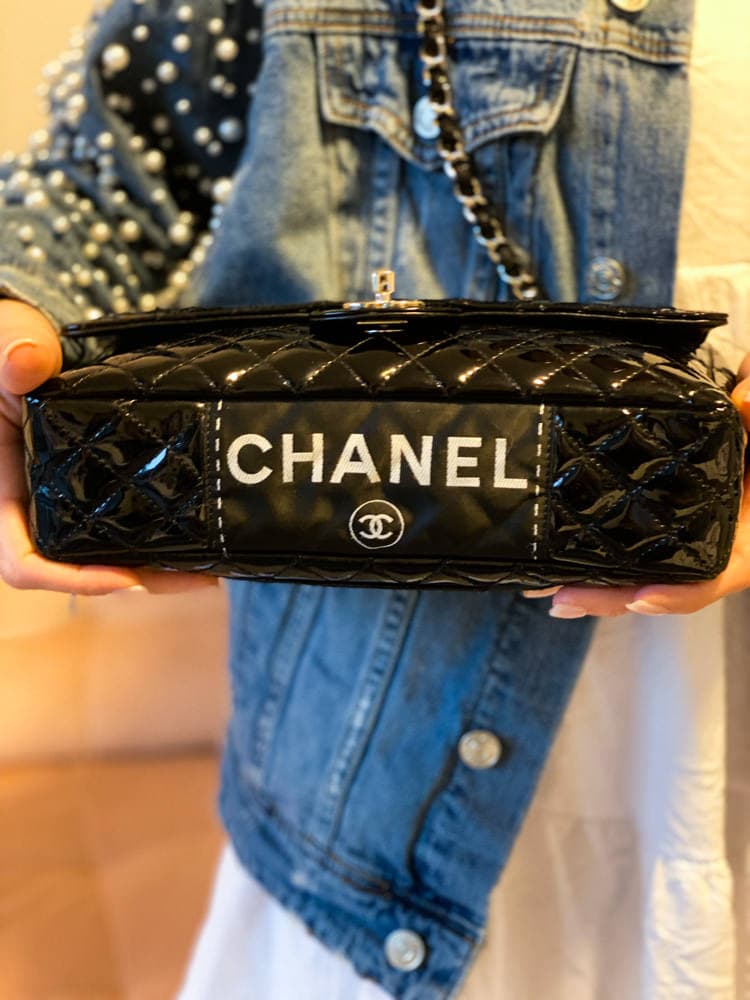 This bag has quickly become one of my favorites, and I have no doubt it will stay in my top five (or even top three) for many months (and potentially years!). If I would have purchased a medium patent flap for full price, I think I'd feel nervous about using it and disappointed that I had spent all that money on a bag. Knowing I scored a bag that retails for about triple the price, coupled with its condition, is a serious win in my book.
At this point, I think if your heart is set on Chanel, it almost always makes sense to go the pre-loved route. Are you eyeing any pre-loved bags at the moment?