A few months back I decided that I needed a red bag in my life and I was dead set on adding something Saint Laurent to my ever-expanding collection of bags. I'm all for mini bags these days as they not only fit into my personal style, but also my lifestyle really well. Saint Laurent does red really, really well but even still I couldn't decide which bag I wanted to make mine. You guys certainly had a lot to say, but in true Kaitlin form I went in to try them on not once, not twice, but I think three, or maybe even four, times. On my final try I ended up in Neiman Marcus and left even more confused when the Sales Associate suggested I try the Céline Nano Luggage Tote in lipstick red since it had a top zip—unlike the Sac de Jour. Luckily I didn't make any rash decisions, but rather I went home and gave it some thought. Actually, I gave it a lot of thought.
Ultimately I deciced that the Saint Laurent Sac de Jour Nano in Embossed Croc spoke to me more. I could picture myself wearing it and once I realized that it felt like something I couldn't live without, I knew it was the one. I decided to order my bag through Farfetch, as I did not want to make a fifth trip to the store and risk another bout of confusion. Farfetch offers 10% off your first purchase so it was kind of a no brainer for me as I had never purchased through Farfetch before. It could not have been any easier! With one quick search I located the bag, added it to my cart and immediately starting checking the order status. Farfetch is unique because they curate pieces from luxury brands and boutiques around the world. I was able to find the bag I wanted in less than a minute. I've had my bag for about 3 weeks now and after putting her to use in multiple situations I'm not only ready to review my bag in great detail, but I'm 100% sure that I made the right choice. I simply cannot love this bag more. Are you ready to see how she stacks up?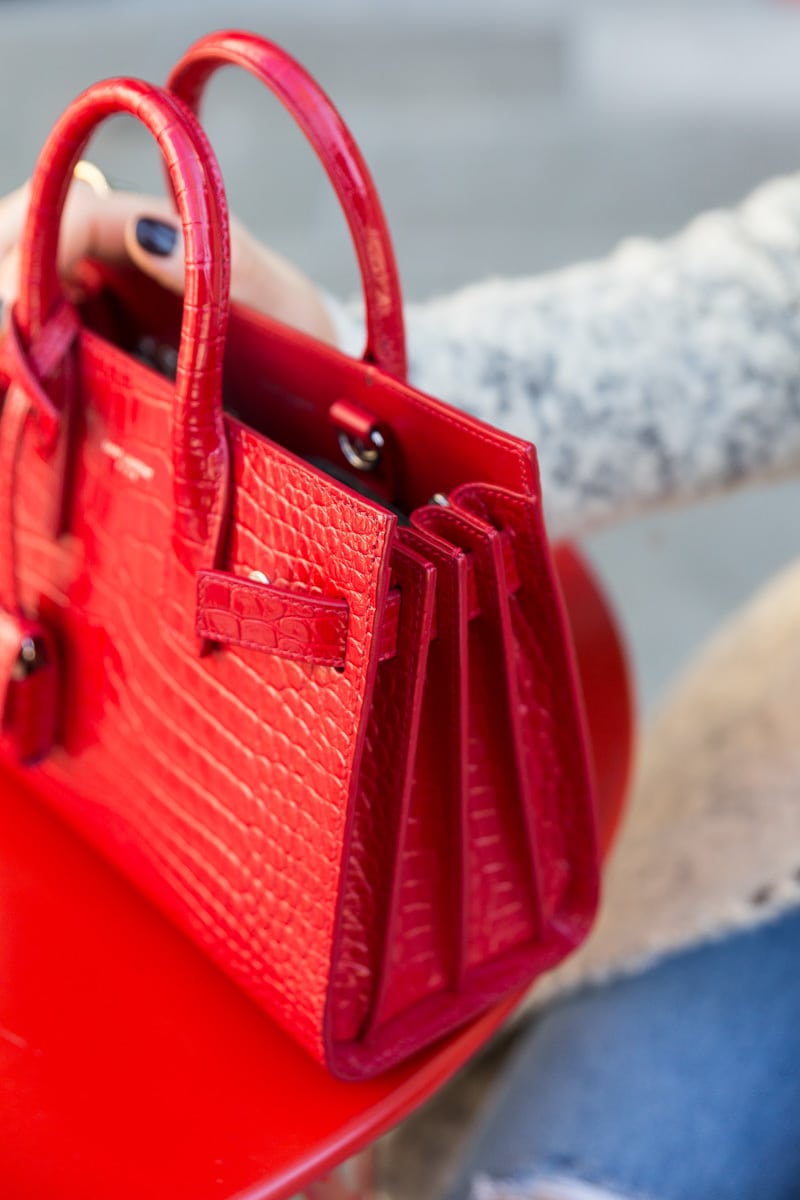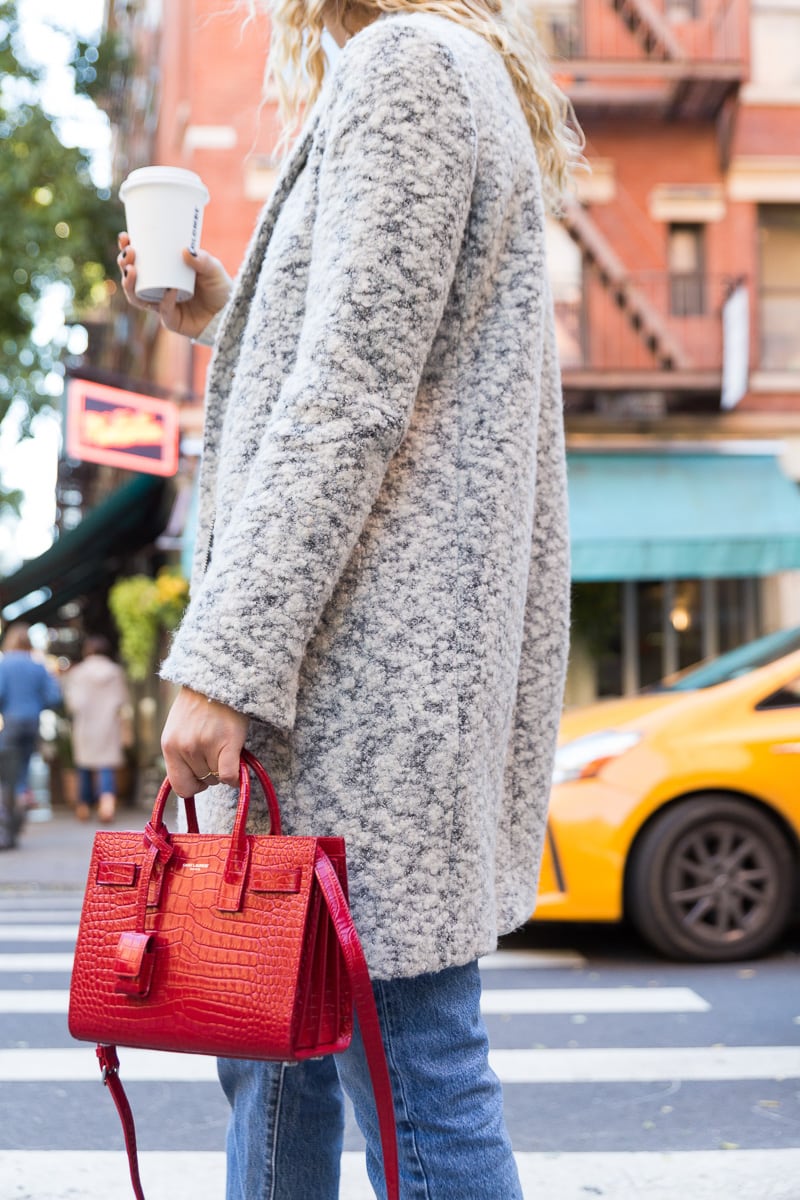 Aesthetics
As I mentioned above I am completely obsessed with this bag, and it's the overall look of this bag that really drew me in and helped me to make my final decision. I love the sleek shape of this bag so much. The original Sac de Jour was shrunken down into a compact nano cut and I adore how cute it looks both on body with the strap as well as hand carried with the top handle. When it's carried via the top handle, the Nano Sac de Jour looks super dainty which changes up the look of this bag completely. The embossed croc leather stands out in bright scarlet red, and I've already spotted people checking out my bag both on the street and on the subway when I've been out and about in NYC. The calfskin leather has a nice glossy sheen to it too, which gives it a very luxe look overall.
True to the classic Sac de Jour shape, this mini has accordion-like gusseted sides with snaps on the front of the bag. Just yesterday when using this bag I realized it looked sort of cool and different worn with the snaps open, and this is another feature that contributes to a 5-star rating in the aesthetics category from me. The bag is finished with metal purse feet, which do more for practicality purposes than the look of the bag, and last, but certainly not least, this nano has a padlock which is housed in a little leather case. It's also totally removable if you want to wear the bag without it.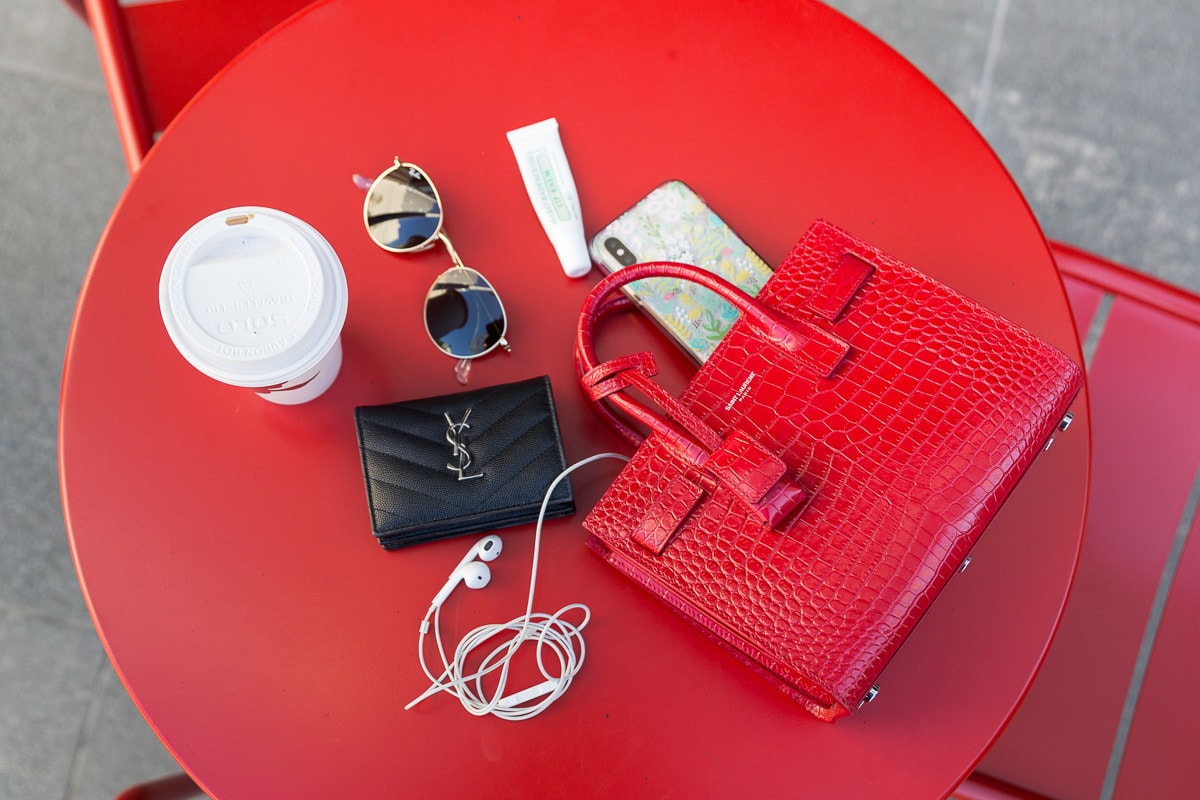 Usability + Functionality
Though this bag adds a lot to my wardrobe in terms of the style factor, it doesn't go above and beyond in terms of functionality. I would actually probably give this more like a 2.5, but I generously rounded up. This bag doesn't have a top zip, which is a HUGE downside for me, especially living in a busy and crowded city like New York. I'm constantly on the move and rushing through crowded places, and I don't love carrying around a bag that doesn't zip closed. However, I will say that the interior of this bag is so tiny and the sides are super structured that it would likely be very hard for someone to get a hand inside without me realizing. I wore this bag out to a very crowded bar recently with the cross body strap on and I didn't feel vulnerable at all.
The biggest problem I have with this bag is definitely the open design, but another thing I don't love is the lack of interior pockets. It has none, not even a small card slot, which to be honest, really surprised me. I can't remember the last bag I reviewed that didn't have at least one small pocket inside, especially mini-bags. The interior of this bag is tiny, and with overall dimensions of 8.6″ W x 7.0″ H 4.1″ D, you definitely have to streamline what it is that you carry.
Inside I've been carrying my Saint Laurent Small Wallet, my Ray-Ban sunglasses in their original case, a tiny cosmetics pouch, both my personal iPhone X and my work iPhone 6S as well as my keys and headphones. When going out at night I nix one of the phones and the sunglasses and I have more room, but to be honest I don't really need it. I'm so used to carrying small bags that the size of this bag didn't deter me at all from buying it. In fact the next size up, which is the Sac de Jour Baby, was simply a bit too big for me. The nano works perfectly for day and night use while the baby size felt more like a day bag. It's also worth noting that because the bag is super structured, you really have to organize your things in a specific way, and after using this bag a ton I've got it almost down to a science of what goes where. It's also a bit easier to get in and out of when you open up the snaps.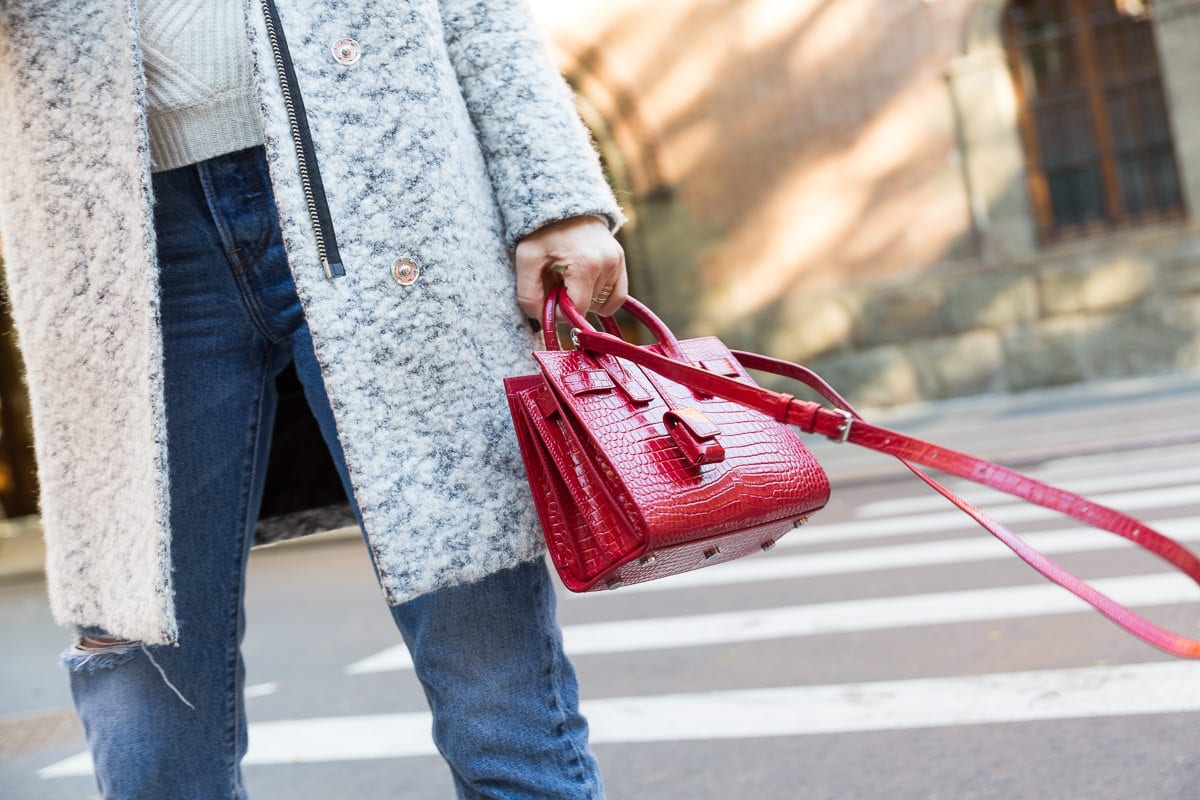 Quality + Construction
Made in Italy of 100% calfskin leather this bag is incredibly well-crafted. The quality of the leather is not only spectacular, but being that it's not super-soft calfskin it's also very durable. A bag that won't show wear very easily is very important for my on-the-go city lifestyle. My bags go through a lot of wear and tear on any given day, so the quality and craftsmanship of a bag is a big decision-making factor for me. I also really like that this bag has metal feet. Every once in a while my bags unfortunately find their way to the floor, so it's great that this bag has protection if that happens.
The Nano Sac de Jour is incredibly lightweight, and being that it's a mini bag that doesn't hold very much, when you're wearing it cross body and completely hands free, it's easy to forget you're even wearing a bag! The lightweight factor is nice too when daintily carrying the bag via the top handles. Nothing is worse than carrying a top handle bag that feels like a ten pound weight! The leather might be thick and sturdy—almost a bit too stiff, but I think it will give over time—and incredibly durable, but the bag overall is the furthest thing from heavy and bulky.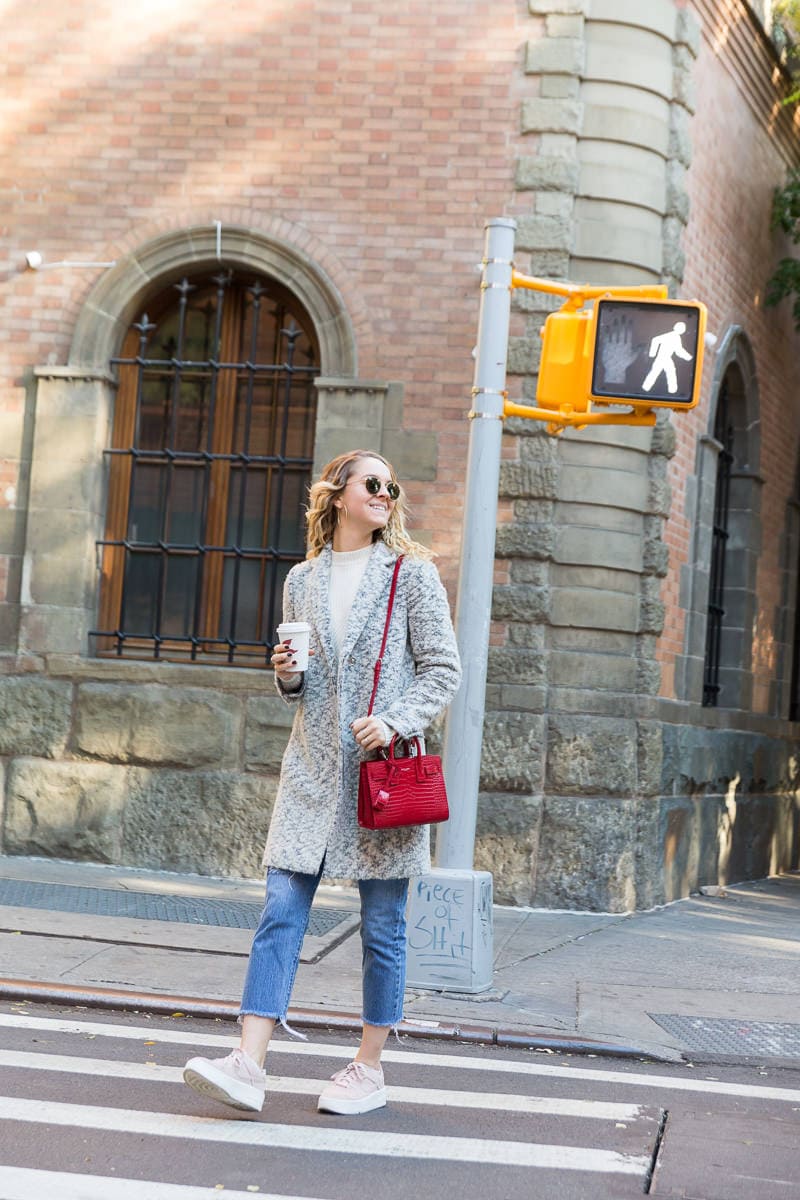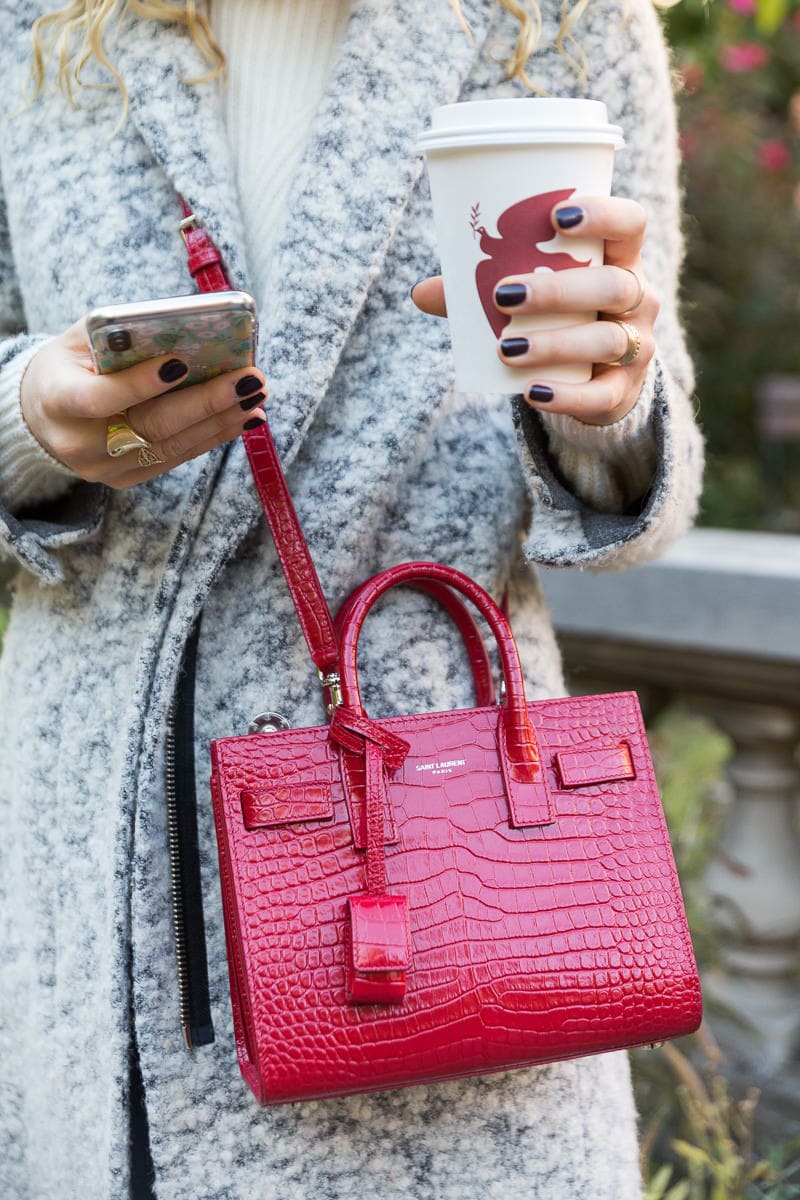 Value
The Saint Laurent Sac de Jour line is pretty pricey, with the largest size retailing for $3,150 in Embossed Croc. Though the version I have—the nano—comes in at a bit over $2K. It will set you back $2,290, which though definitely pricey for a mini-bag is not completely awful in the scheme of things. As we've explored before, many designers are pricing mini-bags around the $3K mark, which is a super-high price point, especially for a small bag you might not be using daily, so at just over $2,000 this bag is about average in price compared to other designers. For example, the Céline Nano Luggage bag I looked at was priced just under $3,000.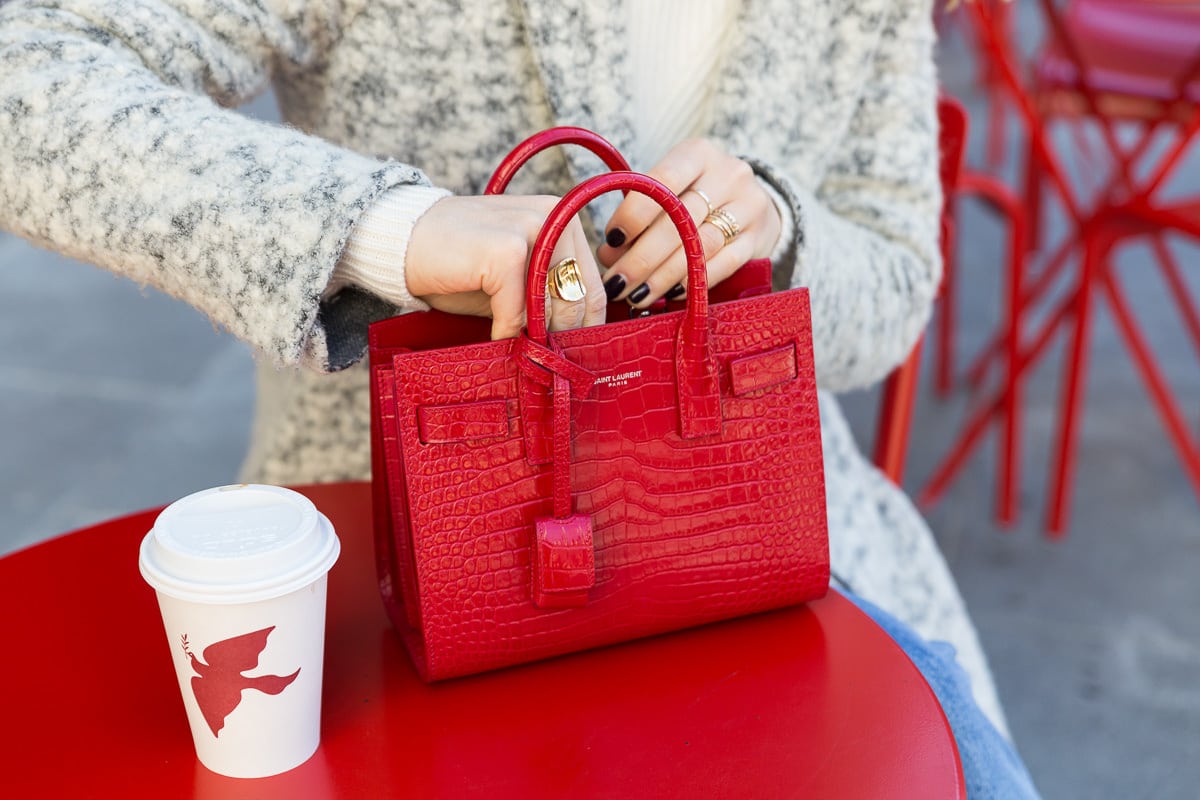 Staying Power
The Sac de Jour was released by Hedi Slimane about five years ago now, and since its release the brand has introduced new sizes, leathers and colors. Though Slimane is now out at Saint Laurent, this bag has become a true classic and is loved by starlets, influencers and every-day bag lovers alike. When I first began looking at this bag Amanda suggested I might want to wait a bit to see what happens and the direction in which Saint Laurent will take now that Slimane has moved on to Céline. However this bag is a classic shape that will remain relevant whether the brand discontinues it or not. I've wanted a version of this bag for a long time, and if the photo below is any indication, I'm thrilled to finally have this bag in my rotation!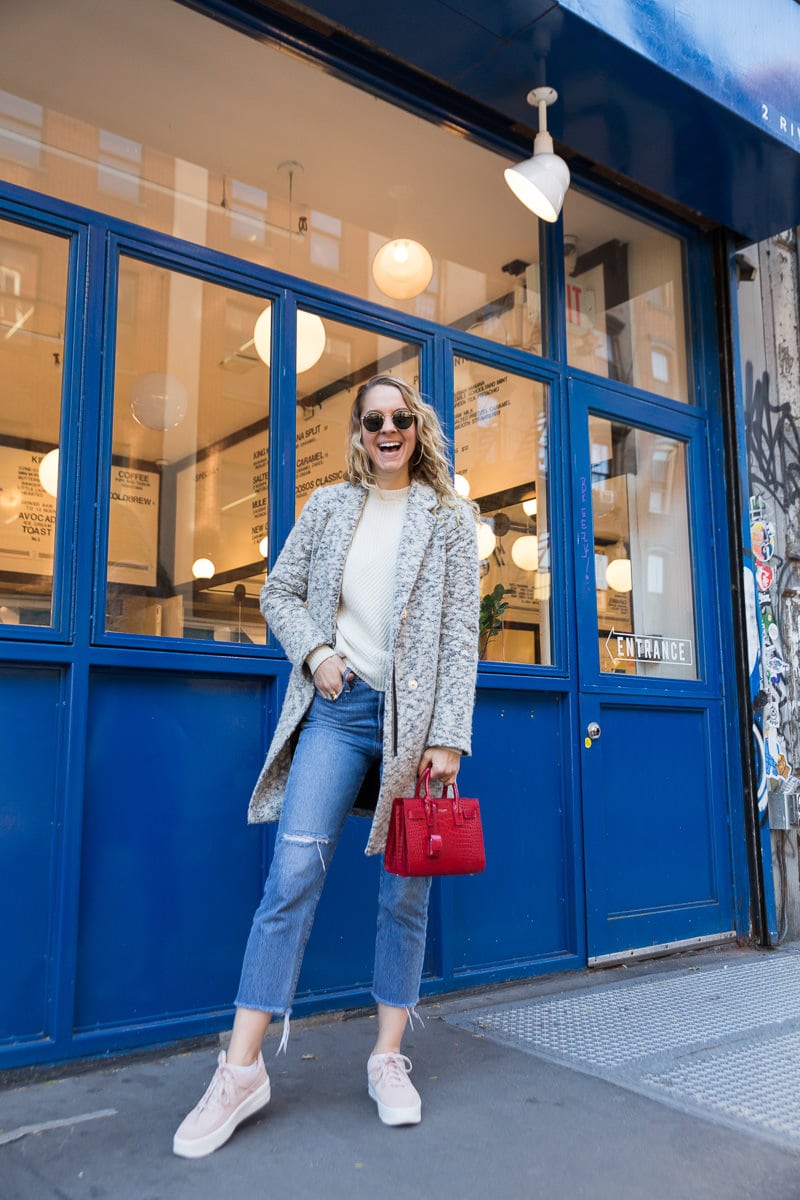 Overall Rating
Overall this bag gets a solid 4 stars. The shape of the Sac de Jour is classic and perfect for an every day bag. For me, the nano size is just right, but the baby, is also a great size option! The luxe embossed leather coupled with the bright scarlet red makes this bag a true show stopper. Carrying this pretty lady brings with it that new handbag joy and I've been walking around with a bit of an extra pep in my step! Though this bag is far from it, that feeling of confidence is truly priceless.
Saint Laurent won big with the release of the Sac de Jour, and I'm not surprised that it continues to preform well for the brand. The bag I chose adds a fun pop of color, but if you want to stay true to the classic shape, you can also do it in basic black or a more muted tone. I love that there's an SDJ for everyone.