In the past few years, no bag has gained the quick and steady popularity of the Céline Luggage Tote. The bag reached mass It Bag hysteria in 2011 and has yet to to waiver from the pedestal everyone has placed it on. In fact, you can see this bag on the arms of basically everyone - actresses, reality stars, style bloggers and fashion insiders alike. A day hasn't gone by in a long time in which I haven't seen a version of the Céline Luggage Tote.
While many know the Mini version of this bag as the classic, the Nano popped up a few seasons later and gathered quite the following. I've already reviewed my much-beloved and little-known Celine Triptyque, and now I want to give you a look at my Celine Nano.
Here's how my Céline Nano Luggage Tote scores in our PurseBlog Purseonals ratings:
1 / 6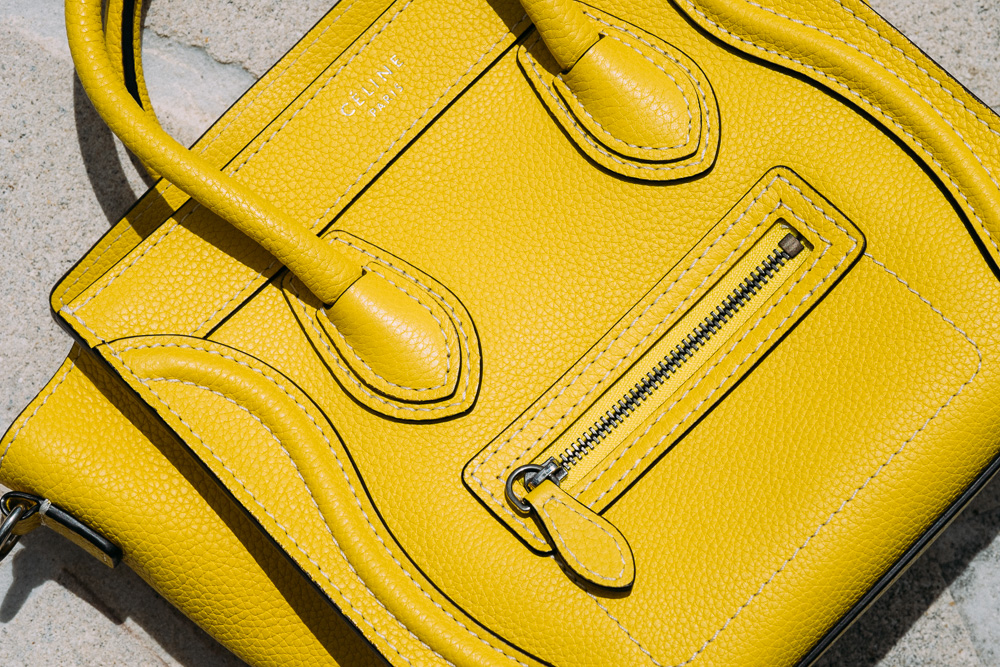 Aesthetics
While the Céline Luggage Tote has reached total saturation, I still absolutely love the design of the bag. Let's face it: a bag will not reach such mass hysteria without there being something special about it, and the Luggage Tote is extremely easy on the eyes.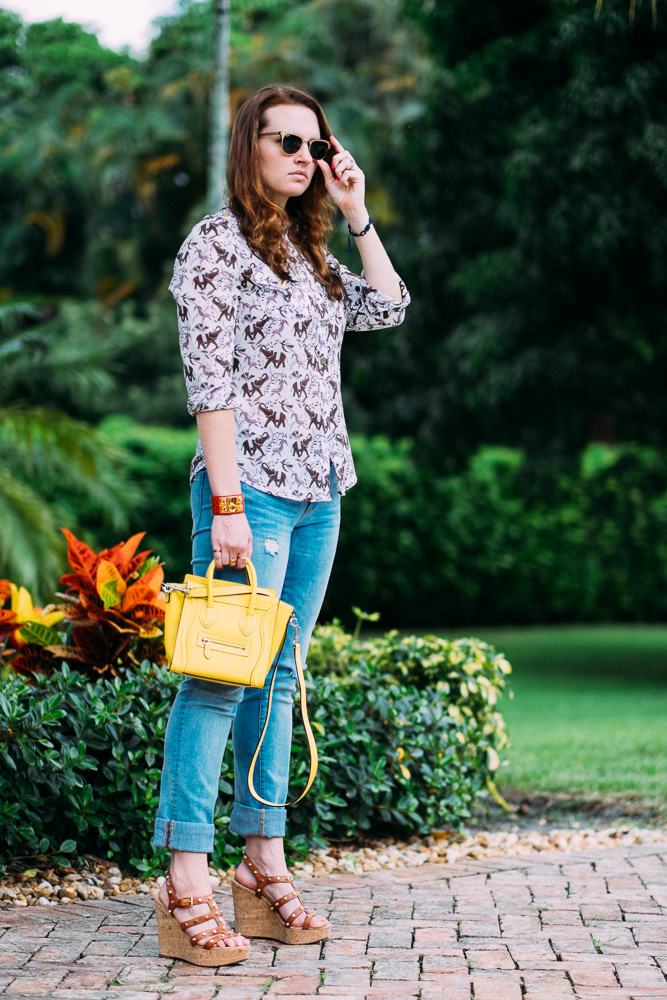 Some see a face on the front of the bag, but I see clean lines alongside some curves that help the design stand out. The Luggage Tote got so popular because of a simple design that has now become iconic, and that hasn't changed. This bag definitely reach It Bag status and then some, and that's quite the feat after years of bags that didn't quite make it.
While I love my Mini version, the Nano is just right. I love the shape, I love the additional lines, I love the front zip pocket that isn't quite functional. Overall it's a great-looking bag. The protruding gussets have become synonymous with the Luggage Tote, and they add dimensionality to the design. Overall, I love the aesthetic of the Nano.
2 / 6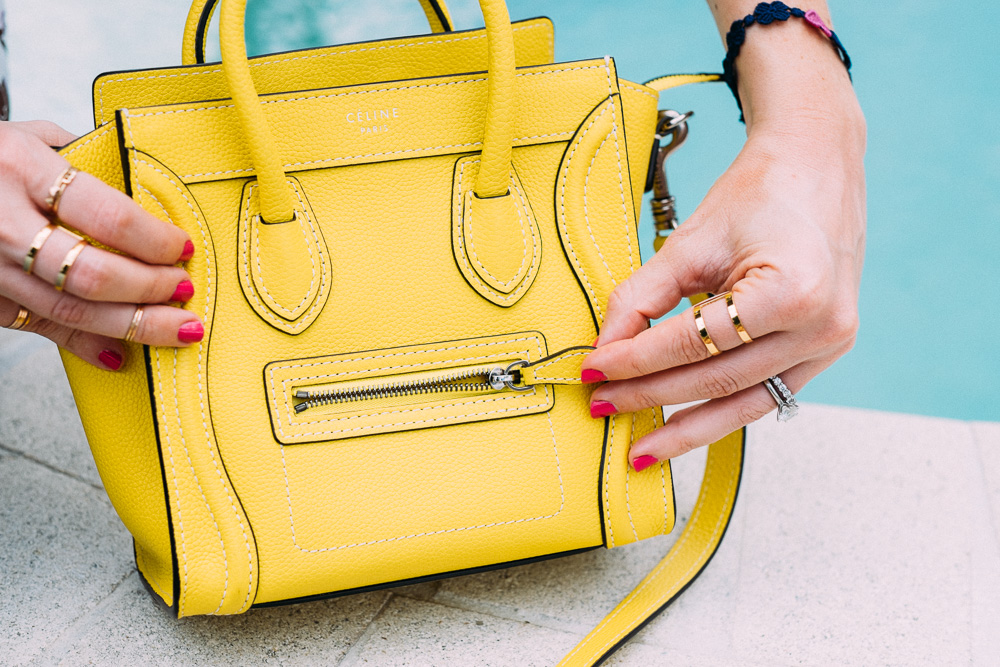 Usability + Functionality
Mini bags are all the rage, and finding a smaller bag that still is very usable can be tricky. This bag has enough space to fit my my wallet, iPhone, keys, lipstick and then some.
The outside has a front zip pocket, but I have yet to use it - it's actually quite pointless. It's a flat zip pocket that's not only shallow in depth, but it's also not long enough to fit much of anything. I can fit a couple business cards in there, that's about all.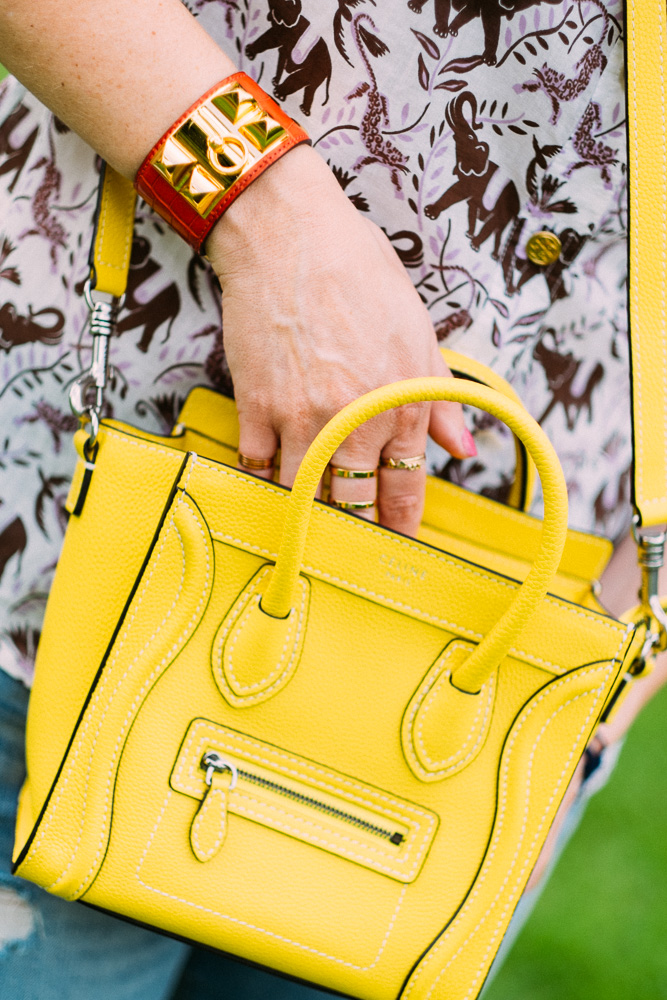 The wearer accesses the interior via a zip top, which is usually very seamless to zip and unzip, and there's also an interior flat pocket. (It can't fit your phone, however.) I find the interior to be spacious enough but not cumbersome.
The long shoulder strap is my favorite part of this bag. You can remove the strap, which transforms this bag into a more polished look, but I use the shoulder strap and it's plenty long to let the bag hang nicely at my side.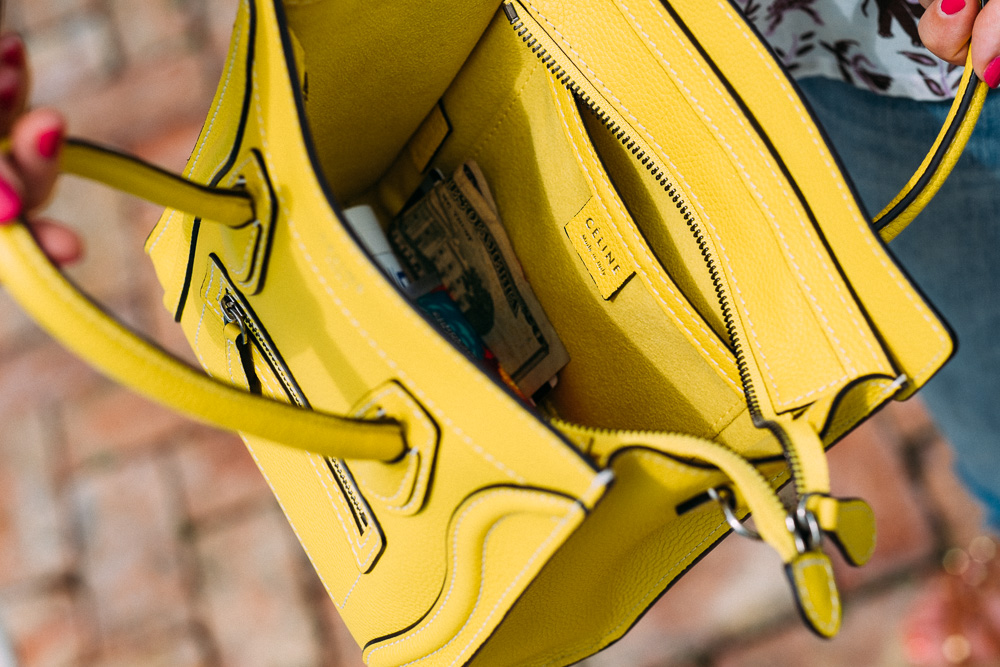 3 / 6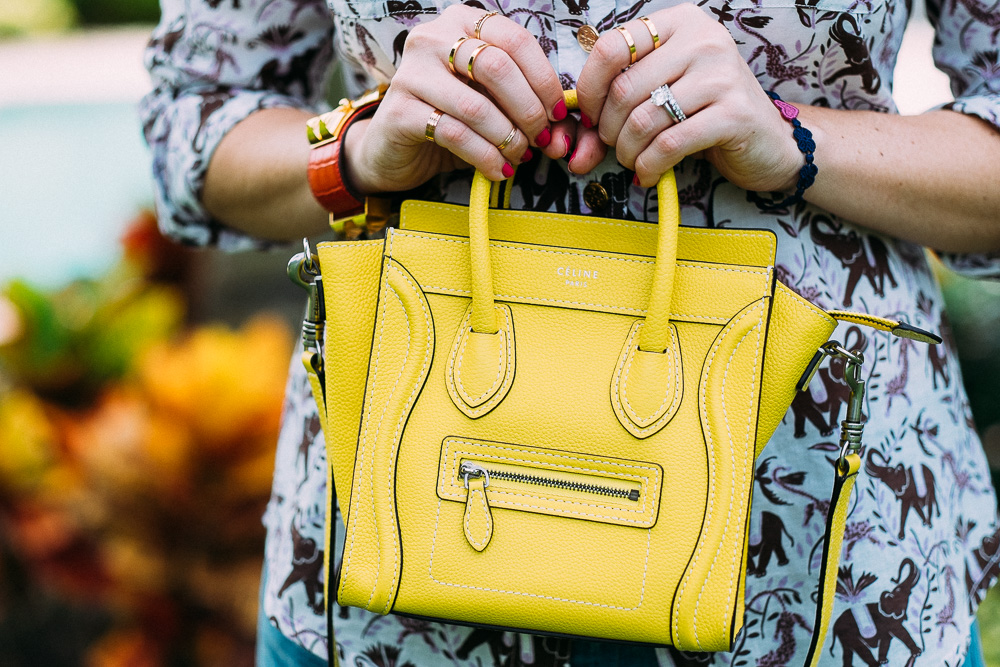 Quality + Construction
Quality and construction are so important when it comes to a handbag, and my Nano is on point. The leather is thick and pebbled, and it has yet to show much wear, despite the fact that I've owned this bag for a few seasons. The leather still smells new, which is always a good sign in a handbag.
Stitching is one of the biggest tells when it comes to checking a bag's quality, and not one stitch on my Nano looks loose. The interior is a soft, microfiber-like material, and even though it's light yellow, it has yet to darken from use.
One of my favorite parts about this bag is the reinforced leather bottom. So many bags end up sagging and losing their shape, but Céline added a durable panel of leather at the bottom of the bag to help it hold its shape. While the rest of the bag gives a little with wear, the bottom keeps the bag looking like the Céline Nano I know, and that's a major plus.
4 / 6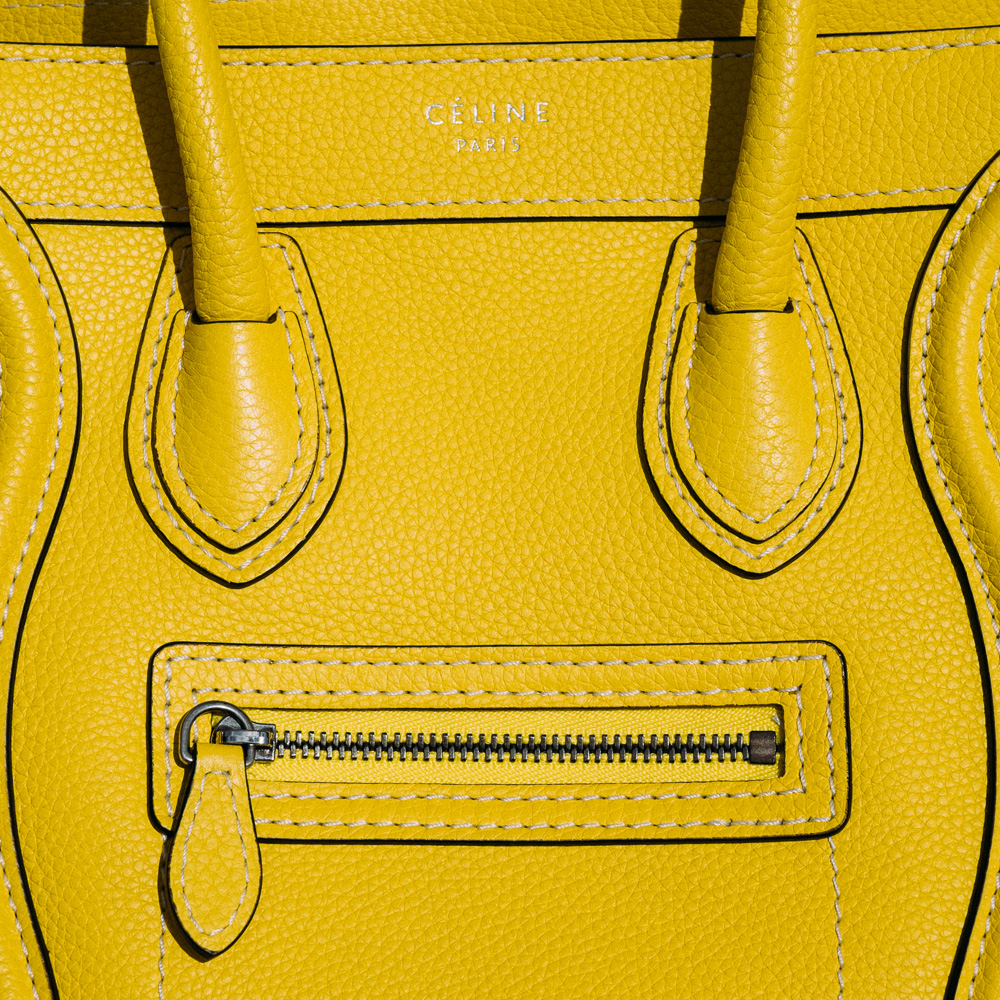 Value
The price for the Nano is $2,700 right now. When I bought this bag, it was a few hundred dollars less, and to be honest, Celine prices have jumped so drastically over the past few years that it's crazy. One of my big issues is how much designers are charging for mini bags compared to their larger counterparts. The Mini Luggage Tote costs about $3,100 right now, and for the size differential, it does not add up that this bag is only $400 less than its much larger counterpart.
Furthermore, in 2011 when Céline Luggage Totes started to gather attention, the Mini was well under $2,000. It was a fair price for a great bag. I do love the Nano, but for a small bag, paying $2,700 plus tax is just too much.
5 / 6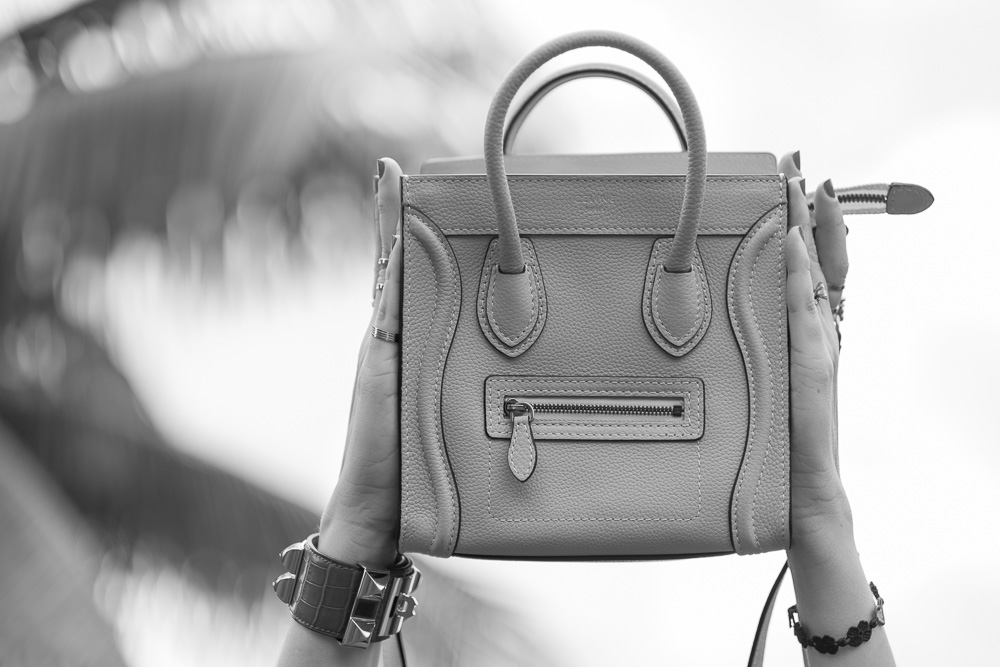 The 'It' Factor
If I reviewed this bag a year ago, it would be five stars when it comes to It Factor. I'm moving it down to four stars, though, because over time, the Luggage Tote has become beyond ubiquitous. Over-saturation makes this bag less of a standout piece.
With that said, the love and admiration for this bag has yet to wane for many. Céline has done something few brands have been able to do over the past few years; its been able to churn out covetable bags that keep people yearning for them, season after season.
6 / 6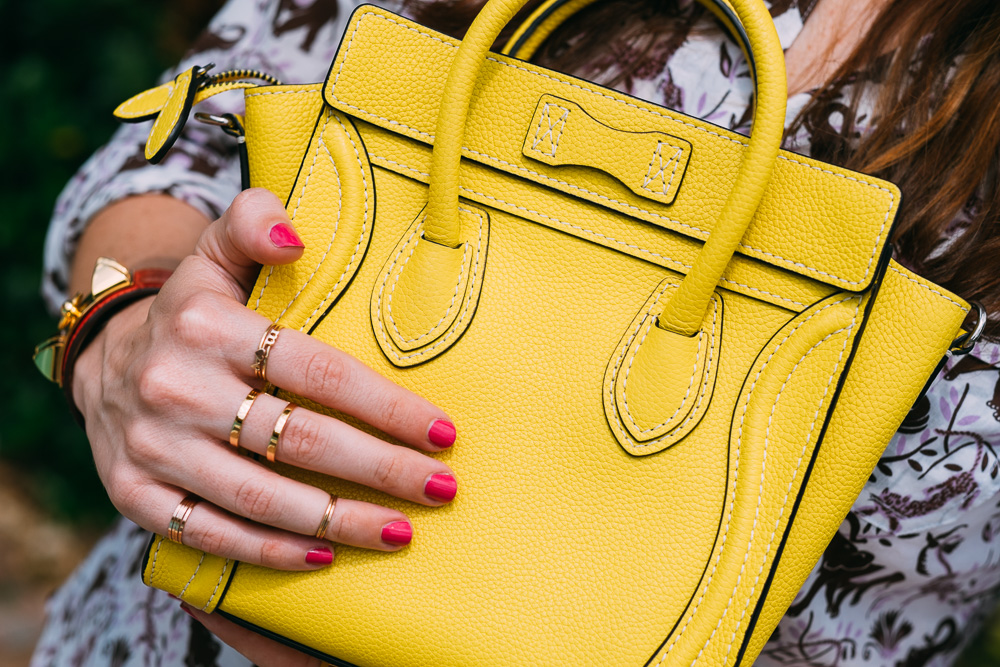 Total Score
The actual total score is 3.8. This is the hardest I've been on a bag since we started Purseonals, and I gave my lowest category score yet, a 2.5 for value. I was probably light-handled in past reviews of bags, but I am going to keep being as honest as I can in my reviews and the rating I give to each category.
Overall, this is a great bag. I love owning it and carrying it, I love how it looks, I love the color and Celine continues to release new versions of the Nano every season. If you are a fan of the design, you will not be let down by this bag, and if you love a good Mini bag, it's a great option.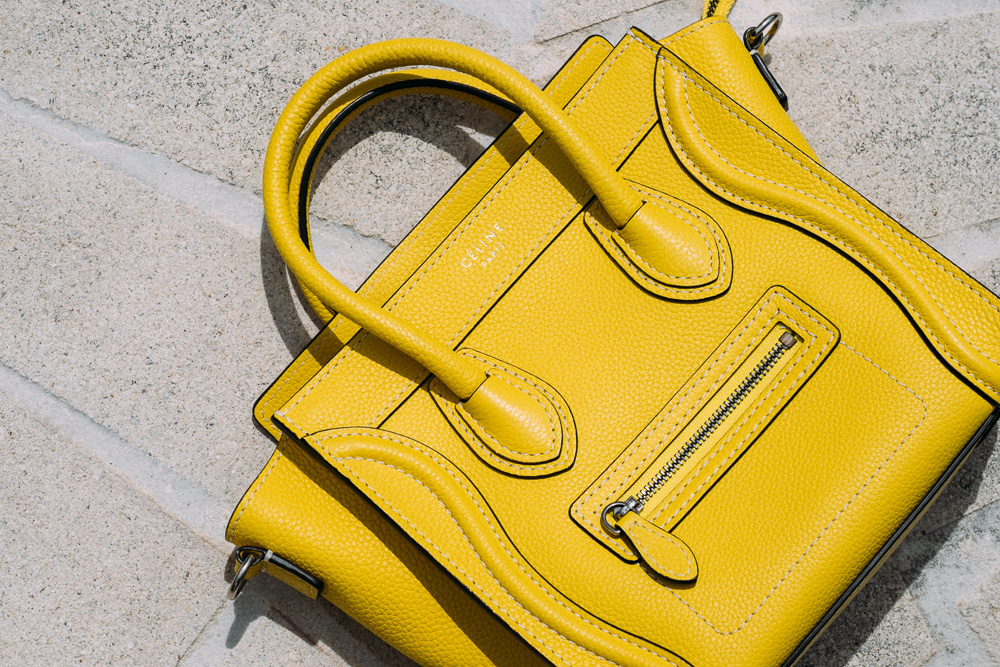 P.S. Please consider supporting our small, bag-loving team by clicking our links before shopping or checking out at your favorite online retailers like Amazon, Neiman Marcus, Nordstrom, or any of the listed partners on our shop page. We truly appreciate your support!