I only like to write Purseonals once I've carried a bag for a while, that way I really know how it works. That means any bag that falls into this category has really been worn and carried by me and the review I give is as real as it gets. I'm behind on Purseonals because to be honest I haven't been changing my bags out much. Toward the end of my pregnancy I was tired and swollen and the first few months with Vaughn have been spent with me carrying a Prada Nylon backpack (review of that to come next, I really use that bag a ton) as my everyday bag.
But when I leave the house with just Millie, I've been taking my Polène Numéro Un Mini bag with me and that has become my new smaller go-to. I introduced Polène in August of last year and not only is it a brand that I have really fallen in love with but many of you have as well. I've noticed more people talking about the brand and while I gave a review then, I want to really give an in depth look at the bag I've been carrying from the brand. (I'm planning to add more mod shots to this post soon as well but truth be told the day we took the first few shots I was disheveled up top and on Wednesday of this week Vlad had back surgery, so he can't take any pics right now.)
1 / 6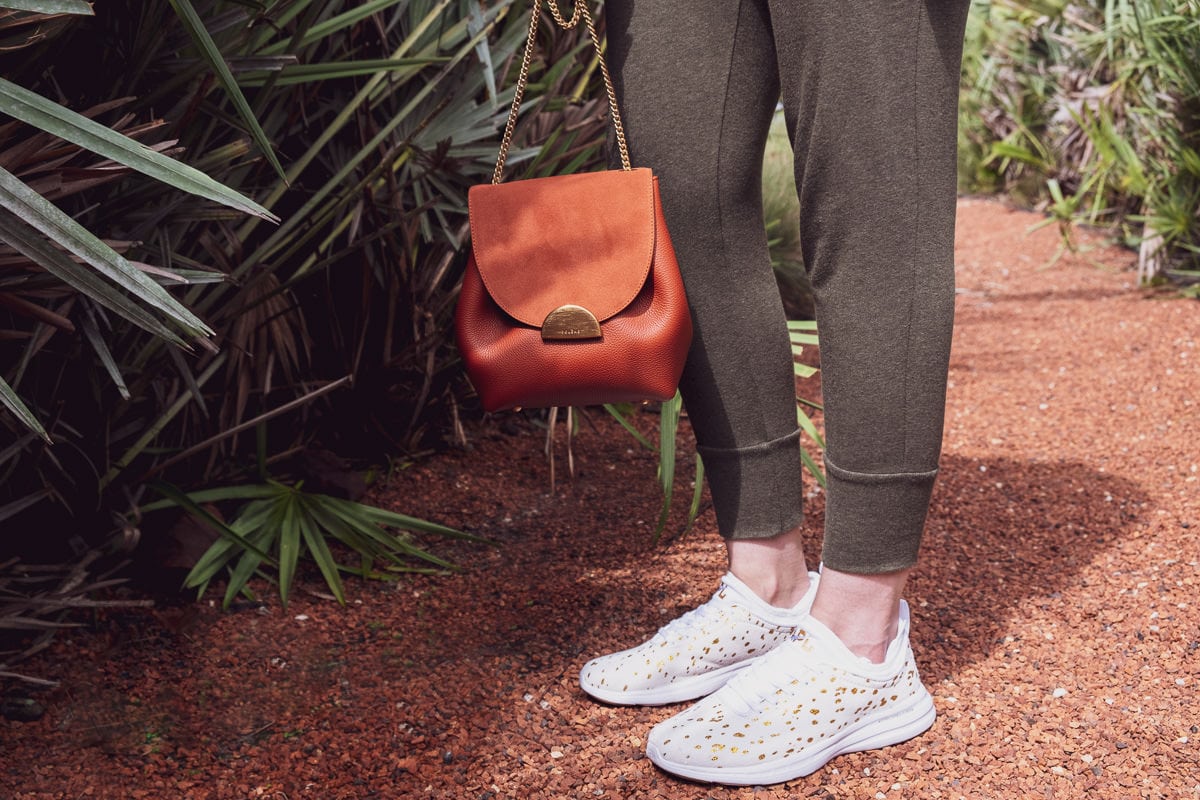 Aesthetics
I LOVE how this bag looks! Aesthetics is listed top of every Purseonals because without a bag you're drawn to, you probably won't even consider buying it. This bag is understated, sleek, clean, refined, and really just beautiful. It looks fairly dressy and while I love that aspect, I've had no problems pairing it with my typical casual daily wear.
The color that I have is stunning and if you ask me, I'll tell you to get this color: terre de seinne. The color can be described as a natural reddish brown and it's works well against blue jeans and a top and stands out so beautifully against any earth tones you may wear. The pebbled leather soaks up the color nicely and the top flap features a sueded leather. This isn't in the palette I am typically drawn to, but Earth tones are all the rage right now and this color is honestly so divine I wish I could design a room in my house around it.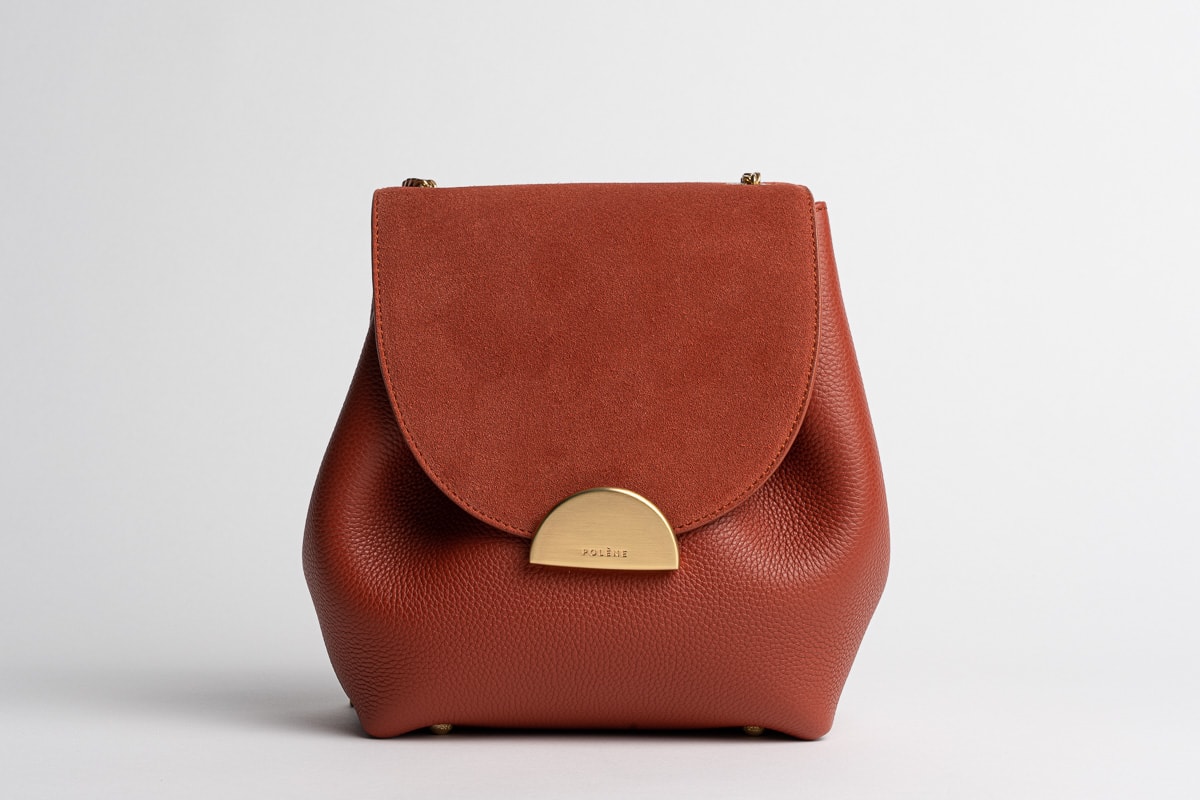 There are some bags that stand out and simply are really nice to look at, and this is one of those bags. The brushed gold hardware (legit, perfect pairing) and the semi-circle closure opens up to the interior and helps give a focal point to the front of the bag. The brand name is etched in this hardware but it is really subdued. The top flap is created from suede while the body of the bag is a full-grained calf leather, and those two finishes of leather pair ideally together. When this bag is closed, it shows off lines and curves in a really interesting way.
The body of the bag is similar to a bucket shape that is held together at the top with snaps (more to come under usability and functionality). The elegant simplicity of the design is what stands out most and part of that is the chain shoulder strap which adds a fancier touch. Each element of the design is well-planned and it's no wonder this bag is the best seller for the brand right now.
2 / 6
Usability + Functionality
I wind up using a bag often and making it part of my daily rotation if and only if it's incredibly functional. I don't have time to mess with a bag that only looks pretty, I'm too busy handling two little ones and trying not to forget a necessity at home. Many of my smaller multi pocket bags that used to work for me no longer will (think the Celine Trio). I like that this bag is compact but it is still open to see everything inside and I can fit a diaper for Millie and Vaughn if I need to.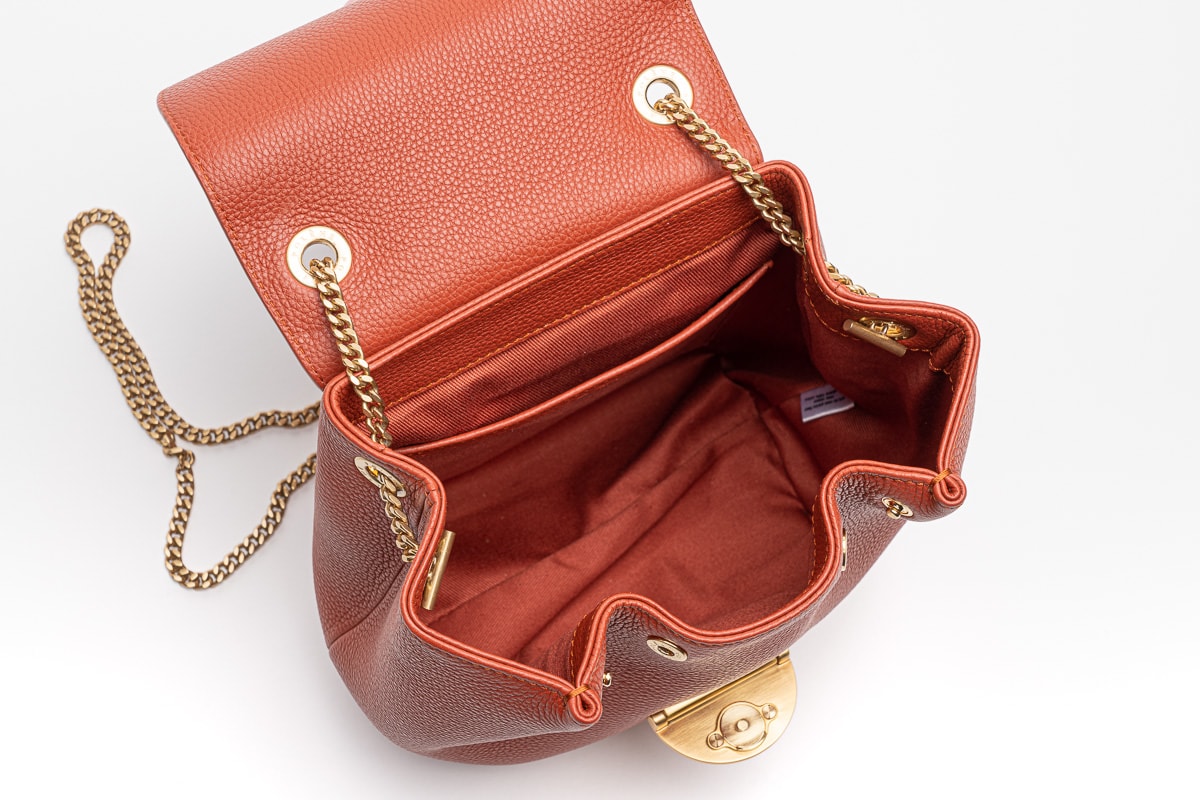 To access the interior of the bag, you need to open the magnetic snap that is hidden underneath the front metal tab. It's really easy to open but if you have the bag on your shoulder, closing it back up takes a minute to get it in the right position. I need to push the top flap of the bag down a bit and hold the base of the bag to get the snap to fall into place if the bag is on my shoulder when I'm trying to close it. Some bags both look and work fine when they're open, but because of the design I prefer this bag to be closed.
The interior of the bag is straightforward with one flat pocket. This pocket sits alongside the back of the bag and you can slide your iPhone inside. The interior features twilled lining from 100% cotton and while I like a cotton lining, I wish the color was lighter so I could more easily find what I'm looking for. I like to carry a card case with my credit cards, cash and a few other personal items, all of which fit easily inside. I can even pack a couple diapers in the bag which is really nice along with a small bag of wipes. I've even fit one of Millie's water bottles before. I've become a great bag packer, and the depth and width of this bag is just right to allow ample space while remaining compact.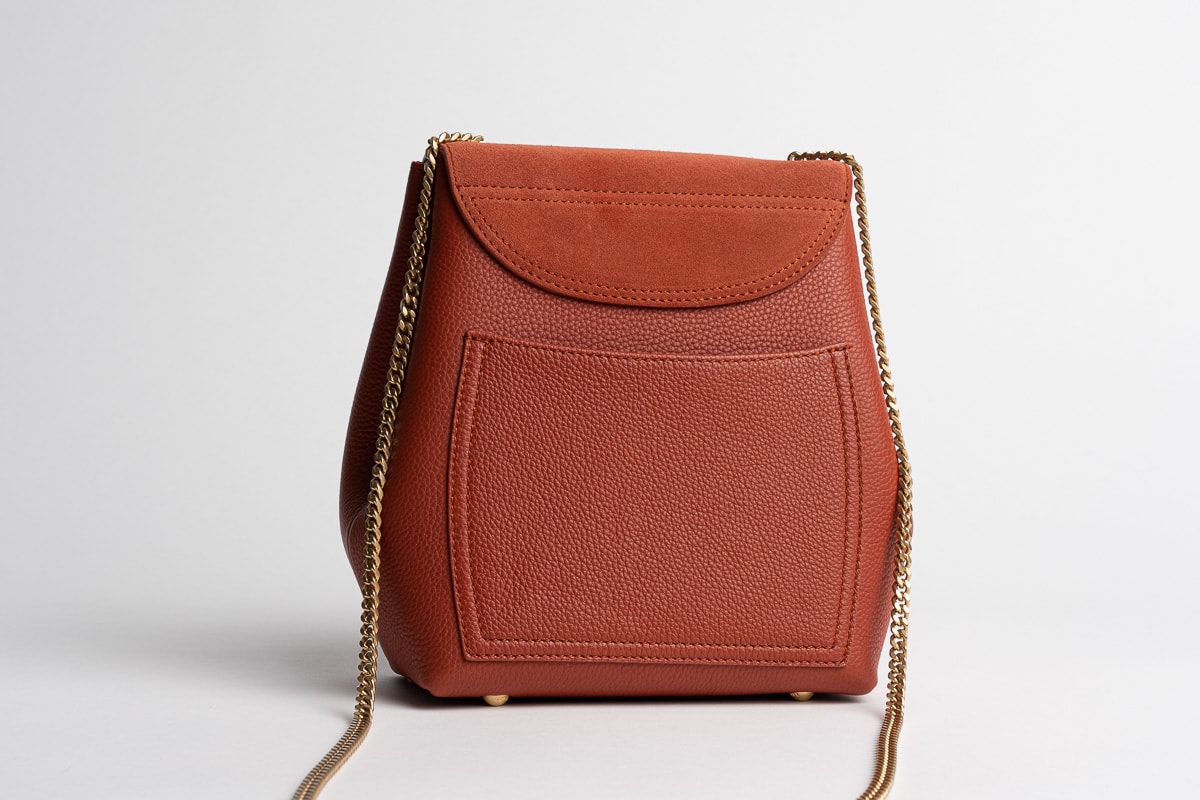 The back exterior of the bag has a flat open pocket and while I don't mind it being there, I have yet to find proper use for it. It is too small to carry my iPhone Xs Max safely (it can fit inside but about half is sticking out, risking slipping out) and it's not the right size for keys either. While I haven't found a use for it, it doesn't bother me at all as it sits snuggly against the bag and doesn't distract.
The chain shoulder strap, that I aesthetically love, slides off my shoulder more easily if I am wearing a shirt (ok, I'm always wearing a shirt but I mean a more coverage shirt versus a tank). It doesn't slide all the time, or even most of the time, but I do find myself trying to make sure it's secure when it's on my shoulder, which truth be told could be partially my own paranoia of having my bag fall and losing something.
The top front of the bag has snaps that keep the opening a smaller or you can expand it, but once unsnapped the bag is harder to close. The snaps being closed means the top opening is a bit smaller, but I find the size to be totally fine and usable for my needs, so there's no need to open wider. I don't overpack the bag and if you were to do so, it would be hard to find your items inside without getting annoyed by the opening not being larger. Overall this bag is really usable but there are a few features that would help make use and functionality more seamless.
3 / 6
Quality + Construction
The Polène Numéro Un Mini is impeccably made! As I mentioned above, the leather is full-grained calf and it's supple yet sturdy. The suede top flap has held up phenomenally and hardly shows any wear so far, and I've been using it for weeks straight now. The brushed gold-tone hardware is also top notch (I wish more brands did brushed hardware, it looks so nice). The Polène-branded chain loop rings, button snaps and bottom feet are a nice departure from typically unbranded stock hardware found on bags in the same price bracket. Every stitch is in place, the leather feels and smells good, and the bag itself looks extremely high quality. This bag is hand-made in Spain and anyone that sees it remarks to me on how beautiful it is. I have zero complaints on its quality and construction.
4 / 6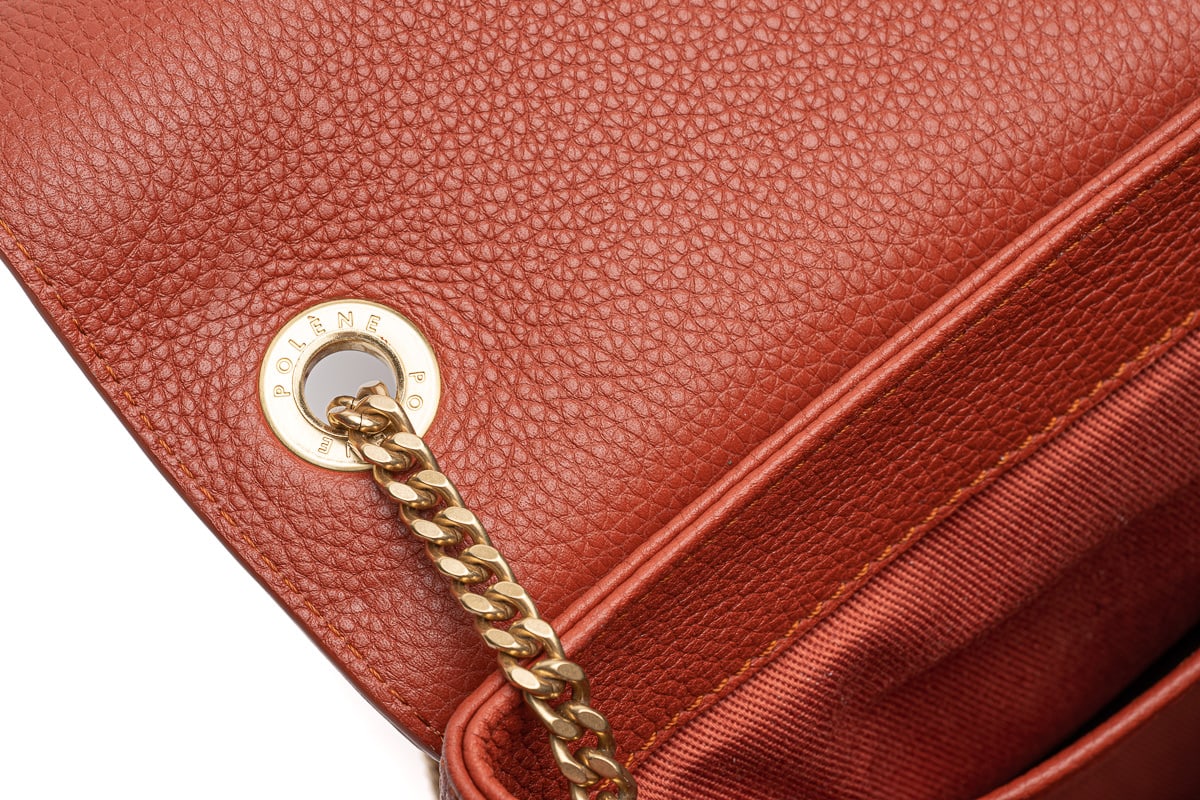 Price + Value
With handbag prices skyrocketing, this category inevitably takes a huge hit for most bags I review. Sure, a bag can be gorgeous and well-made from an established design house, but it becomes harder to justify some bag prices. Not the case with this bag.
If you are looking for a pretty and elegant bag that transitions from day to night that won't break the bank, this is your bag. This is so much your bag I feel like you will thank me tenfold. The Polène Numéro Un Mini is $330. I could have said it's a great bag under $500 (which it is), but it's so far under $500, it really ranks as a steal!
For the quality, the design, and the craftsmanship, I am absolutely enthralled by the price. You really can't beat it. Plus it comes in 15 colorways, so there is an option for everyone.
5 / 6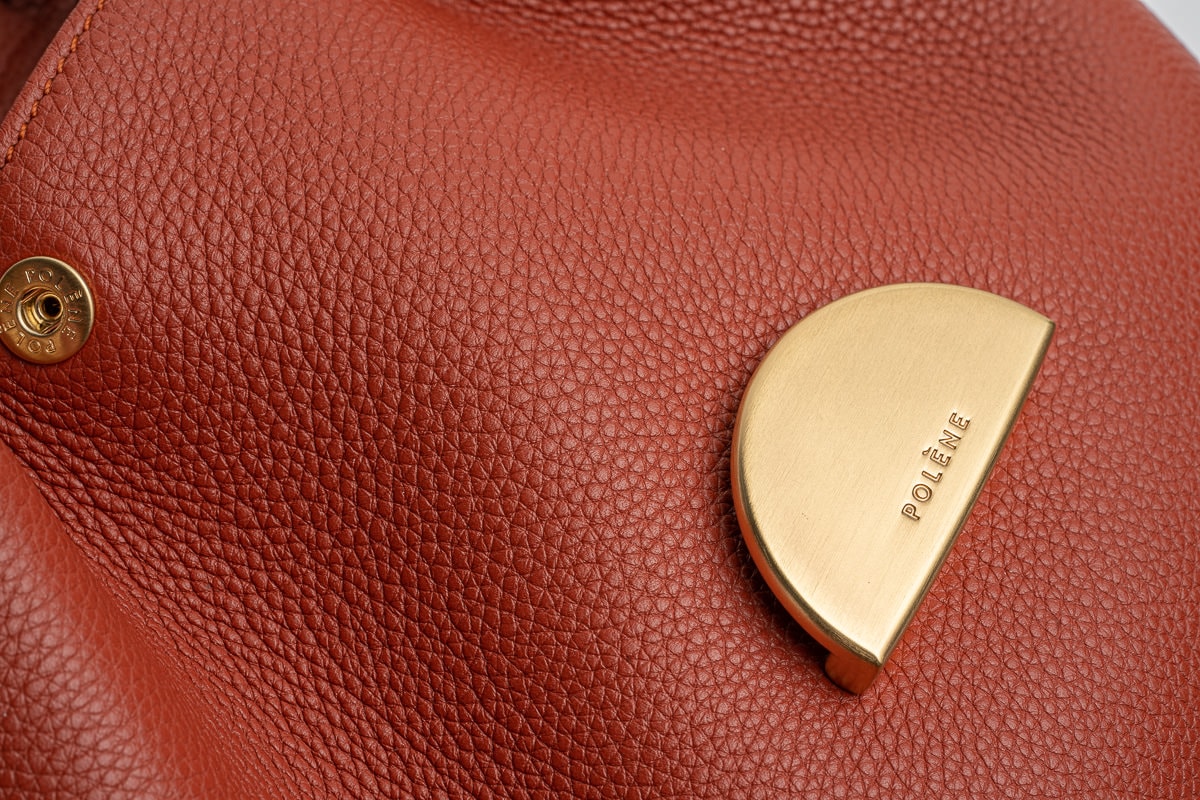 Staying Power
I find this category harder and harder to rank. Of course some bags are intended to be trendier which makes them have less staying power, and some are the ultimate classics which have, by default, more staying power. Trends change, which easily changes staying power as well. In judging a bag as to how well it will last over time, the simplicity of the design matters.
This bag could pass both as a vintage bag and as a modern bag, increasing its longevity. The lack of boisterous logos or an overly trendy design element make this bag work for years to come.
6 / 6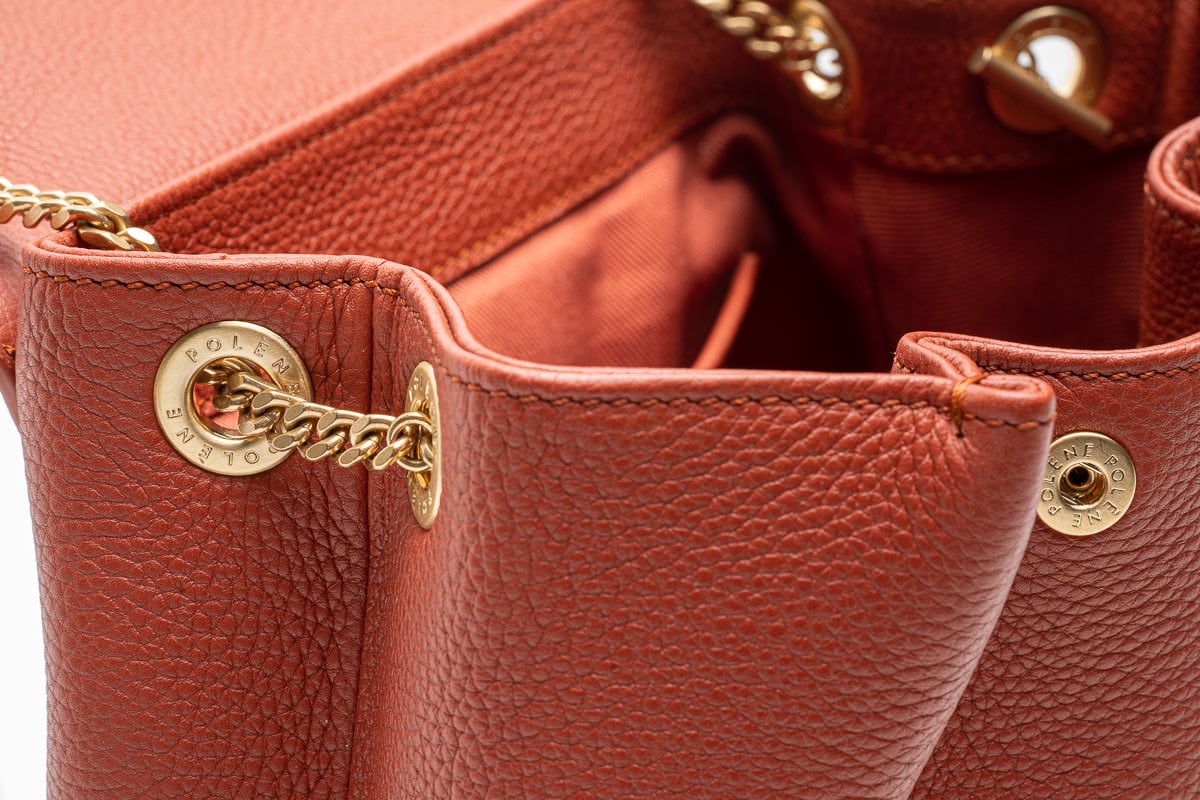 Total Score
This is a great bag from an exciting brand which without hesitation I would recommend to my friends and readers alike. As much as there's a push toward logomania of storied Fashion Houses accessories, there is also a push toward the more subdued and new and this bag fits the bill. I have a few Polène bags and they've quickly made their way into my repertoire being worn and carried non stop.
Purchase via Polène for $330 now.