I've said before that this year, one of my goals is to feature more designers that aren't as mainstream. Some of them will be brand new, some have been around for a little while but are currently gaining traction, and some are popular internationally but are just making their way to the US market. I think it's so important to show a diverse look at the handbag world while still giving you all the classics, and we are always working on that balance. Today is about a brand that I found months ago and included in my bag brands to watch in 2018.
Enter Polène, a Parisian brand with one sister and two brothers at the helm, creating really beautiful bags at really reasonable prices. I first found this brand on Instagram and fell in love with its Numéro Un Bag. The design was different, the leather looked nice, and it intrigued me. I wasn't alone. So many of you wanted to learn more about the brand, and I meant to share sooner, but I've been behind because of baby boy!
The Numéro Un Bag
The trio behind Polène is passionate about craftsmanship and fine products, which for them is a family legacy passed from their great-grandparents. The Polène bag that I love the most is the Numéro Un Bag, and the brand sent me one to check out for myself.
Guys, it's REALLY good.
The packaging from Polène is beautiful, and I know some people don't care about that as much, but I do. I want to have an experience with my handbags, and from opening the pearlescent box to tearing back the brand's tissue paper, it was really enjoyable to get to my new bag. The leather—it smells SO good. A brand new leather bag should smell good, and I know I sound odd, but sometimes I forget how much I love smelling the leather of my bags. I find that different brands' leathers have distinct smells—maybe it's my more-sensitive sense of smell from pregnancy talking, but I swear I could tell the difference between a Chanel leather and Hermès leather right now.
And the bag itself did not disappoint. Sometimes a bag photographs better than it is in person, but this bag looks clean and cool in both pictures and real life. The Polène Numéro Un is feminine and boasts beautiful curves. Perfect for day use, this bag is just the right size to fit your everyday necessities (though it wouldn't fit a laptop, it would fit an iPad).
Undeniably feminine for its sensual curves, "Number One" is Polène's signature handbag. Designed as a day bag, I love its elegant yet easy-going style. The version I have offers a three-tone camel combination, all in full-grained calf leather. The top flap is a light, smooth leather, while the body of the bag is a rich caramel color in pebbled leather. The clasp that opens to the interior is a lighter nude color and has a magnetic closure underneath.
Getting into the bag itself is easy, and I actually love the cotton twill lining because it makes the bag lighter overall, and its light color makes it easy to find your items inside. My one complaint for this bag would be that to get a really good look at the interior, you need to unsnap the sides of the bag for the interior compartment to open up better. It's not really a problem if you don't carry tons of stuff with you, but if you have things floating around the bottom of the bag, you might need more access to see. There are side snaps on the left and right of the bag, along with two on the front, which allows the bag to open up a bit more. The best part is that it doesn't make the bag look undone if you choose to carry it that way. The interior has a zippered pocket, as well as two flat pockets.
Each bag is handmade in Spain, and each piece is exceptionally crafted with unique lines and fine materials with a Parisian spirit. There are a ton of color options for the Numéro Un (my fav bag if you can't tell), as well as tri-material and tri-color designs. Price is $400, and it's a far better $400 spent than the majority of the other contemporary bags I see and review.
In fact, this bag easily looks and feels like it should be at least $1,500. I'm planning to wear the bag even more to add this to our Purseonals review, but let's be honest: I love the bag so much that I already went a bit deeper here than I intended.
The Numéro Deux Bag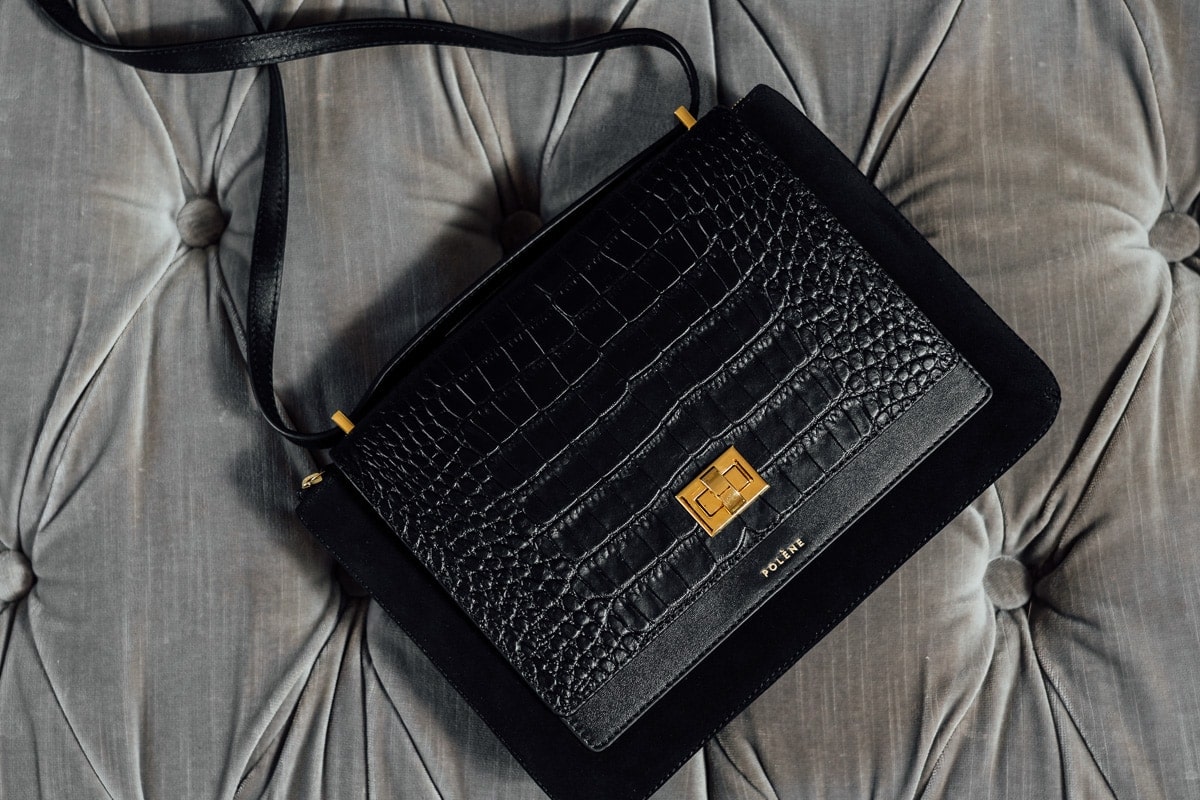 I was also sent a Numéro Deux but this bag is sold out in all styles on their site right now. I'll check when they will restock and cover it more then!
P.S. Please consider supporting our small, bag-loving team by clicking our links before shopping or checking out at your favorite online retailers like Amazon, Neiman Marcus, Nordstrom, or any of the listed partners on our shop page. We truly appreciate your support!