GGs, LVs, FFs, or MKs – do you fancy any of them?
That's a question we've dealt with here in the PurseBlog community quite extensively. And earlier this year, I myself was (and right now, is again) enamored with Gucci's interlocking G's. A skeptic might think that my tastes would have evolved within the past eleven months. And truth be told, they have, in fact, shown signs of, well, growth. Can it be called maturity? My obsessions ran in favor of more simplistic, leather-focused silhouettes like the Chloé Marcie and the Proenza Schouler PS1. As the temperature drops and the festive season springs upon us, however, I find my love for most types of monograms returning with a vengeance.
But coated canvas and lightweight purses (the configuration that most all-over-logo purses usually have) isn't exactly a winter staple, so why am I suddenly seeing a resurgence of monograms everywhere? Is logomania a phase, as opposed to a trend, that pops up every year? Or is it just that this was the time my bag-addict soul decided was most opportune to develop an (unhealthy) inclination towards logos? Most importantly, are logos even "in" right now? I decided that it was time for a more thorough investigation.
Are Logos in Right Now?
Except for Chanel's looping C's, most well-known logo bags began as luggage. That's how, in fact, the names of these designers traveled across the world and gained widespread popularity, whether it be Georges Louis Vuitton's hard-shelled trunks or Aldo Gucci's softer, Savoy Hotel-inspired travel bags, all of which later shrunk into the purses (and mini-purses) we see today. But this isn't about the history of monogrammed handbags; rather, what determines your decision to carry one in the first place. Yes, a lot of it can be chalked up to just personal style, but it's actually so much more when you think about it.
Luxury purses have always been a status symbol of sorts, an easy, although by no means cheap, way to get access to the world of the wealthy at a cost less than that of, say, a private jet, yacht, or a Ferrari. So when you choose to spend so much more than the global average on a purse, it's natural that you might want to make sure it's recognizable. And what could be a better way to ensure that than to purchase a logo handbag, right? That is what the luxury logo-purse market has capitalized on – whether it be Louis Vuitton in the US or Michael Kors in South Asia. The aspirational status of a monogrammed handbag far exceeds its position as "just a purse" and may become something that the user's sense of self-worth may be tied to. Therefore, even if not the trend of the season front and center, logo bags are still likely to retain their share of the market for the foreseeable future.
The Case for Logos
Secondly, functionality is a factor that makes a strong case for monogrammed purses. As mentioned before, most logo handbags tend to be coated canvas or an equally durable fabric that's lightweight, often waterproof, and convenient. So, even if it doesn't quite correspond to the now-obsolete argument that "if it isn't leather, it shouldn't cost so much," it accounts for a pretty low cost-per-wear with a trio of quality chic and practicality to boot. That doesn't mean, though, that you can't have the same without the logos: there's Damier Ebene from Louis Vuitton if Louis Vuitton Monogram Canvas isn't your style (though it's just as recognizable).
But what I believe is the biggest reason for the resurgence of logomania right now is the trend towards the past – more specifically, the 90s and the early 2000s, the peak of the Y2K era. Arguably this period of logomania, both in classic and in limited edition multicolor/exotic colorways, is driven by the mini bag trend and celebrities like Kylie Jenner, Gigi Hadid, and Bella Hadid. All seem to have gotten their hands on one-of-a-kind pieces from a bygone era that are no longer in production, alongside reissues of archival styles from the brands themselves, like the Fendi Baguette, Fendi Croissant, Dior Saddle, Louis Vuitton Pochette, and Gucci Horsebit, which are suddenly in fashion again. So, having a monogrammed purse from these categories is a recognizable nod to this growing trend.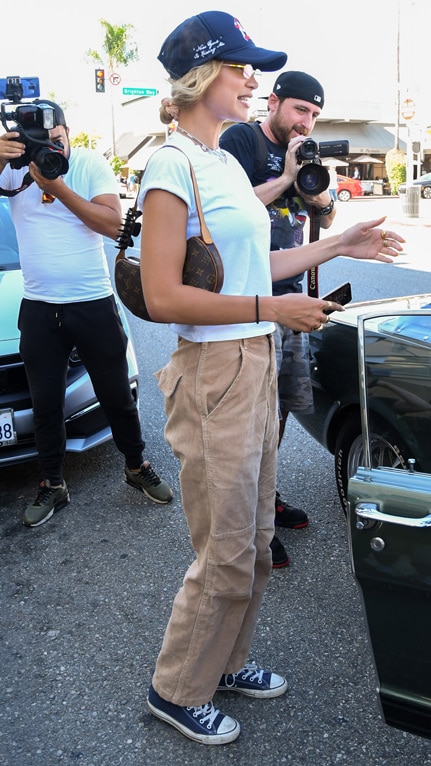 But logo purses aren't always the only recognizable ones. In fact, recognizability is a subjective scale that varies between people and places. In NYC, a PS1 or a Balenciaga could be well-known to most, especially on the more fashionable avenues. In smaller towns, on the contrary, even an in-your-face Louis Vuitton Neverfull in Monogram canvas may be an unfamiliar sight. So depending on your surroundings, you might be able to pull off anything from a Gucci Ophidia to a Birkin if you're looking for the quality but don't want your purse to garner undue attention.
Speaking of surroundings, another major determinant in the scale of recognizability is your workplace etiquette. A Goyard St. Louis may be deemed too showy for some. Still, if everybody at your office is carrying a Neverfull, Goyard's chevron might be a pleasant departure from the commonalities or even be mostly unrecognizable. Then again, if you're working in an extremely corporate, suit-and-tie environment, a floppy monogram tote mightn't be a suitable choice, not just because it might be considered tacky but also because its casualness would be incongruous to the general ambiance.
So, what about you? Would you rather be dead than caught carrying a logo purse (I've been there, and back!), would you like a more understated but still recognizable carry like the SDJ or Louis Vuitton's Empreinte, or do you like to go all-out, allover logo everything?
As for me, I've developed a love towards Louis Vuitton's vintage Pochettes (have you ever seen the perforated one?), as well as a newfound appreciation for vintage Fendi Zucca Baguette/Croissant equivalents from the 90s. Yes, I've found the Fendi at last that makes my heart sing! And even though I'll still probably carry my PS1 and less recognizable bags, that doesn't mean I'll stop ogling all the logos I like.