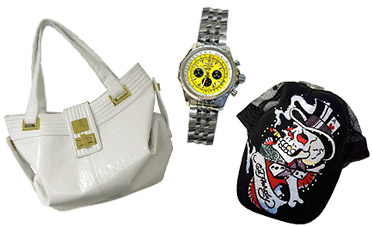 Image via Conde Nast Portfolio
Recently I was interviewed by the lovely Megan Angelo at Conde Nast Portfolio. She put together an amazing and information filled article on the new luxury fakes in the designer market. It is an interesting read and there are great quizzes to test your knowledge of fakes on the right hand side of the page. The fact of the matter is that those in the world of creating knock offs are getting more and more skilled. Ask a friend if they have been duped into buying a fake, and I bet at least 75% have. Luckily, we all keep learning more and the companies themselves are trying to fight the fake peddling market also.
Read the informative article below!

It was August 2005, less than a year after Antik Denim's launch, and the jeans manufacturer already had friends in all the right places. Leggy celebs Teri Hatcher, Kylie Minogue, and Cameron Diaz had been photographed in the company's signature Western-inspired styles. At Kitson, the L.A. shop that pipelined Ugg boots and Von Dutch caps to popularity, $250 Antiks were zipping off the shelves.

But the company was about to discover the downside of infiltrating the in crowd. Antik reps were weaving through the annual Magic fashion trade show in Las Vegas when they came upon a distressing sight: a Chinese manufacturer proudly displaying exact copies of their designs.

"We freaked out," says Samuel Bellahsen, legal counsel for Antik's parent company, Blue Holdings. "We made a civil seizure and closed the booth."

The counterfeiters who flood street markets and websites with fake fashion once preyed solely on Chanel, Louis Vuitton, Dior, Prada""luxury Goliaths owned by multibillion-dollar corporations. But now they're mimicking this-minute trends from niche designers and forcing companies like Blue Holdings, which did $49 million in sales in 2006, to set aside part of their budget for scrubbing out impostors.

"We've spent an enormous amount of resources to fight it," says Blue Holdings C.O.O. Scott Drake. "These guys that do it, they do it and then lay low for a while, and we think we're okay."

Just the day before, Drake got word that ersatz Antiks had turned up among $230 million worth of faux merchandise that police found in a raid of Queens and Brooklyn warehouses. The jeans had been retailing on Manhattan's Canal Street""historically, a knockoff hotbed""for $45 a pair. "I sigh because it's a never-ending battle," he says.

It's not profits they're fighting for. Most high-end designers will tell you that phonies don't significantly detract from sales, simply because their customers don't make a habit of frequenting sidewalk vendors. They're more concerned with how fakes chip away at a brand's cachet""how customers could be lost when they see someone else in a bad imitation of their pants and are turned off for good.

Hoping to keep such instances to a minimum, Blue Holdings retains the watchdog services of a nationwide network of antifraud law firms. (The company declined to name the organization.)

As Hellahsen explains, Blue Holdings paid the firm a $50,000 flat fee to scour flea markets and the internet for takeoffs on their designs. The lawyers then use that money to purchase any fakes they can find""actually buying the goods is usually the only way to track the sellers to a real address. Once Blue Holdings confirms that the designs are counterfeit, the lawyers notify the sellers of impending legal action. "Usually, these are individuals, small people, and 95 percent of the time they pick up the phone, call our law firm, and apologize," Hellahsen says. The lawyers then arrange for an out-of-court settlement, which the firm collects.

Still, the best defense against scam artists, designers agree, is chameleonic change. "If we make a new jean and ship it on July 1, that product will be on the street by the end of August," says Drake. So Antik has accelerated its design cycle, introducing new pocket motifs at a faster rate. They also abolished their old trademark patch""an easily imitated swatch of brown leather""and replaced it with a black-leather swatch embossed with a delicate silver tree print. Such changes help to put distance between loyal customers and the wannabes. "At one time, whatever fakes you found in Soho, I could be shipping a similar product at the same time," says Drake. "That no longer happens."

But as designers are stepping up their game, so too are counterfeiters, says Luann Ensminger, chief of the commercial fraud unit for Immigrations and Customs Enforcement, which conducted June's New York raids. She says that the majority of fakes are produced overseas, out of U.S. law enforcement's jurisdiction, in factories that also produce legitimate goods. Counterfeiters bribe factory owners into letting them use their facilities overnight.

The expanded access has helped counterfeiters broaden their repertoire. Looking over the list of trademark-holder victims from the raids, Ensminger saw "the big boys: Chanel, Coach, Louis Vuitton, but also Baby Phat, Seven for All Mankind, Rocawear, and Red Monkey." Pat Reilly, a spokesperson for I.C.E., added, "I had to google some of the brands because I'd never heard of them."

And counterfeiters' newly sharpened sense of what's up-and-coming extends far beyond denim. Two ubiquitous purses on Canal Street this summer bear the names of Jimmy Choo, the designer better known for his pricey stilettos, and Kooba, a fledgling handbag brand favored for its simple and durable leather styles. One vendor said that she had completely sold out of a shipment of bogus versions of Kooba's giant Natasha tote in two weeks.

Both Kooba and Jimmy Choo declined to comment for this story, reflecting a tendency among designers to keep mum on the subject. "It's an awkward topic," says Jennifer Pinto, head of public relations for Juicy Couture, another wildly imitated brand. "The only thing I can tell you is that we're constantly reinventing ourselves and evolving."

Meaghan Mahoney, one of the two founding members of the Purse Blog, which chronicles and reviews handbag trends, says that faking bags from Kooba and Jimmy Choo is a savvy move by counterfeiters. "These designers are having their bags be seen on countless celebrities and are finding a more secure place in the market, but they're still not known to everyone," she says. "Louis Vuitton is one of the most counterfeited brands in the world, and so many people know to expect this. Counterfeiters hope that the younger crowd will be deceived into buying these bags in the hope that they're getting a real Kooba."

Even the rareified world of co-branded luxury items, in which two high-end names collaborate on a product, has fallen prey to fraud. Some of Canal Street's priciest wares right now are $55 replicas of the Breitling for Bentley watch collection. The real thing retails for anywhere from $5,850 to more than $100,000. Breitling manufactures fewer than 200,000 pieces a year and sells them in only 60 to 70 percent of their 340 authorized U.S. retailers. Yet Lisa Roman, head of marketing at Breitling, says that fakes popped up everywhere within a year of the four-year-old collection's debut. "Our biggest foe is the internet, on which we don't authorize any sales," she says. "We take it as a sign of flattery, but it diminishes the integrity of the brand."

Across the board, small designers agree that constantly shifting is the key to escaping, if not exterminating, copycats. Caleb Westbay, vice president of sales for Ed Hardy, which makes the popular tattoo-inspired T-shirts and trucker hats that overtook Canal Street almost as quickly as they did Melrose Avenue, says, "It sucks, and we take it seriously. But if we move fast enough, they can't keep up with us."