While shopping at Walgreens today, I felt an intense sense of happiness over all of the Easter candy. Actually, any holiday-themed candy gets me giddy. I love Reese's Peanut Butter Cups, but I always love the tree, heart, and egg shape more. I guess it is my inner child.
Right when I laid eyes on the Prada Raso Pietre Clutch in Turchese my mind immediately thought candy (the jelly bean or Cadbury Mini Eggs variety). Do you see that too?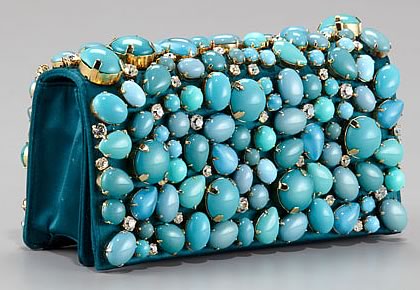 Clearly my mind is on candy, I have a major sweet tooth. But if I focus on this bag and try not to think about candy, I can see a very interesting stone and crystal embellishment all over the outside of this turquoise satin bag.
The embellishments are interesting to say the least. I do like a clutch that will garner much attention and this Prada bag does so without being overly obnoxious. Dimensions are not that spacious, only 3″H x 7″W x 1″D. Buy via Neiman Marcus for $2,100.
What do you think of this clutch?