Many brands have a specific design element that is ubiquitous to the house. When it comes to Prada, the most recognizable signifier is a material that has been used on its bags and wares for more than four decades: nylon. Prada has taken its use of nylon to the next level with the introduction of Prada Re-Nylon. This collection features a group of products, ranging from bags and clothing to shoes and accessories, that are crafted from regenerated nylon.
Prada Re-Nylon showcases a new and sustainable fabric technology that allows for this textile to be endlessly regenerated without a loss of quality. Each item in the Prada Re-Nylon line up is crafted from regenerated nylon that has been created through the recycling and purification of plastic that has been collected from oceans, fishing nets, landfills, and other textile fibre collected on a global level. Then a process of de-polymerization takes place which purifies the items and transforms them into new polymers and finally creates threads. The threads are then recuperated and made into new nylon fabric to be used on the collection. Prada's decision to use ECONYL® yarn for the Prada Re-Nylon collection is a major step toward sustainability and eco-focused manufacturing as it actively contributes to the reduction of global warming by up to 90% compared to the use of the virgin nylon yarn.
Prada's Re-Nylon line fuses modern luxury with an understated and simplistic industrial beauty that is deeply engrained in the Prada brand ethos. With a focus on fashion while still being environmental-friendly, the line has already been a huge success for the brand. Of course we focused on the bags, all of which are your classic wardrobe staples (and I've always found Prada Nylon bags to be one of the most usable and chic options when it comes to daily haulers).
Prada Re-Nylon Backpack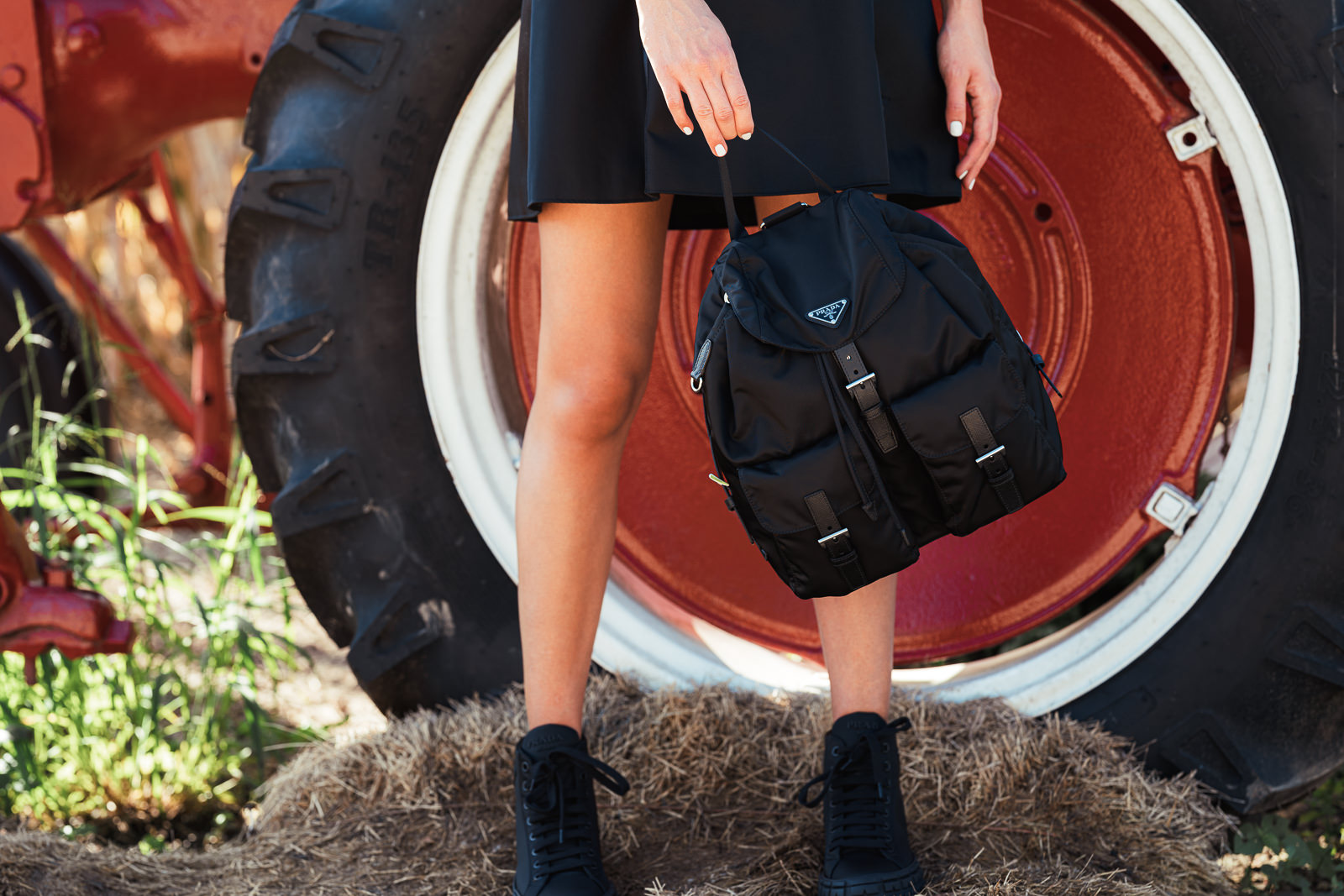 If you know Prada Nylon, you are probably well aware of the renditions of backpacks the brand makes. The Prada Re-Nylon Backpack is the ideal over the shoulder companion, offering a true hands free mode of carrying along with storage space and ample compartments for organization. This bag has a nice added touch of a removable Re-Nylon pouch that can be attached to the outside of the bag, carried inside of the bag, or moved from bag to bag. The details on the bag feature Saffiano leather, which stands out nicely against the Nylon and is just as durable as the nylon itself.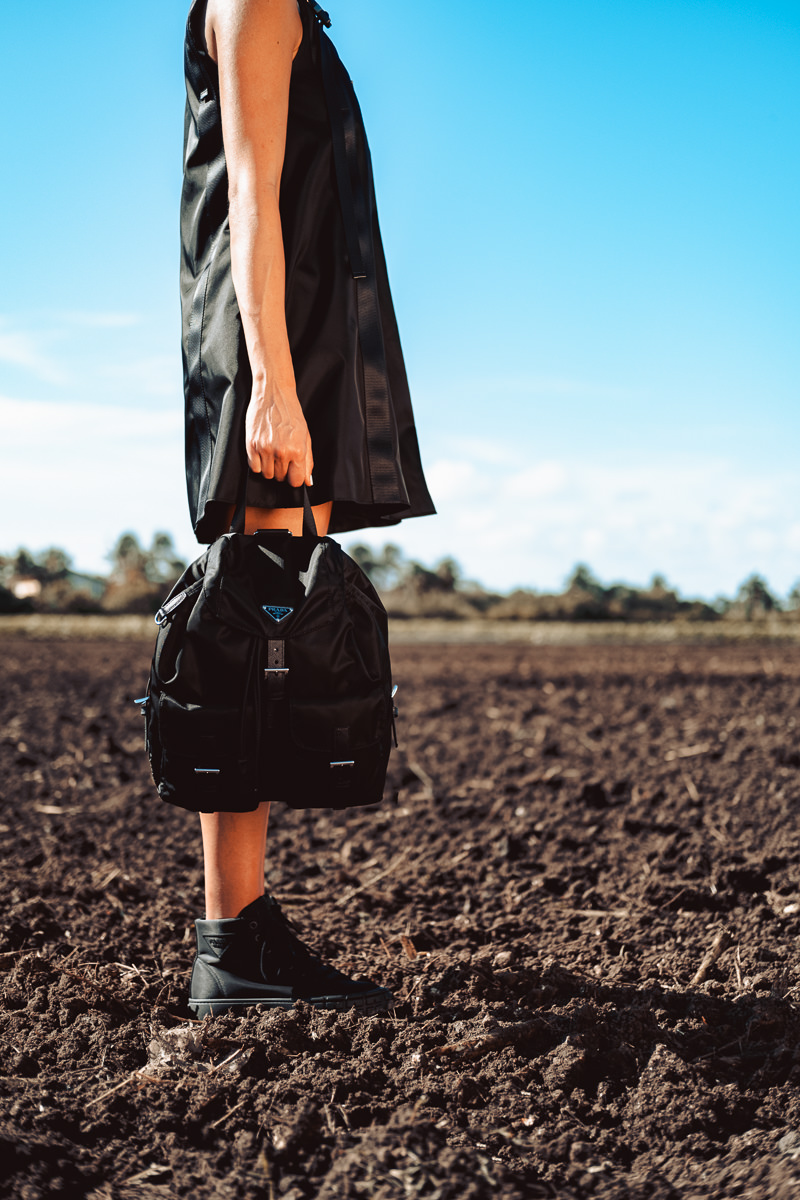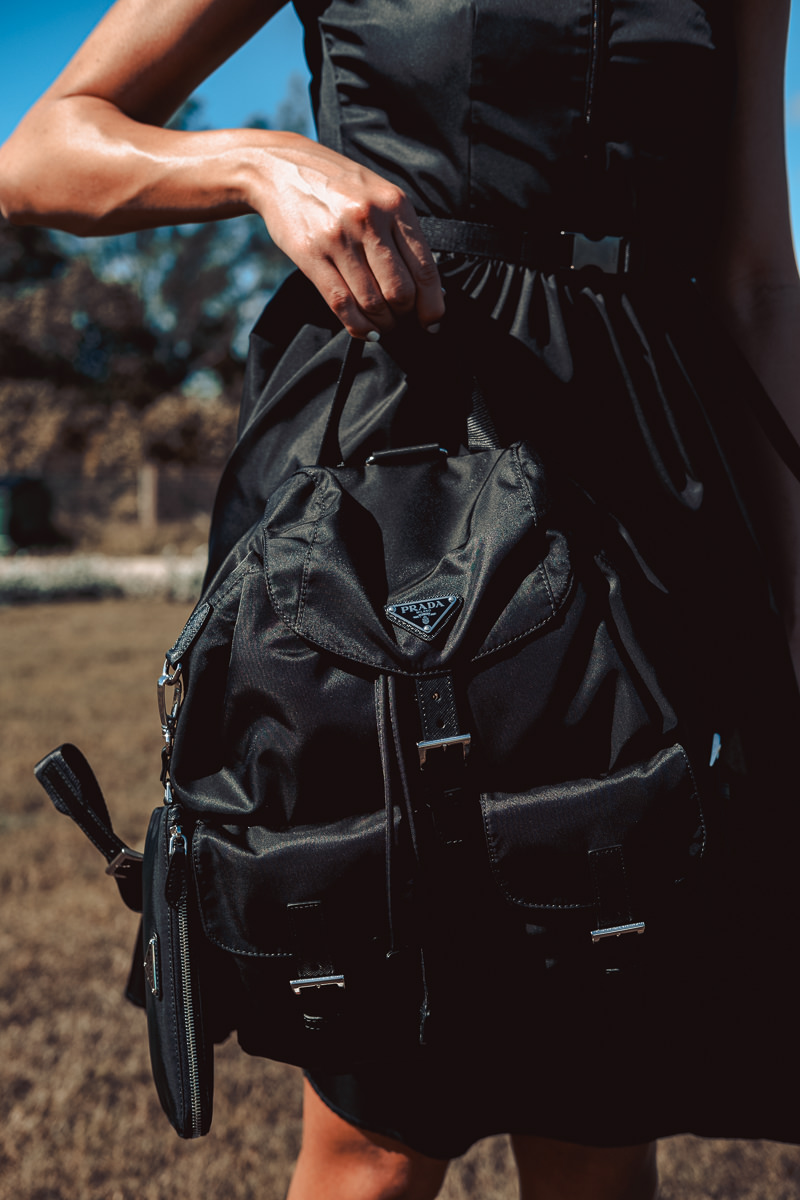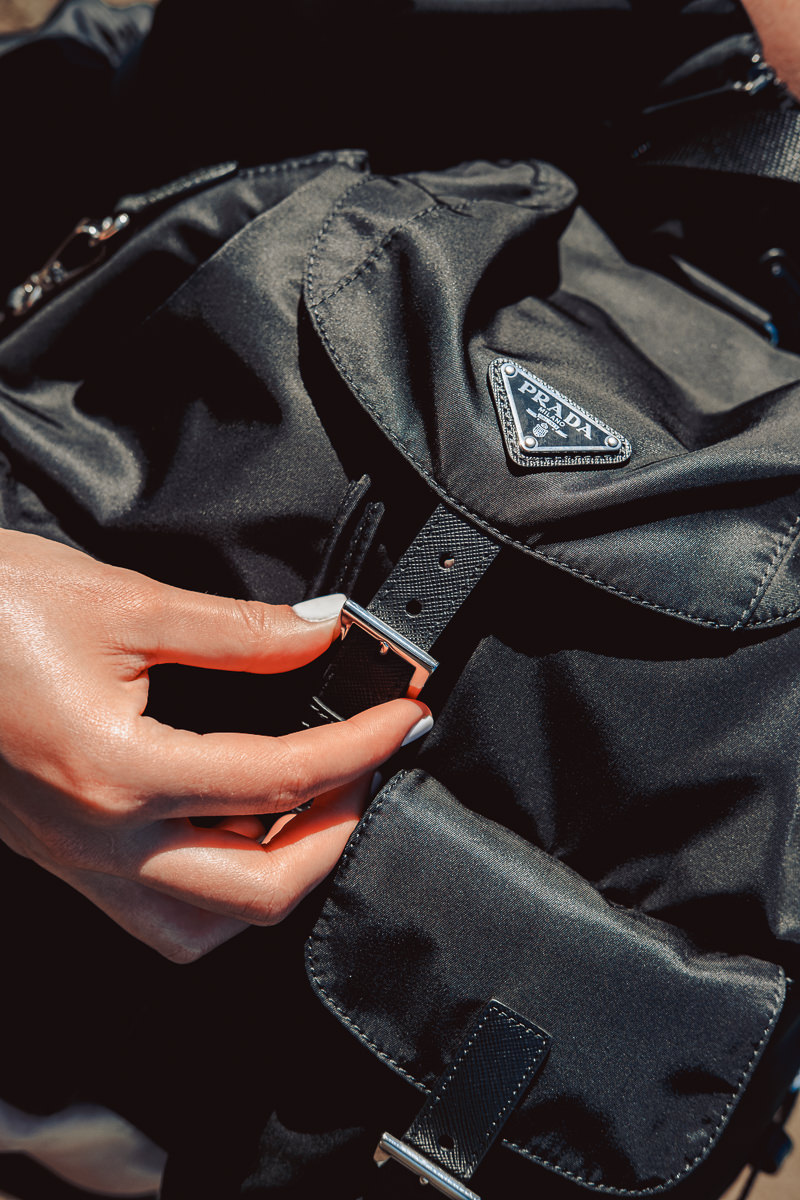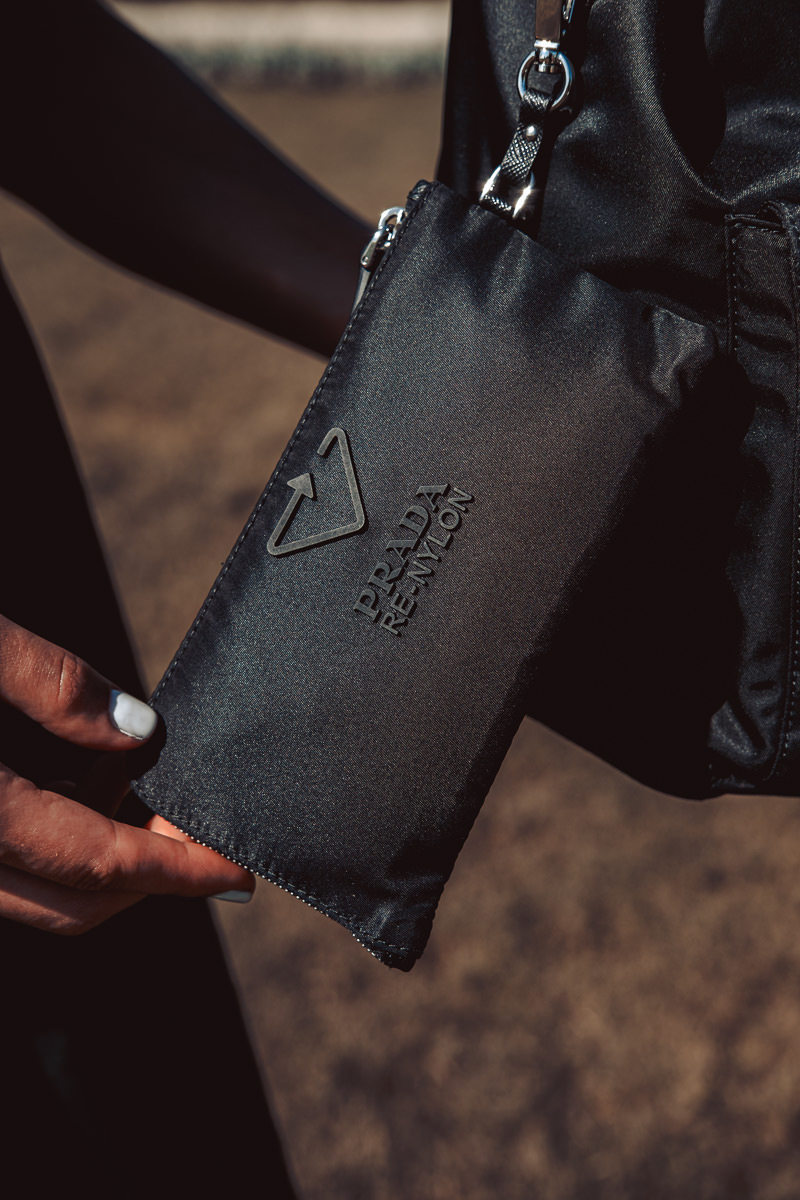 As for the backpack's specific offerings, you'll find double pockets on the front which have a flap and buckle closure. The straps are of course adjustable, so you can position this bag how you see fit on yourself. I still like to carry a backpack over one shoulder for shorter trips, but when I have both kids with me, having the backpack over both shoulders provides me with the ultimate luxury of no bag moving around or getting in the way. The Prada Re-Nylon logo is a nice touch on the items in the collection and there is still the enameled metal triangle logo as well. To close the bag, you'll find a drawstring closure that sits under a flap and buckle closure as well. On the inside, there's Re-Nylon logo lining as well as two inner pockets, one of which has a zipper. Dimensions are 12.6″ H x 5.9″ L x 11.8″ W. Purchase via Prada for $1,550.
Prada Re-Nylon Tote
While some of my errands now are quick in/out and I carry something smaller, I still take my kids to big grassy parks to get out and run around. When the kids are with me, I always have a tote, and there is no better tote when it comes to durability, ease of cleaning, and a sleek design than the Prada Re-Nylon Tote.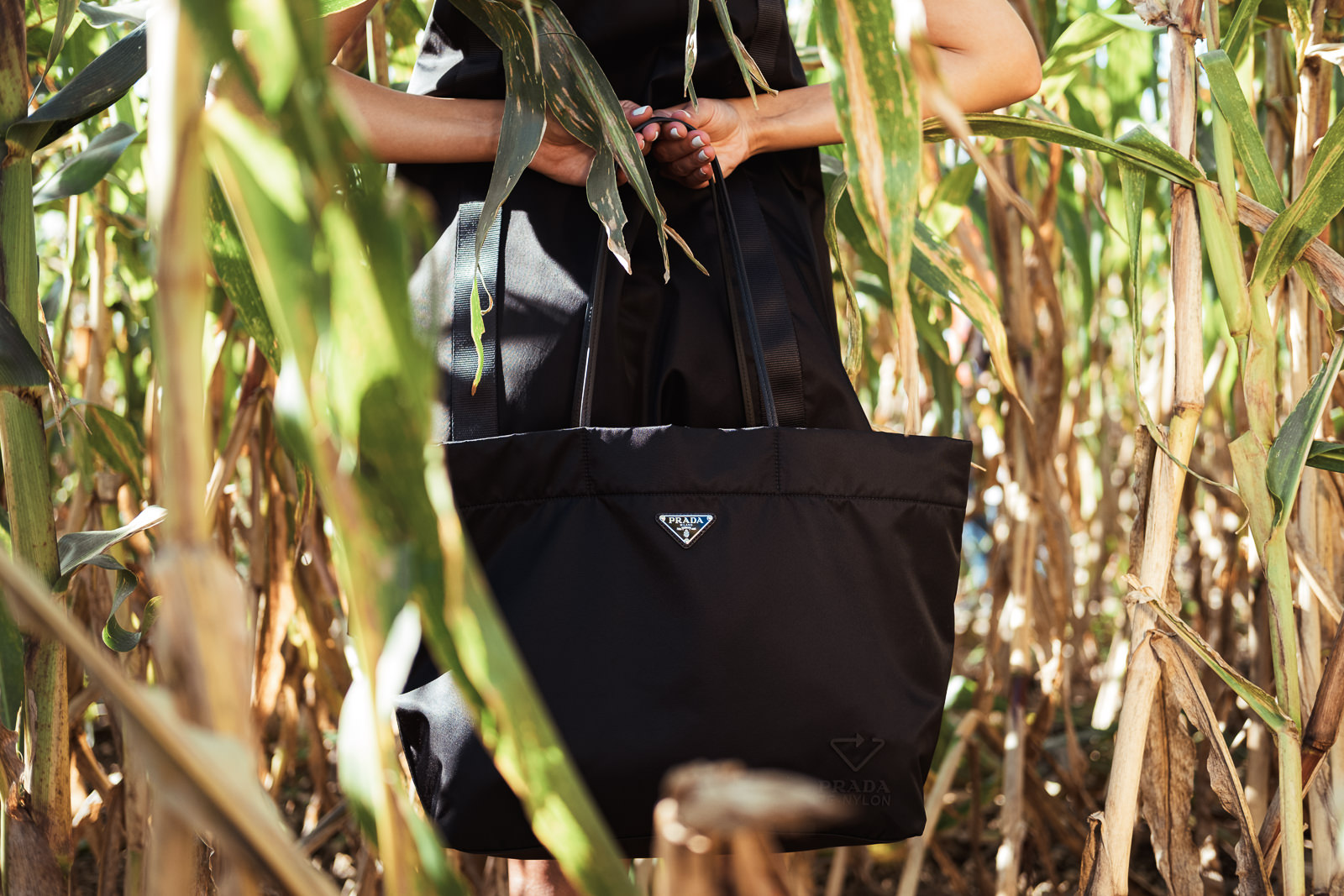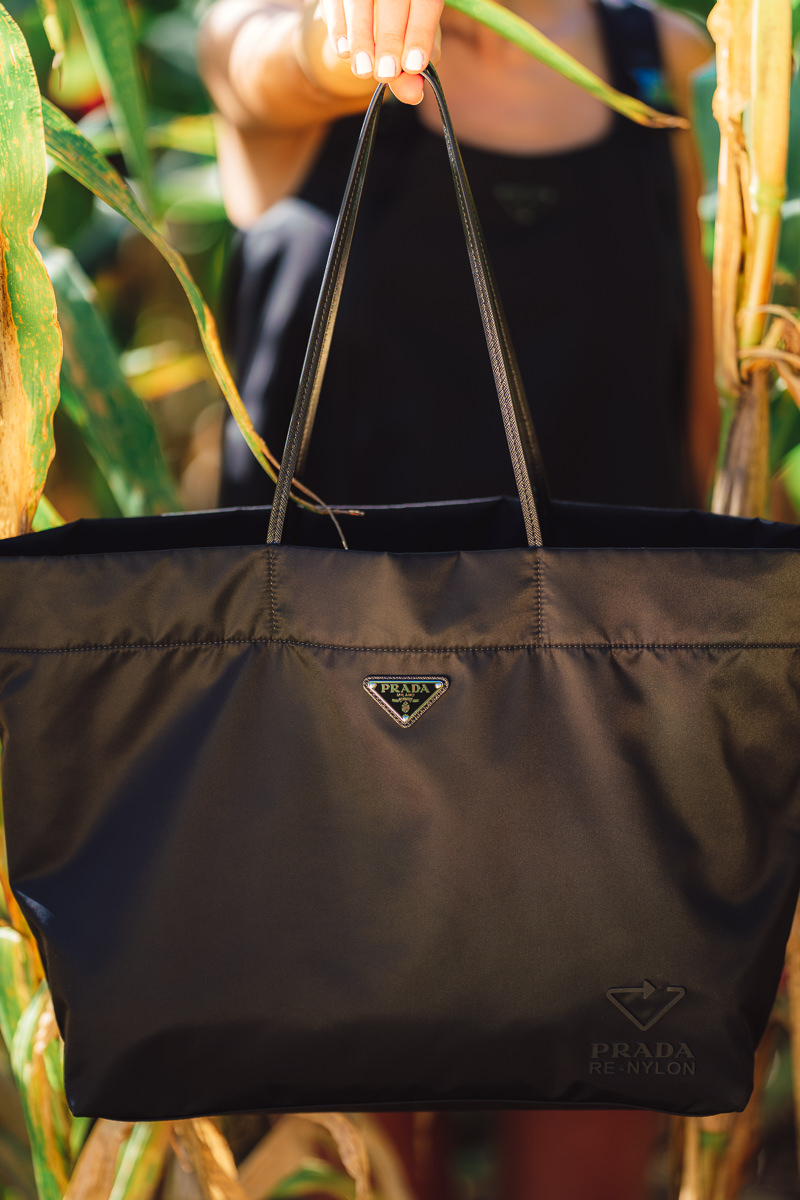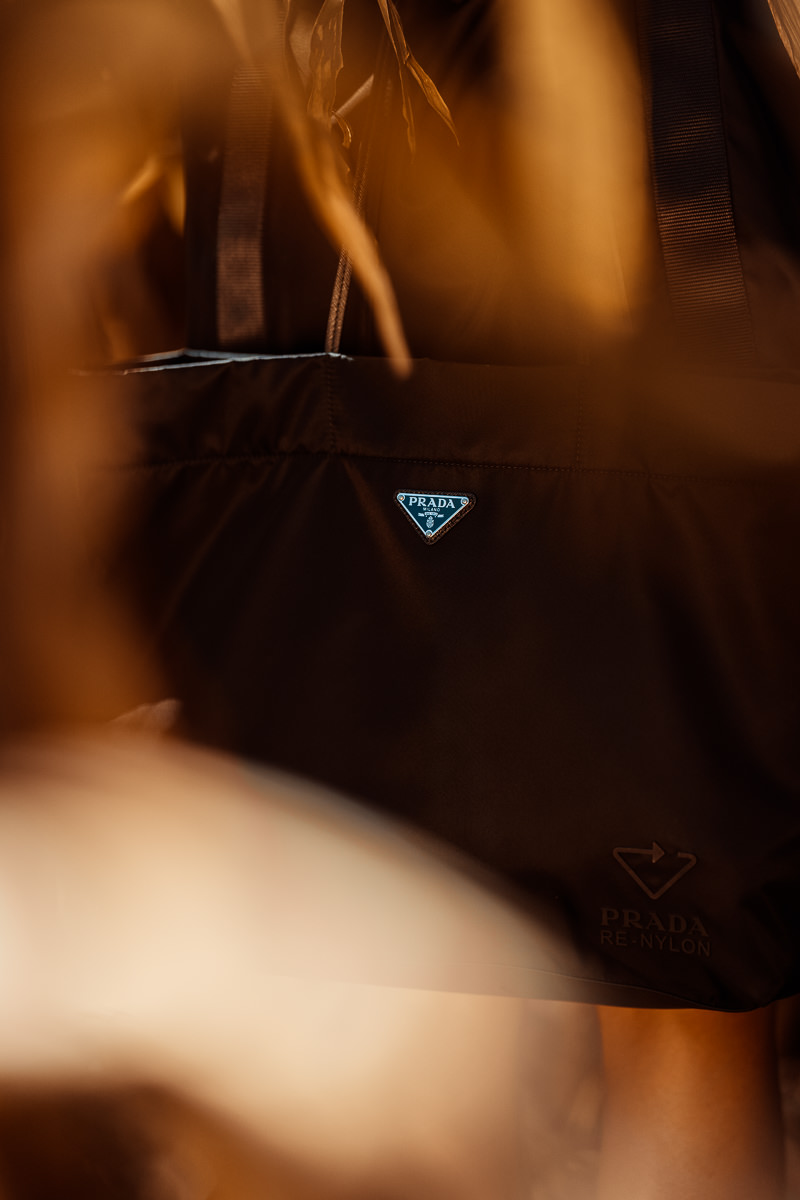 This medium tote utilizes the innovative Prada Nylon and also features Saffiano leather handles and accents. While you'll find the iconic enameled metal triangle logo, there is also the Prada Re-Nylon logo on the bag. More than ever before, a bag that's easy to carry while also being a bag that you can wipe down safely is a must, and this tote (as with all other Prada Re-Nylon bags) fits the bill. Dimensions are 13.4″ H x 6.3″ L x 15.7″ W. Price is $975 via Prada.
The Prada Re-Nylon line is made up of many more items, including smaller accessories. While the tote and backpack shared above are there for when you have more to carry, there are plenty of options for when you can pare down your items. If you like to carry a wristlet pouch, one that can also be placed in larger bags, the Prada Re-Nylon Pouch is an ideal option. The sack shape has a drawstring closure top with a detachable Saffiano leather wristlet. Buy via Prada for $495. If you want even more compact, check out the Prada Re-Nylon Mini Pouch, which fits on your wrist. This accessory has an adjustable elastic strap and a zipper that opens to the small compartment. You can fit your keys, a credit card, and even a small container of sanitizer, which many days now is all you need. Buy via Prada for $420.
The shoes offer a casual streetwear designer look that is very of the moment, in both low tops and high tops in black and white. The dresses are impactful fashion statement pieces with a futuristic and modern twist on the casual black dresses Prada lovers have come to adore.