I think it's important to look at this bag for exactly what it is: a novelty item, designed to get attention and make people talk, and also a good collectible for those that love Fendi and want to add something really unique to their stash. Evaluating it like a regular bag is sort of besides the point.
The Fendi DIY Baguette Bag is exactly what it sounds like – it's a woven, unfinished Fendi Baguette with everything you need to embroider your own bag. It's sort of an opportunity to have your own one-of-a-kind designer bag, which is kind of cool, when you think of it that way.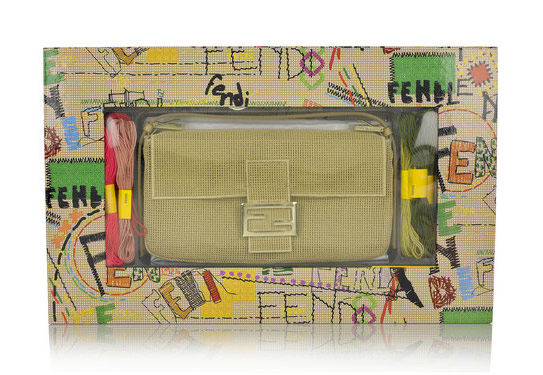 But realistically, it's a bag that's unfinished and sold to the consumer in parts, which is a little weird. Or maybe genius? I suppose it might be genius if, uh, you know how to embroider. Which I don't. But it comes with everything I would need to get started – multicolor thread, needles, thimbles. It doesn't come with a "How to Make Your Own Fendi Bag for the Low, Low price of $995" instructional DVD, but maybe next season's version will. Something to think about if you're listening, Fendi. Buy through Net-a-Porter for $995.