Ok all, it is true, I am oddly drawn to crazy bags. As much as reviewing and dissecting bags everyday for five years has given me a discerning eye, I always remember that a handbag is an accessory and it is meant to add to your outfit. For that reason, I find myself liking certain ostentatious and funky bags much more often than not. When it comes down to it, I must love a bag before I buy it – because my handbag budget is not flowing from an never-ending geyser of gold.
The coveted and now classic Mulberry Alexa has been reinterpreted with quilted denim and a black and pink tie-dye pattern. Question is, is this rendition too crazy and tacky or is the right amount of spunk and fun?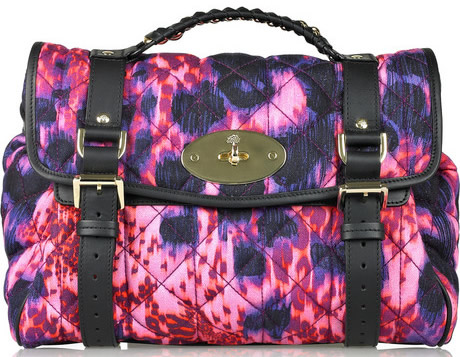 The first part we must discuss is the denim. This is actually dyed denim. Eh, I tried to like some denim handbags but they never quite became a personal favorite. A few brands implemented denim fairy well into their handbags (think Louis Vuitton), but overall it was a bust. Luckily Mulberry opted not to leave this denim typically denim colored. Here comes in the color; there is a black and pink tie-dye pattern that surely is eye-catching. Oh yeah, this is quilted denim. Remember how I started by saying I am oddly drawn to interesting handbags? My entire view of this bag changed when I read what I wrote above and acknowledged the obvious.
When you read the stats of this bag it seems like a bad idea. And in all reality, it is most likely is. The usage you would get from this bag would never be worth the price for me, but I can't help but feel a little tinge of yippee when I saw this young and fun take on an established design. Buy via NAP for $1,250.
What do you think of this version of the Mulberry Alexa?