It's so easy to get caught up in trends, gimmicks and the Next Big Thing when you follow fashion. The industry moves through ideas at a pace that can be both exhausting and exhilarating, and sometimes you lose sight of the beauty of basic things.
The Mulberry Python Bayswater Bag is not "basic" in a literal sense, but the design's simple, familiar lines go a long way toward streamlining an outfit. They also make the color variation in the beautiful gold python skin absolutely sing, which elevates this bag far above your average metallic without unnecessary complication or fussiness.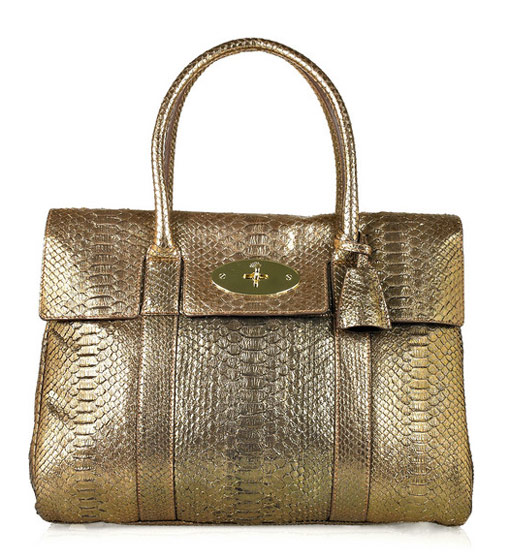 The shimmering gold is very reminiscent of some of the tones most recently seen in Alexander McQueen's Spring 2011 shoes, and this particular color's usefulness as a luxurious neutral is undeniable. Instead of feeling gaudy, the somewhat muted shine reads as extremely high-end but also very wearable, which is exactly what this bag should be. It's a little pricy, but this is the kind of bag that completes every outfit without ever trying too hard. Buy through Net-a-Porter for $4000.