To all of my fellow NYC peeps, I am sorry you are literally stuck in feet of snow. I hear a bit of it has kind of melted though. I started to feel guilty when I was complaining of the mid-50-degree and sunny weather we are having in South Florida, while you all are trapped indoors. And then I saw resort bags are on their way out and I started to suffer from seasonal-confusion. But get ready for resort bags, whether you are stuck in your house from the blizzard or not. With resort bags come resort materials, like linen.
Miu Miu is one of the first brands to release a linen bag for the upcoming resort time, and I must admit upon first glance I found the Miu Miu Fringed Linen Tote to be sort of juvenile. I expect the heart tag dangling from a gold chain from a brand like Juicy Couture, but not Miu Miu.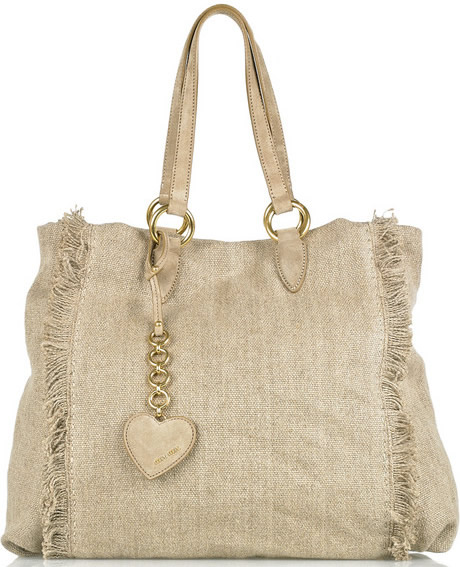 The design is nothing extraordinary, in fact it is a simple oversized tote shape. The edges feature fringed linen. And then there is this heart charm hanging from a chunky gold chain debacle. A heart charm does not always need to appear so young, but something about this entire design is feeling very elementary to me. It could also be that linen is not one of my favorite materials on a handbag (or any item for that matter).
Honestly, I just am left with a lackluster feeling after seeing this bag. The hue is one of my favorite on linen, but it somehow feels so 'meh' to me when I look at it. And I want a fun resort bag; give me color or even a linen/leather combination. But this all over linen design is playing it too safe – and it will get dirty, very dirty. However, if you love it, buy via Net-A-Porter for $895.