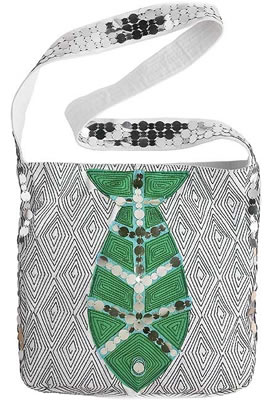 This post is especially dedicated to all of the teachers out there. I have been lucky enough to have some amazing teachers in my life. One in particular opened my eyes to the joy of philosophers and deep and meaningful books, poems, and thoughts. Mrs. Campbell, a late and very warranted Thank-You. I still remember to this day my Walden Pond song I made up with my group! PS How is your fight against Cliff-Notes going?? :-D All this talk is leading up to one of my favorite quotes by Thoreau.
"If a man does not keep pace with his companions, perhaps it is because he hears a different drummer. Let him step to the music which he hears, however measured or far away."
So while there are so many bags that seem uniform, there are bags and people that are unique and different. While they may not be my personal favorites, they may match that person stepping to his or her own music. The Tory by TRB Fish Messenger Bag stands out with a green fish and the pailettes on the shoulder strap. To some this bag may be too much, but I am sure marching to the beat of a different drummer today. The fish has blue trim and pailettes on it which only glitz it up more. White canvas is used as this bags palette which is then adorned with a green stitching pattern. On the inside there is blue lining and a magnetic fastening. If you are stepping toward this fishy bag, buy it through Net-A-Porter for $330.