We are always on the hunt for the next big designers emerging in the handbag and purse world. Many times I don't even have to search, as the designers and their ever-growing popularity comes to me. Continually seeing talk on Treesje on our Purse Forum, I realized it was time to look into the designers. It was quite fitting then that soon after I was introduced to their line, Vlad and I were invited to an event at Saks in NYC where the designers from Treesje, Laura Darrah and Sheila Nazarian, would be making an appearance. Treesje proves to be one of the strongest up and comers, offering casual styles with a wide variety of bold colors. The style of the bags are very laid-back, very LA, just like the designers behind the brand. Vlad and I first met Sheila and we all hit it off. She was so easy to talk to that I could see us being lunch buddies if we did not live approximately 2348 miles apart. Sheila showed us the designs from Treesje and gave us a chance to interview her about the line. Find more information at Treesje online and stay tuned for many more reviews from this brand!
Make sure to click on the thumbnails to see the name and price of the bag.
PB: Where did you come up with your unique name, Treesje?
Treesje: We were both bridesmaids in a mutual friends wedding and we took the bride's middle name. She was named about her moms best friend who is Treesje and she is from Australia.
PB: How did you decide to get into handbags?
Treesje: Well Laura has a business background and I have a fine arts background. I don't know, it kind of fell into our laps. Laura was traveling around the world and she came back from Bali and she had these really cute beaded bags. I told her "I could sell those for you like crazy!!". And one thing lead to another; we just started with these beaded bags and one day I called her up and said "Why don't we design our own bags?". So it was the matter of finding the leather and getting things going.
PB: How did you and Laura meet?
Treesje: Well we went college together at the University of San Diego but just didn't know each other. We had friends in common. But we really met when we were bridesmaids together. And the bag talk started when she brought the beaded bag to the shower, so it really started there!
PB: How funny! And when did you start your line?
Treesje: We are going into our fourth year now.
PB: And this seems like it is a huge season for you…
Treesje: Absolutely. I think we started out kind of underground and this is kind of a company that has been going and going. But just recently every girl on the street is starting to carry a Treesje bag and other girls see it and want that bag. So I feel like we build our business very organically.
PB: We feel the same way about our site. We do not push it too hard and just let it grow naturally.
Treesje: I think that is the best way! I think it is the proper way of doing it. I don't want to push it on people or celebrities. Now celebrities are going to the store and buying them so it is really like what is a better way than that?!
PB: We have been told that many large designer houses send out 1,500 bags at a time to PR agencies and celebrities world wide hoping to have a celebrity carry their bags. Is that something you stray away from, having an "it" bag?
Treesje: No, I think every line likes to be an "it" bag. We don't want to build on line on an "it" bag though. We are very diverse girls! We have the bows, ruffles, pleated family. We like to cater to a little bit of everything for everybody in the line, rather than trying to make the "it" bag and riding on that. We are really into designing and making functionally bags, having a full line and full collection, to show the depth of who we are as designers. We do this rather than trying to make that one bag.
PB: What do you focus most on in your designs, what is the prominent theme, who does it cater to?
Treesje: It caters to a range of people. It is definitely for your 25-50 year old lady in my opinion. But we do a little bit of conservative and feminine touches with an urban appeal. So that is the way we like to go. We have very feminine and then have our more edgy sophisticated bags too.
PB: Well you have popping bold colors!
Treesje: Yes, color is a big thing for us. We love color! And the reason we do this is because Laura and I are such casual dressers; we are usually wife beater, jeans, and flip flops. We are from LA so we really want the bag to make the outfit.
PB: So you use mainly patent leather and lambskin?
Treesje: Most of our leather is lamb and it is really a soft subtle leather that can really mold after you have worn it. It really molds to your body and your figure.
PB: Where do you draw your inspiration from? Do you have a designer that you look up to?
Treesje: Yes, there are a couple of designers that we both love. We are a big fan of Jimmy Choo! I know that they are a young designer but there is something very sophisticated and funky about his designs and the way they work. We really love Chanel, which is an old time classic. And then one of the younger people, what she was before. She really hand a great mind of how to build a business and she had a bag for every single person. They are all over the spectrum but it really sums up who we are.
PB: Where do you live now?
Treesje: We both moved up to LA. I was born and raised in LA, so for me it is home. I love it!
PB: Where are most of your bags made?
Treesje: Most of our bags are currently made in China. All of the elements come from Italy, the hardware and leather. But the bags are made in China.
PB: We see a bit of a tendency that people like to have their bags made in the USA from designers like yourselves. Are you planning on doing that or is that not viable?
Treesje: Financially I do not think it is possible. Right now, a lot of people are price conscious. They want the awesome bag in the $500-$600 price range. If you start producing the bags in the USA, which we actually were doing before, the bags will start running into the $1000's of dollars. It is hard to do that now though.
PB: What is the next goal of Treesje?
Treesje: Our next goal is to get into fashion, in clothing.
PB: That is exciting because most accessory designers want to stick strictly to accessories.
Treesje: Well we did that. We have dabbled in accessories. My true love is clothing design. My mom was a designer in France for many years, so my true heart stands with the clothing. I love doing handbags but eventually, if we can look at this in 5 years, I think we will be doing handbags and clothing.
PB: And how do you envision your clothing line?
Treesje: A little bit of cas' but also ultra chic. I think I would get influenced more by the Parisian and definitely the French look with sophisticated long coats, and stuff like that. Not runway- but not just casual. We are excited, so hopefully it will happen! But we can't even keep up with the handbags right now!
PB: Oh, we know. The same thing happens to us online. Hard to keep up.
Treesje: I know! You also need to build and have great employees, it is a lot of work to do it all. But we are hoping, we will see. That is what our goal is.
And right as this question ended we got to meet Laura Darrah, the other half of Treesje. We continued to chat with them, admire their bags, and watch groups of women go grab a bag, hold it, and say how much she loved it. This brand may have started off underground, but they are most definitely above ground now and we are all watching!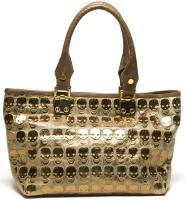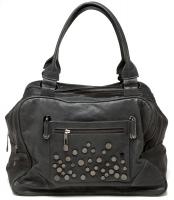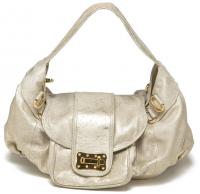 P.S. Please consider supporting our small, bag-loving team by clicking our links before shopping or checking out at your favorite online retailers like Amazon, Neiman Marcus, Nordstrom, or any of the listed partners on our shop page. We truly appreciate your support!