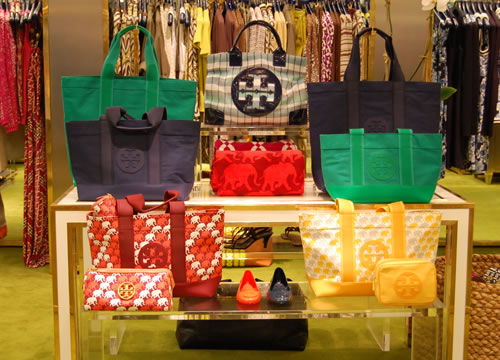 When I got an email from Megs a few weeks ago inviting me to an event with Tory Burch (yes, THE Tory Burch) I immediately accepted. Now, I had no idea what to expect, as I've never been to such an intimate event, let alone a "Blogger Breakfast," as fellow bloggers affectionately referred to the genre of event. But I was nevertheless excited, especially since I had just purchased a pair of Tory Burch Wedges and I now had the perfect place to wear them.

When I got to the event at the TB boutique in the Meatpacking District, it was awesome to chat with other bloggers, and I also bonded with the TB Marketing intern over how much we adored the Nashe Messenger Bag. We're both really into versatility at the moment, and you can wear this as a large clutch, a folded-over minimessenger, or an unfolded large messenger. If you're as much a fan as we are, you can pick it up via ShopBop $395.
The highlight of the event came when Tory Burch arrived (wearing the Nashe Messenger bag, can you believe it!?) and hobnobbed with all of us bloggers. She pointed out her favorite pieces from the Summer and Pre-Fall collections, and shared her inspirations and plans for the future. Luckily for us, she has plans to focus on her handbag line next! She also mentioned a handbag that was in the works that sounded quite intriguing: a faux lizard skin clutch block-printed with a batik pattern. She said that her biggest challenge was how to incorporate prints, which are such a large part of the line, into handbags, but this lizard bag just goes to show how much innovation is possible. I'm excited to see where this develops;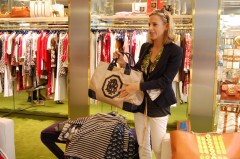 As for Tory's fave pieces from the collection, which I'm sure you are curious about, she pinpointed three bags that she loved. The first was the navy-trimmed canvas Initial Tote (we'll update you once it becomes available online), which is embossed with her father's family emblem, which has been remodeled as a new emblem for her line.
The next was this nautical-inspired Bright Stitched Tote and matching Stitched Clutch, which she said she loves using for travel- the clutch carrying essentials like wallet and passport. Finally, she likes the Scarab Resin Clutch (it's not available yet, but it's similar to the Hadley Resin Clutch). The downside to this clutch is that it's pretty heavy for a clutch, but in its defense, it's not an unexpected heft because it does look heavy with all those beetles on the front (which I mistook for golden eggs; no comment).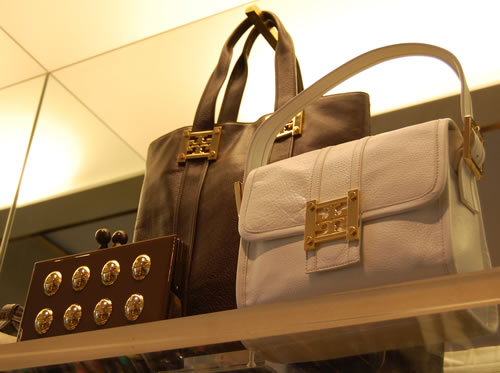 Lastly, Tory talked about her inspirations and I was pleasantly surprised to learn that she draws inspiration from her travels. Usually, each collection is inspired by a particular trip- for example, her Summer collection draws from her trip to Dubai, and her Pre-Fall collection from a visit to Venice. I love to travel, so this in particular hit home for me- but it was, admittedly, pretty cool (okay, super exciting) when Tory complimented my charm bracelet, where I add different charms for different places I travel. So if you travel or not, Tory Burch is a great way to add some worldliness to your wardrobe. And I can't wait to see how she incorporates some of that global worldview into her handbag line.
Psssst! More exclusive Tory Burch images to come… stay tuned!