Nothing strikes fear into my heart like light-colored suede, and as a result, the Marni Large Suede Satchel has me wanting to hide in the closet. Or better yet, build it some sort of giant hamster wheel so that I can roll this beautiful bag around town with me without endangering the lovely dove grey suede. Beyond that, I don't think there's any way to protect this beauty from the ravages of everyday life.
I'm not exactly easy on my bags; I believe that they're functional objects that are meant to be used, and if you wear one out, that's nothing more than a great reason to get a new one. I sit my bags on the floor in restaurants when there's not an extra chair and don't have a second thought about it. But Marni? Marni is making me have second thoughts and wonder if I could change my ways.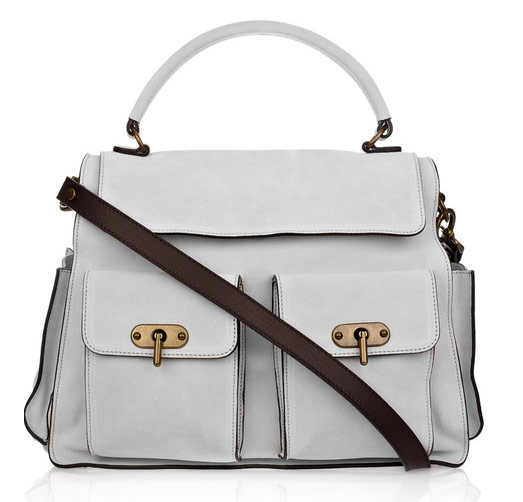 In reality, this bag would probably last about a week and a half in my care, which is why I have no suede bags at all, let alone ones this light and lovely. If you're somewhat more careful and detail-oriented than I am, though, this understated, casual stunner is a great way to avoid designer fatigue and carry someone about which everyone will wonder. Marni proves itself again and again as a great source for off-kilter cool, and its bags are particularly great this season. Buy through Net-a-Porter for $1470.