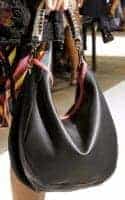 Although Marni doesn't enjoy a preeminent spot among fashion's most powerful bag designers like some of the its Italian counterparts, you have to give the brand credit – Marni sticks to its quirky retro-modern aesthetic with a slavishness that has won it scads of fans who aren't afraid of a bit of a fashion risk.
I've never been absolutely bowled over by a Marni handbag, but but they're consistently unique and well-made, which goes a long way in a crowded accessories marketplace. Marni Spring 2011's bags may be the line that forces me to turn the corner, so to speak. The bags are streamlined, made of outstanding materials, and just weird enough to be wonderful. This line has a very specific customer base, and I think I'm finally part of it.
Photos via Style.com.