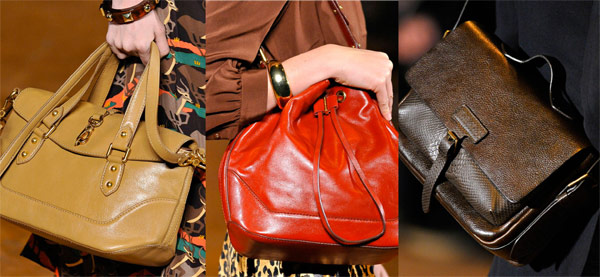 There's surely plenty to be said about the women's handbags that graced the runway at Marc by Marc Jacobs Fall 2011 (hello, dear-printed shoulder bags), but the more I look over the collection, the more I find myself wanting to talk about the men's bags. Marc by Marc Jacobs has been a unisex presentation for some time now, and this year more than any in the past, I'm feeling a little envious of what the male models got to carry.
With the exception of a few beautiful garnet bags and one orange suede clutch, the women's offerings felt like a fairly straightforward rehash of 70s shapes and ideas. Not that there's anything wrong with that, naturally, but I was hoping for something a bit more. The men's begs, on the other hand, felt almost uniformly luxurious, interesting and functional. I bet I could wear the snake-embossed crossbody satchel every day and no one would think twice about the gender for which it was originally intended. Come fall, I might do just that.
Photos via Vogue.com.