[poll id="68″]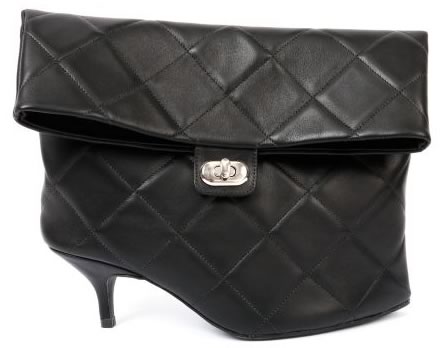 I try to always be open-minded to new ideas. There were times when I went for a run (granted that was about, erhm, a good 10 years ago) and had no where to place my money. My under my foot in my shoe would take the money, which always seemed to keep my money secure but not overly dry. And really, that isn't the best idea. I remember a handful of shoes that were designed with a pouch of sorts then, but none came near to this much of a pouch + shoe look.
Welcome the Azumi and David Pouch Shoes to your screen. All that I get when I see this bag + shoe combination is a Chanel feel. There is quilted black leather and a very Chanel-esque turnlock closure. In fact, Chanel did make an anklet for Spring/Summer 2008. But this is not Chanel, it is Azumi and David, a duo known to push design boundaries at times.
But WAIT A MINUTE. At first I was certain these were indeed shoes, shoes that had an oversized pouch integrated with them. But it is the other way around. These are not shoes with a pouch, rather a pouch with a shoe. Am I making sense? Meaning, this is merely a clutch of sorts that has a shoe as part of its design aspect. Well that is… pointless? I want to be accepting of this idea, but I just feel like this would surely be awkward to carry. Imagine taking this to an event and people staring saying, "There is a heel on that bag…". And that heel may jab you. Imagine putting the pouch under your arm and having the heel dig into your rib cage, OUCH! When I first saw this bag, I was silently rooting for it to somehow work, but it simply is not for me. Is it for you? Buy via Colette for $385.