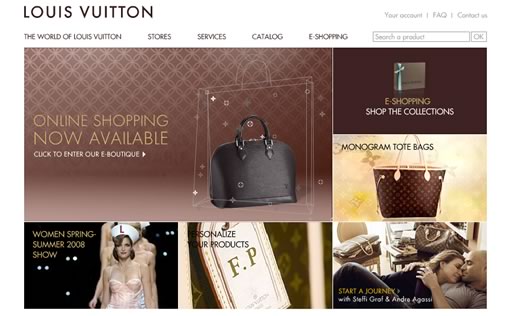 Tuesdays with Twiggers: Louis Vuitton Updates Website for USA Customers
For months Louis Vuitton has been telling its American customers that the www.louisvuitton.com website would be undergoing extensive renovations. Early this week these renovations were revealed. Customers perusing the USA version of the website will now be able to see prices for every single item in the Louis Vuitton catalog. In addition, Louis Vuitton is now offering e-shopping through its website (previously the ONLY authorized online retailer was eLuxury – also owned by LVMH). Perhaps my favorite new feature is that when you purchase through the website you can also order heat stamping (your initials stamped into your bag or luggage tag in a variety of different fonts and colors). I am so thrilled with these new changes, and have spent the last day clicking away and updating my Christmas wishlist with prices and website links to help direct the PHH (purse hating husband)!
Visit www.louisvuitton.com and click on USA to see for yourself!